Latest Yavapai College News
---
Yavapai College Foundation Annual Meeting - YCF Honors Service, Generosity of Others
Last updated: 5/28/2014 9:55:58 AM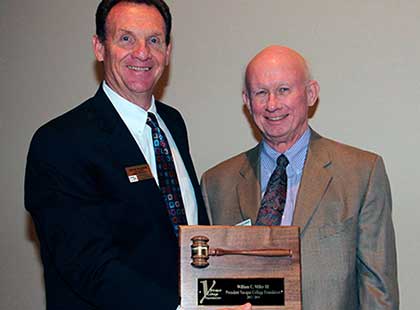 The Yavapai College Foundation (YCF) presented awards to five community members for their service and support on Wednesday, May 14 at the YCF's Annual Meeting at the Yavapai College Performing Arts Center.
The Board President's Award was presented to Bill Miller for his outstanding service as YCF President, 2012-2014. Dr. Karen Spear won the Outstanding Volunteer Fundraiser Award for helping raise nearly $160,000 for the reconstruction of the
Tennis Center at Yavapai College
. YCF board member Howard Moody received the Outstanding Board Service Award in recognition of his many accomplishments on behalf of K-12 and community college education in Yavapai County.
The Outstanding Philanthropy Award went to May and Worth Mallory for their $200,000 gift to the
Del E. Webb Family Enrichment Center
. Accepted on behalf of the Mallorys by the Director of the Family Enrichment Center Vickey LaMotte, the Mallorys' gift serves to start an operational endowment. Local photographer Bill Leyden was recognized with the Outstanding Service Award for his contributions to marketing YCF, including producing a new
promotional video of the Southwest Wine Center
at Yavapai College.
Vice President for Advancement at Yavapai College and Executive Director of the Yavapai College Foundation Steve Walker said, "It's so heartening to see how much the community cares about their Yavapai College. Every year, so many people give so much in support of YC educational programs, and it's a great pleasure to be able to honor at least a few of them at the YC Foundation Annual Meeting."
YCF supports Yavapai College by enhancing educational, cultural, social and economic opportunities throughout Yavapai County. The Foundation currently funds student scholarships, faculty development and programs that enrich both campus and community life. The YCF board includes 32 volunteer leaders from communities across Yavapai County.
During the past year, board members, staff and volunteers raised $1.7 million for Yavapai College programs and student scholarships. The YCF donated $544,000 to the college and provided scholarship to 390 students. The YCF ranks first among all Arizona community colleges in dollars raised per county taxpayer.
To learn more about the YCF, including volunteer and donation opportunities, please visit
www.yc.edu/ycf
.
---