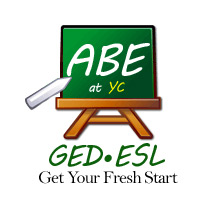 Adult Education:


Free GED Prep / College Readiness Classes

Take the GED (HSE--High School Equivalency) - and get a fresh start on life!

We help hundreds of people earn GEDs and prepare for college and job training each year: single moms, working dads, and those looking for jobs or going on to college, from teenagers to grandparents. Our teachers are friendly professionals who know the fear some students feel about going back to school. We will give you the support, information, and resources you need to be successful.
---
Adult Education:
Fall Classes Coming In August!
SUMMER 2016 Adult Education Course Schedule
Call (928) 776-2320 for more information.
Register herePrescott Campus Orientations
GED evening classes meet Mon & Wed from 5pm - 8pm from May 9 through July 27.
| | | | |
| --- | --- | --- | --- |
| May 9 & 11 | Orientation-GED Prep-All Subjects - Evening | Mon & Wed | 5:00 pm - 8:00 pm |
| TBA | GED Online Orientation | Evening | TBA |
---
Register herePrescott Valley Campus Orientations
GED morning class meets Tue and Thurs from 9:30am - 12:30pm from June 14 to August 11.
| | | | |
| --- | --- | --- | --- |
| Jun 14 & 16 | Orientation-GED Prep-Math Review - Morning | Tue & Thur | 9:30 am - 12:30 pm |
---
Register hereChino Valley Campus Orientations
GED evening class meets on Mon and Wed from 5pm - 8pm
| | | | |
| --- | --- | --- | --- |
| Coming Fall 2016 | Orientation-GED Prep-All Subjects - Evening | TBA | TBA |
---
Register hereVerde Valley Campus Orientations
Are you ready for a fresh start? If you are at least 16 years old, out of high school, and are a legal US resident, you are eligible to join us! 
GED Prep
Receive instruction in all GED subjects, either through an all-subject class or by individual subject (currently available on the Prescott campus only). We emphasize math from the basics through beginning algebra & geometry, grammar and writing skills, extended response writing practice, close-text reading, and general science and social studies topics.
Math Review
A short course which reviews math fundamentals: fractions, decimals, percents, proportions and some pre-algebra and geometry. This class also covers beginning algebra, including polynomials, and linear and quadratic equations. Placement is established during orientation. This math review class is a great refresher for students preparing for college or the GED.
GED Online
Great for students who can't get to a class. After face-to-face orientation, online students study GED software at home under the guidance of an online instructor. Monthly face-to-face seminars include tutoring and GED practice testing.
Orientation is required before starting GED Online Class. Call 776-2092 for more information.
---
Which YC Adult Education Program is right for you?
Our program offers several ways to prepare for the GED, college or career. Each Non-Credit Class includes pre- and post-assessments, Official GED Practice Tests, and instruction which targets what you need to achieve your goals.
Whether you choose GED Prep Class, Intensive Math, or GED Online -- all our classes are all FREE and open to students with or without a high school diploma.
---