Campus Activities
---
Connect With Your Campus:
Featured Highlight: NaNoWriMo
National Novel Writing Month, also known as NaNoWriMo, is an annual celebration of writing. Throughout the month of November participants will strive to write a 50,000 word novel in 30 days. This is the 17th year the event has taken place, and currently 310,000 adult novelists and 89,500 young writers in nearly 600 regions have participated. Every Friday during the month, the Yavapai College English Cub will host write-ins on campus. All participants are welcome, and this years theme is Myth, Legend, and Fairy Tale.
Important Dates:
Fri, Oct 30 from 6 to 8pm - Kick Off Party  in the Student Lounge
Fri, Nov 13 from 5:30 to 9:30pm - Night of Writing Dangerously  in the student lounge and Club Room
Fri, Dec 4 from 6 to 8pm - Thank Gosh It's Over  party in the Student Lounge

Write-in Fridays:
11/6, 11/13, and 11/20 from 11am-4pm in the Club Room.

Links:
Prescott Region Home Page - for Regional Updates
NaNo Prep Page
  Add Campus Activities to your My News feed
Don't miss a thing! Get updates as soon as you log onto the website in your My News drop-down menu. After you log onto the website, click on Hello... , select My Preferences/Account Settings (see image 1 below), click on the News & Alerts tab, select Campus Activities and Events (see image 2 below), and SAVE.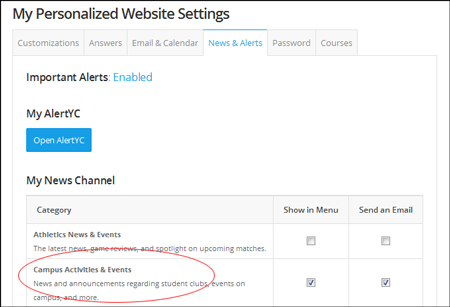 ---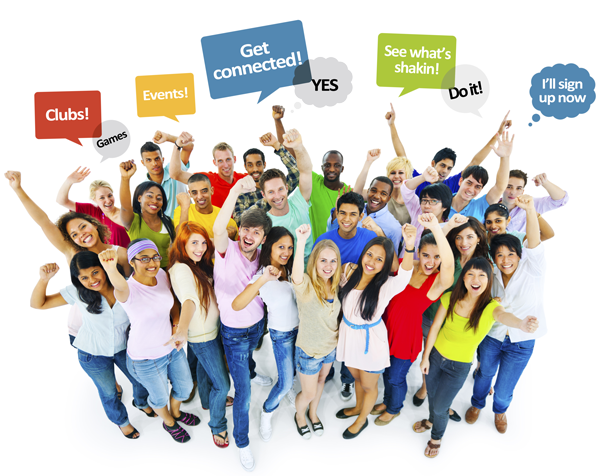 ---