Yavapai College Grants Office
We assist the college in pursuing federal, state, local, and private funding opportunities that align with the College's strategic priorities and meet the institution's financial needs not covered by state or college budgets.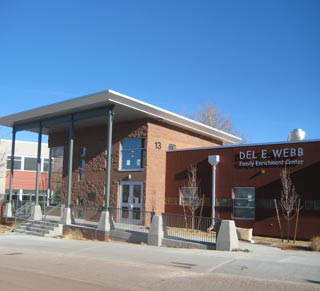 Proactively identify and communicate possible funding opportunities
Facilitate and coordinate program planning
Assist with writing and editing grant proposals
Ensure required forms and proposals are submitted on deadline
The Del E. Webb Family Enrichment Center is a program at Yavapai College has been able to come to fruition with direct assistance from the Grants Office working together with Del E. Webb!
---
Students seeking grants and scholarships:
For information about grants, scholarships, and financial aid please contact the Financial Aid Office at (928)776-2152 or at the Financial Aid website.
---
Grant Approval Process and Forms
The Grants Office assists the College in pursuing funding opportunities that align with the College's strategic priorities. In order to maximize the Grants Office's efforts, a grants approval process is in place.
Click here to learn about the grant approval process
A number of issues are considered during the approval process, including the alignment with the College's strategic priorities, availability of matching funds, likelihood of funding and requirements to continue the project after the funding ends. Following this process helps to ensure that you don't spend a lot of time developing a grant proposal that is not approved or submitted.
---
Funding Needs Assessment Form
This form should be used for general requests for help in obtaining funding for a project. If you do not have a specific funding source in mind, or are not sure whether you should pursue government, foundation, corporate, or individual donor support, fill out this form. The Grants Office and the YC Foundation will review your request and get back to you.
Download Funding Needs Assessment Form
---
Grant Proposal Form
This form briefly describes the proposed project for yourself, the Grants Office, and for the PLT. This Grant Proposal Form summarizes all aspects of your grant proposal, including the need for the project, the benefit to the college, the project's goals, objectives, budget, and evaluation methods. (This form briefly addresses the major components of most grant proposals and can be used as a starting point for you final proposal.)
The Grant Proposal Form is required to be submitted to your supervisor and your PLT member prior to the development of the grant application and proposal. If approved, your proposal request will be placed on the next PLT agenda.
---
Some grants do not need full PLT approval
Grants that are under $10,000, do not require matching funds or new resources, and are established projects can be approved by the Grants Officer and Development Director. Fill out the Grant Proposal Form and forward to Marcia Jacobson.
---
Grant Writing Information and Resources
Find excellent resources that aid you in creating persuasive grant proposals.
Click here for writing and funding resources
Elements of a Grant Proposal
While specific requirements depend on the funding source, most grant proposals require these elements.
Director Responsibilities
The project director is responsible for providing current, accurate data about the problem to be addressed, details on how the project will operate and the results to be achieved. View the project director responsibilities.
Proposal Writing Tips
Important points to keep in mind for a brilliantly written proposal.
The Power of Testimonials
Testimonials are all around you. They are in the thank you cards your program receives, the messages on the machine in your office, in emails, conversations, and in speeches at recognition events. If your program isn't in the habit of collecting testimonials, make it a top priority!
---
Finding Funding
SPINPlus is an online database that provides up-to-date information on current national and international government and private funding sources, including fellowships, research grants, publication support, sabbatical support, curriculum development, and more. SPINPlus enables users to receive automated grant alerts that match their user profiles.
Call the Grants Office at ext. 2021 for more information about setting up a personal profile, or use the link above for the login screen.
---
The Foundation Center database provides information on more than 91,000 grantmakers and more than 1.2 million grants. This database can be access through the YC Library – ask for more information at the reference desk. This is a great resource as only about 7% of private foundations have Web sites (Miner and Associates, 2007).
---
"Don Griesmann's Grant Opportunities" is updated weekly. Don scours the Internet for new grant opportunities that you might not learn of from any other source in such a timely manner. Includes headlines, brief descriptions, articles, and links to more information.
---
Grants.gov enables individuals to electronically find federal grant opportunities from all 26 federal grant-making agencies and is a central storehouse for information on over 1,000 grant programs. Search by key word, category or agency, or sign up for electronic notifications.
---
The Grantmanship Center. This site provides a quick link to daily Federal Register announcements and an archive of Federal Register Announcements. It also provides information on the top grantmaking foundations and corporate giving programs in Arizona.
---
The Catalog of Federal Domestic Assistance provides detailed information on all federal grant programs that are established by statute. The database can be searched in a variety of ways, including by keyword.
---
American Association of Community Colleges maintains a list of funding opportunities for community colleges.
State Funding Agencies