Yavapai College Staff Association (YCSA)
YCSA is committed to provide selected volunteer representatives on the various district wide committees to be a voice for policy recommendations and to keep open the lines of communication.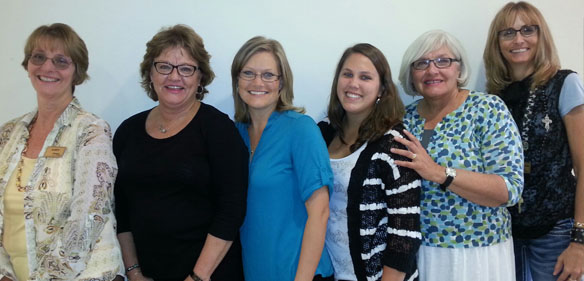 Andrea Annibale, President
Alice Burroughs, Web Design
Daintry Donovan, Vice President
Stephanie Kallam,
New Hire & Prof Dev Liaison
Karen Leja, Alternative Rep
Lauren Buse, Secretary NEW
---
Congratulations!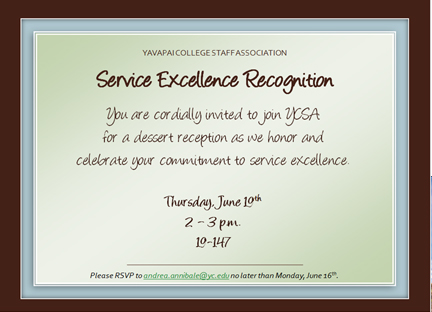 Congratulations to the honorees for being nominated by your peers.
Thank you for your Excellent Service at YC!
June 5, 2014
---
News Bulletin
July 22, 2014
Please give a warm welcome to our new YCSA Secretary, Lauren Buse! Lauren has been with Yavapai College for the past year-and-a-half and is just as excited to have been elected as we are to have her. Her post will begin Monday, August 11th at the semi-annual YCSA meeting.
This of course means that we have to say good-bye to Teresa Schwickerath who has been an asset to the YCSA board for the past two years. Those of you who are fortunate enough to work with her know that her enthusiasm is infectious, which makes her so much fun to be around. She has been a terrific advocate for the staff and I am thankful she has promised to still attend the association meetings. :)
Thank you to those of you who took the time to vote. This was a very close race, but the most impressive part to me was the response. Last summer we had 18 voters; this year we had 88! EIGHTY-EIGHT VOTES! My hope is that this will mean good things for our organization in terms of growth. If you are looking for ways to be involved, please don't hesitate to contact me.
Have a wonderful Tuesday and once again, our heartfelt gratitude and best wishes to Teresa and a warm welcome to Lauren.
Andrea Annibale, YCSA President
---
Newsletters
Over the past couple months the YCSA board has taken a close look at the summer survey results and is working hard at implementing many of the ideas and suggestions brought forth. This newsletter is our way of showing you we're listening. As the months progress, we'll be asking staff members to share stories and wisdom as well as suggestions for future articles and training. Please feel free to email the board at any time.
Current Edition - August 2014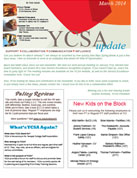 ---
YCSA Meeting Date, Agendas and Minutes
YCSA will meet at least once per semester, customarily on a Yavapai College Employee Day.
 YCSA Explained
YCSA Explained
What does YCSA stand for?
YCSA is the acronym for Yavapai College Staff Association.
Who belongs to YCSA?
Membership is open to all full-time and regular part-time staff (please refer to HR policy 2.2.1 – Employee Classification and Status) of Yavapai College to have a voice in YCSA matters. They may vote, serve as officers, and are eligible for various committees.
What is the purpose of YCSA?
YCSA provides a forum for staff to discuss and promote ideas for the well-being of its members.
What do the representatives do?
The elected representatives of the YCSA are meeting to provide organizational Bylaws for members to review and adopt as well as provide tools for staff success through peer mentoring.
When do the representatives meet?
Currently, the representatives are meeting twice an academic year, usually held during Employee Day in the fall and spring. Meetings are run under the general Robert's Rules of Order according to the adopted Bylaws.
What about Committees and other actions?
YCSA assists with planning & supporting the First Friday Training Sessions. Welcoming new employees is also an area of support provided by YCSA.
The building of this website, which is updated through the Webpage Designer, is another action the members have taken.
---
Have a question or comment? Let us know!
We are here to represent you!
YCSA is launching a new Q&A webpage with the hope of opening lines of communication between staff and administration. We need your help!
Please submit your questions, comments or concerns, and YCSA will attempt to find an answer. All submissions will remain anonymous; only questions and answers will be posted.
Thank you for your support.