It Started As An Idea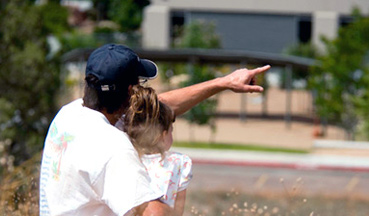 ---
In 2004, a group of students, staff and faculty sought to improve bicycle and pedestrian access on the Prescott Campus. An off-shoot idea came from student Frankie Coburn: to build a trail on the undeveloped parts of our 110-acre Prescott campus. This became the YC Nature Trail that you see today.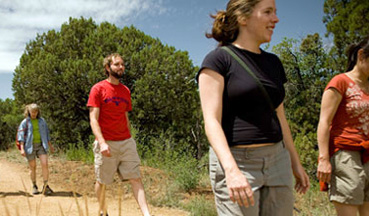 ---
The YC Nature Trail
This 1.5 mile, non-motorized trail was built to preserve our natural areas, provide recreational opportunities, and encourage biological, and cultural opportunities for all. It is an official Arizona State Trail, carefully designed and built to be natural and sustainable with the help of a Heritage Fund Grant and local contributors.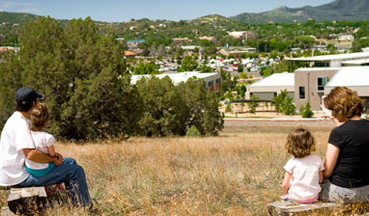 ---
Trail Map and Parking Locations
The trail is located on the YC Prescott Campus. There are several access points, but we recommend two:
Park in front of the Performance Hall and start from the Sculpture Garden; or
Park northwest of the Tennis Courts, cross Washington Avenue at the elbow curve, veer right and up the trail.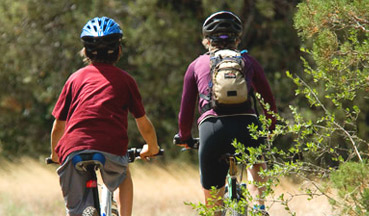 ---
Click here to download the Trail Map pdf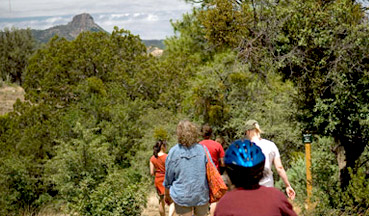 ---
YC Trail Information
Open from dawn to dusk
YC Campus rules are enforced
Cyclists keep speeds below 15 mph
Hikers and cyclists yield to equestrians
Equestrians let the trail dry out to a hard surface before using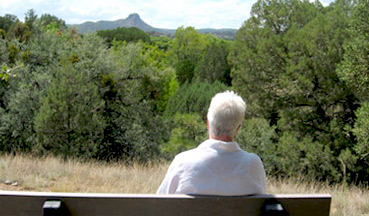 ---
How to Contribute
Planning began in 2004, but it has taken time to assure our trail has a strong foundation. Now well-rooted, this young trail can grow to be so much more. You can help. Benches, kiosks, and signage are still needed to enhance your trail experience.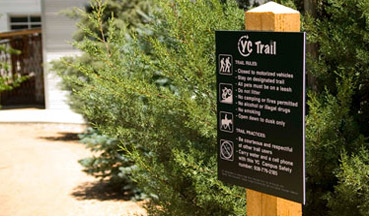 ---
It's just the beginning!
Although the college board approved development of the trail, the trail has been funded with grants and donations independent of general college funds.
The cost for designing and building the nature trail to date is approximately $150,000. A grant provided by the Arizona State Trails Heritage Fund provided $60,000 in matching funds for the construction of the trail. The Yavapai College Foundation committed to raising $25,000 in matching funds for the trail. Additional contributions of materials and money came from community members.
---
If you would like to donate to the YC Nature Trail, please contact Steve Walker at the Yavapai College Foundation today by calling (928) 776-2025. And thank you!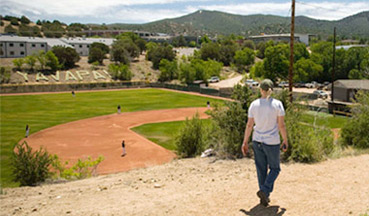 ---
Thanks to Our Contributors To Date
Yavapai College Facilities
Arizona State Parks Heritage Fund
YC Foundation
City of Prescott
Yavapai Trails Association
Yavapai College Environmental Club
Special thanks to Terry, a student at Prescott College, who gave us our first bench and respite area. And to Andrew, a Yavapai College student, who designed our logo.
Granite Mountain Materials
APS
Paleo West
Matt Woodson, Okanogan Trail Construction, a licensed, bonded and insured contractor with over 25 years experience building hundreds of miles of trails. Our gratitude for your unique and exciting vision, and for your patience and expertise to actually create it.
---
Contributors to the YC trail (2004 recycling campaign)
Special thanks to Lars Hamilton of Moctezuma's for his generous $1,240 contribution.
Steve Sischka
Donna Horton
Brian Lowe
Ed Furbish
Doug Merwin
Kathi Guyer
Hoyt Johnson
Lana Ante
Bob Hamilton
Gertie Miles
Penny Griffin
Jill Huckeba
Roo & Flea
Shannon Pott
Keith Haynes
Nina Perlmutter
Carla Houser
Cliff Sherrill
Kathryn Reisdorfer
Gerry Caton
Steve & Cindy Alward
Bob Williams
Chi's Chinese
Michael Chi
Steve Elliot
Lois Seidel
Laura Halter
Eric Kelly
D. Newman
Karen T. Sable
Brad Sable
Kenny James
Gary Fleury
Jesse Lynx
Kevin Lee
Jim Knapp
John Stryker
Jim Booth
Debbie Roberts