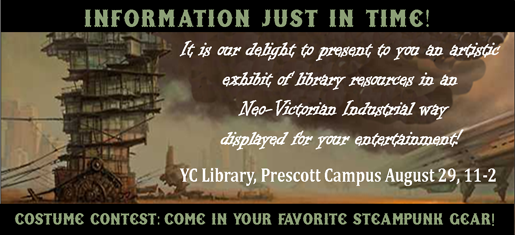 Information Just in Time!Come see what our library has to offer!
Last updated: 8/27/2012 8:57:53 AM
It is our delight to present to you an artistic exhibit of library resources in an Neo-Victorian Industrial way displayed for your entertainment!
August 29 11-2 YC Library Lobby Prescott campus
Come by and learn all about the library's electronic resources. This year's theme is "Information Just in Time" This theme is Steampunk inspired and the event will be fabulous! The Infoportal in the library is already decorated to give you a glimpse of what this event will entail! The staff will be geared up in costume and we hope to see you in costume as well!
The library's electronic resources will be highlighted at this event and are available anytime by any computer for YC students. We will have information on the library's tutorials, subject guides, e-books, databases and more.
We hope you can join us! Call 776-2260 or stop by for more details.
---
News Archives »