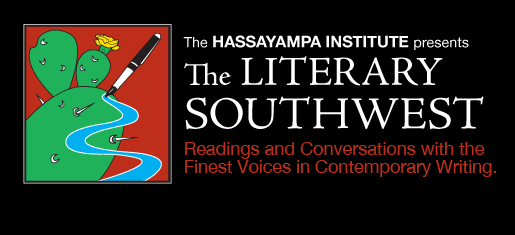 'Literary Southwest' Guest Author Readings ScheduledPoet Richard Garcia & author Naomi Hirahara here Sept. 21
Last updated: 9/11/2012 8:25:42 AM
Imagination and Mystery at The Literary Southwest, Friday, September 21
The Literary Southwest celebrates its new Fall season of programs by presenting two writers who imbue their work with personal history and experience: poet Richard Garcia and mystery writer Naomi Hirahara. The event is on Friday, September 21 at 7 p.m. in the Yavapai College Library's Susan N. Webb Community Room (Bldg. 19, Room 147) on the Prescott campus. An audience Q & A session and a book signing follow the reading. All Literary Southwest programs are free and open to the public.
Richard Garcia is the author of three books of poetry, The Persistence of Objects and Rancho Notorious (both from BOA Editions), and The Flying Garcias (University of Pittsburgh Press), as well as a bilingual children's book, My Aunt Otilia's Spirits (Children's Book Press). His poetry has appeared in many journals, such as The Georgia Review, Crazyhorse, The Cortland Review, and Ploughshares. His work is also included in many anthologies, among them The Best of the Prose Poem, Mother Songs, Urban Nature, Touching the Fire, Best American Poetry 2005, Seriously Funny 2010, and a Puchcart Prize anthology. He is the recipient of a fellowship from the National Endowment for the Arts, a Pushcart Prize, the Mudfish Prize from Mudfish Magazine, the Greensboro Award from the Greensboro Review, the Cohen Award from Ploughshares, and the Georgetown Prize from the Georgetown Review. He received several grants from the California Arts Council. He was poet-in-residence at Children's Hospital in Los Angeles for twelve years, where he conducted workshops in art and poetry for hospitalized children. His most recent publication is a chapbook of prose poems, Chickenhead, available online from FootHills Publishing. His next book will be The Chair, a book of prose poems to be published by BOA Editions in 2014. He lives in Charleston, SC, with his wife, poet Katherine Williams. He teaches at the Antioch low residency MFA program in Los Angeles, at his home, and privately online. You can read more about Richard's writing and teaching and link to his web publications from his website: www.richardgarcia.info.
Naomi Hirahara was born in Pasadena, California. She received her bachelor's degree in international relations from Stanford University and later studied at the Inter-University Center for Advanced Japanese Language Studies in Tokyo. She also spent three months as a volunteer work camper in Ghana, West Africa. She was a reporter for, and editor of, The Rafu Shimpo, Los Angeles' bilingual Japanese American daily newspaper. Naomi has written and edited many non-fiction books relating to the Japanese American experience, but she is best known to a wider audience for her mystery novels featuring Japanese American gardener (and Hiroshima survivor), Mas Arai. Summer of the Big Bachi (Bantam/Delta, 2004) the first of the series, was a finalist for Barbara Kingsolver's Bellwether Prize, and also was nominated for a Macavity mystery award. Receiving a starred review from Publishers Weekly, Summer of the Big Bachi was included in the trade magazine's list of best books of 2004, as well as the best mystery list of the Chicago Tribune. It was followed by Gasa-Gasa Girl and Snakeskin Shamisen, which won an Edgar Allan Poe Award in the category of Best Paperback Original. The fourth Mas Arai mystery, Blood Hina, was published in March 2010 by St. Martin's/Thomas Dunne Books. She has had short stories published in a number of anthologies, including Los Angeles Noir, A Hell of a Woman: An Anthology of Female Noir, and The Darker Mask. In 2008 her first middle-grade book, 1001 Cranes, was released by Random House's Delacorte imprint. Naomi and her husband, Wes, make their home in Southern California, where she is doing research on her next mystery novel and a new children's book, as well as completing projects for her small press, Midori Books.
The Hassayampa Institute presents The Literary Southwest is made possible by the Yavapai-Prescott Indian Tribe, the Arizona Humanities Council, Yavapai College, and the Yavapai College Foundation, with additional support provided by the Yavapai College Bookstore.
For complete author and series information, visit: www.yc.edu/hassayampa or contact Series Director Jim Natal through Yavapai College at 928-776-2295, or via email at: james.natal@yc.edu.
For additional information, please visit: https://www.yc.edu/v4content/academics/divisions/visual-performing-and-liberal-arts/literary-soutwest-series.htm
---
News Archives »