NAEYC Future Teacher's Club Education WorkshopsFree workshops are open to the community
Last updated: 9/6/2012 4:49:42 PM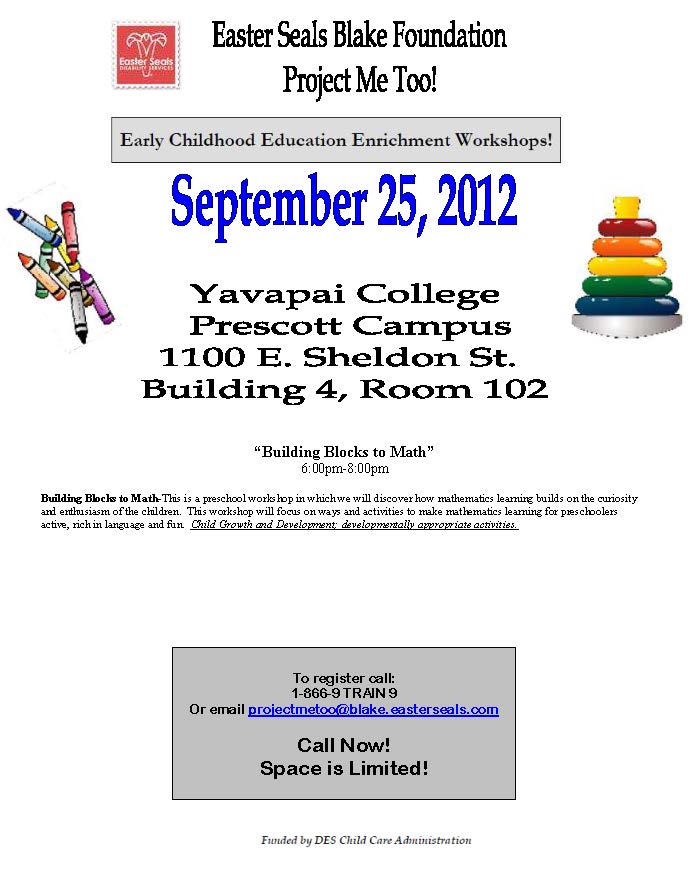 Yavapai College to Host Education Workshops

The Prescott Chapter of the National Association for the Education of Young Children will hold monthly education and early childhood education related workshops beginning Tuesday, September 25. All workshops will be held at Yavapai College, 1100 Sheldon St., building 4 room 102 in Prescott. Students, teachers, child care center owners and directors are invited to attend the monthly meetings, and attendees need to pre-register by calling 1-866-9TRAIN9 or emailing projectmetoo@blake.easterseals.com.

The September 25th workshop, provided by the Easter Seals Blake Foundation, Project Me Too!, will be held from 6 pm to 8 pm and is titled "Building Blocks to Math." This preschool workshop will show how mathematics learning builds on the curiosity and enthusiasm of children. This workshop will focus on ways and activities to make mathematics learning for preschoolers active, rich in language, and fun.

"Each month the workshops will have a different theme to help not only our current education students, but the entire community," said Le Anne Lawhead, workshop coordinator.
---
News Archives »