NISOD Award Winners
NISOD's Excellence Awards recognize men and women each year who have demonstrated an outstanding commitment and contribution to their students and colleagues. NISOD is the National Institute for Staff and Organizational Development, a membership organization committed to promoting and celebrating excellence in teaching, learning and leadership at community and technical colleges.
In 1989, in connection with a University of Texas at Austin national study of teaching excellence, NISOD hosted its first ceremony honoring NISOD Excellence Award recipients. The annual event has since become the largest gathering that recognizes the contributions and achievements of community and technical college faculty, administrators and staff.
"Student success is a focus and priority for all of us at Yavapai College, and it's wonderful to be able to recognize faculty and staff who exemplify this focus in their day-to-day activities," Dr. Penny Wills, Yavapai College president said. "It sends a good message to students and potential students, as well."
"Recognizing those individuals who have contributed to student success and their colleges' mission is something we look forward to doing each year," said Dr. Edward J. Leach, NISOD's executive director. "The extraordinary work of these men and women includes not only what they do for their students and colleagues, but what they do for the communities in which they live and work. We're honored to be able to play a part in celebrating their achievements."
Excellence Award recipients will be celebrated during NISOD's annual International Conference on Teaching and Leadership Excellence in Austin, Texas later this year. During the Excellence Awards Dinner and Celebration, held in conjunction with NISOD's annual conference, each Excellence Award recipient receives a specially cast, pewter medallion hung on a burnt-orange ribbon.
About NISOD
Created in 1978, NISOD is a membership organization committed to promoting and celebrating excellence in teaching, learning and leadership at community and technical colleges. NISOD supports its member colleges by providing professional development resources and learning experiences, including practitioner publications, webinars, the annual International Conference on Teaching and Leadership Excellence, the NISOD Excellence Awards, and more. For more information about NISOD, visit www.nisod.org.
2018-19 NISOD Excellence Award Recipients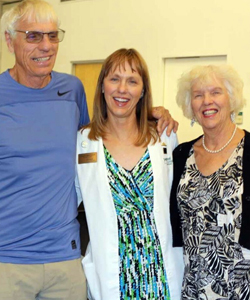 Selina Bliss

Professor, Nursing
Selina grew up on the Yavapai College Prescott campus as her family moved to Prescott in 1971 so her father could teach in the English Department. She recalls her family being one of the first to sleep in the brand-new residence hall in the summer of 1971 because housing was scarce in Prescott at the time. Because concurrent enrollment didn't exist yet, as a Prescott High School graduate, she remembers taking classes at YC in the evenings while still in high school. She went on to Arizona State University to get Bachelor's and Master's degrees in Nursing in 1984 and 1992 and then completed a Ph.D. in Nursing Education, from Capella University in 2014. A strong proponent of the shared governance model, she is a past president of the Faculty Association and has served on every college governance committee except the Standards Committee, which she says "leaves her something left to do." Selina has been deeply influenced by the faculty who came before her and feels she walks in the footsteps of those that have made Yavapai College the great institution it is today.
Curtis Kleinman

Professor, Spanish
I have been teaching Spanish and student development courses at Yavapai College since 2008. I hold a master's degree in Teaching Spanish from Northern Arizona University and a Ph.D. in Course Design and Technology from Old Dominion University. I am currently serving on the Teaching and Learning Committee as well as the Provisional Faculty Oversite Committee. I also currently serve as the STU101 course creator and faculty coordinator for first-semester college freshmen. Teaching at Yavapai is so rewarding because the students are extremely motivated to learn. Many students have really grasped the concept, "Hey, I'm paying to be here, so I might as well get something out of this course while I'm here." I have seen many motivated students become functionally bilingual in just a few short semesters. One of my favorite projects is completed by my intermediate Spanish students. They prepare and teach computer lessons for native Spanish speakers with low computer literacy. My students get excellent real-life Spanish practice, and Spanish-speaking community members get help with their computer skills. In addition to serving students and serving in the community, I also love to be outside in our beautiful Prescott weather, on a bike, or chasing a ball around a court/field with my kids. Sometimes I try all three—I like to call it Junior Bicycle Polo. The IOC has already made inquiries.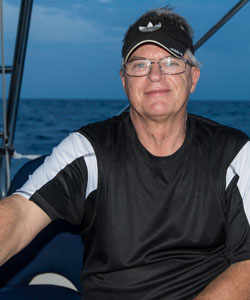 Carl Moody

Institutional Research
Arizona has been my home for most of my life. My family moved from Illinois to Phoenix when I was 7 years old. I graduated from West High, which is now Metro Tech. I attended ASU on an academic scholarship. My major was initially Engineering, but calculus was ruining my GPA, so I switched to Psychology. Two years of a foreign language was required in my major, so I selected Russian. During my senior year, I had work study. My job was to type the Russian professor's text book on a Russian typewriter.
After earning my bachelor's degree, I worked in fast food management. I wanted a career change, so I took enough programming classes at the community colleges to get started in computer programming. Ultimately I earned an Associates degree in Computer Information Systems from Glendale Community College.
In 1996, we decided to move to Oregon. My first job in Higher Ed was in Institutional Research at Southern Oregon University.
I came to Yavapai College in September 2009 and transferred to the IER department in July 2010. The work we do in IER is challenging and very rewarding. As a support service to the college, we are able to provide strategic planning and data support to all the good people at YC who are having a positive impact on the lives of our students.
On a personal note, I encourage everyone to participate in the I AM YC campaign. A small amount of help when a student needs it can make a difference for a lifetime.
Past NISOD Award Winners
Year
Name/Division
Title
2017/2018
Sheila Jarrell,
Student Services
Registrar and Director of Enrollment Services
2017/2018
Matt Mintzmyer,
School of Career & Technical Education
Professor, Aviation
2017/2018
Andrea Schaben,
School of Science and Engineering
Professor, Mathematics
2016/2017
Diana Dowling,
Student Services
Director, Financial Aid and the Answer Center
2016/2017
Dave Gorman,
Mathematics
Instructor
2016/2017
Jason Whitesitt,
English and Humanities
Instructor
2015/2016
Joy D'Angelo,
Business
Instructor
2015/2016
<
Michael Davis,
Administration of Justice
Instructor
2015/2016
Heather Mulcaire,
Student Services
Advisor
2014/2015
Molly Beachman,
Mathematics
Instructor
2014/2015
LeAnne Lawhead,
Early Childhood Education
Instructor
2014/2015
Billie Norris,
Instructional and Student Services
Executive Assistant
2013/2014
Justin Brereton,
Agribusiness
Instructor
2013/2014
Suzanne Waldenberger,
Humanities/General Education Coordinator
Instructor
2013/2014
Tania Sheldahl,
Academic and Career Advising,
Testing Services and High School Relations
Director
2012/2013
Lauren McCrea,
Visual Performing and
Liberal Arts
Instructor
2012/2013
Gino Romeo,
Chemistry
Instructor
2011/2012
Alan Lohr,
Gunsmithing
Instructor
2010/2011
Denise Woolsey,
Communications
Instructor
2010/2011
Matt Pearcy,
Biology
Instructor
2010/2011
Rick Peters,
Mining
Instructor
2009/2010
Stacey Hilton,
TeLS/Summer and
Winter Institutes
Director
2009/2010
Ken Schoch,
EMS and Paramedic
Program Director
2009/2010
Brent Roberts,
Math/Honors Program
Instructor
2008/2009
Gennie Fuemmeier
EDU/Reading
Instructor
2008/2009
Larry Frolich,
Anatomy/Physiology
Instructor
2008/2009
Ernie Hernandez,
Automotive
Instructor
2007/2008
Al Garbagnati,
Psychology/Sociology
Instructor
2007/2008
Paul Ewing,
Liberal Studies
Instructor
2007/2008
Vickey LaMotte,
Family Enrichment Ctr.
Director
2006/2007
Jim Bushman,
Public Services
Program Director
2006/2007
David Graser,
Math
Instructor