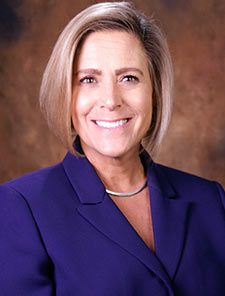 Dear YC Students and Employees,
We are less than a week away from the fall semester kicking off on Monday, August 17. I hope by now, you have had an opportunity to review YC's reentry plan, as well as our required safety protocols. If you have not, you can review all of this information at www.yc.edu/reentry.
I am writing to you today to provide an update to you on a few additional essential items for the fall semester.
---
New COVID-19 Panel in the myYC Portal
The myYC portal now has a new COVID-19 panel that contains tools and resources for students and employees related to Yavapai College's plan to create a safe environment for the fall semester. The panel includes forms for self-reporting COVID-19 positive test results, and if you have been in close contact with someone who has COVID-19, as well as procedures for students and employees related to the virus. Please review and follow the procedures so we can have a safe and successful start of the semester.
---
Daily Wellness Check App for Students and Employees
As part of our phased approach to reopening, YC students and employees are expected to conduct a daily wellness self-check before coming to campus. To make this process as easy as possible, we have selected #CampusClear to assist with daily self-screening. #CampusClear is a mobile app that will ask you to report on how you are feeling each day and will guide you on whether or not you are clear to come to campus based upon your answers.
You can find the app on the Apple App Store and Google Play by searching for 'CampusClear'. For more information about the app, please visit our #CampusClear information page.
Note: On-campus students may be required to show the results of their daily wellness self-check to their instructor.
---
Temperature Check Kiosks
Another part of our phased approach to reopening is the requirement of temperature checks for students and employees who are at higher risk of exposure. Temperature check kiosks have been installed in building 19 on the Prescott Campus, building L on the Verde Valley Campus, and at the Prescott Valley Center. Required students and employees include:
a. Essential employees
b. Students and faculty in First Responder, FEC, and Performing Arts programs
c. Coaches and athletes
d. Residence Halls students
e. Any staff whose position requires significant community interaction
---
Required Student Waiver of Liability and Hold Harmless Agreement
All students registered for the fall term, regardless if they are taking in-person or online classes, are required to sign a waiver of liability and hold harmless agreement prior to taking classes. This waiver is to ensure that we are able to continue to offer all of our programs, including those which have face-to-case components. Students, you will be prompted to sign this waiver when you sign in to your myYC Portal.
I thank you in advance for using these resources effectively to help YC keep everyone safe and healthy this fall. We've spent the summer preparing for the fall semester, and we are confident that the College is ready for students to return. We are excited to see everyone, either virtually or in-person, on August 17.
Sincerely,
Lisa B. Rhine, Ph.D.
President