Procurement and Contract Services
Department goals include
Support the educational programs of Yavapai College, by obtaining maximum value from the expenditure of College funds.
Promote maximum credibility, efficiency and equity in goods/services received and in relations with requisitioning departments and suppliers.
Ensure all contracts are compliant to the applicable laws of the State of Arizona and College policy.
Our Department oversees:
Policy and Procedure Management
Competitive Procurement
Contract Review and Management
Purchase Card Program
New Supplier Registration
Requisitions and PO processing
Supplier Notice
Yavapai College's Procurement and Contract Services currently uses Arizona Procurement Portal (APP) the State of Arizona Procurement Office's online procurement portal. We encourage all suppliers to register with APP.
All Solicitations (Requests for Proposals, Invitations for Bids, Requests for Qualifications – construction, etc.) $50,000 and above that are NOT available through a State of Arizona, Yavapai College or cooperative contract will be issued via the Arizona Procurement Portal (APP).
While not required by College policy or procedures, at its discretion, the College may also solicit quotes for purchases under $50,000 through APP.
Please click on the Supplier Training tab for the APP Overview and Supplier Registration/Enrollment. Any questions regarding APP Registration and/or how to Submit an Offer should be directed to the APP Help Desk at 602-542-7600 or email app@azdoa.gov
---
Supplier and Purchase Order Forms (pdf files)
YC Substitute W-9 & Supplier Authorization form - if you are interested in doing business with Yavapai College, please download, fill out and save the document to your computer. Then click the link at the bottom of the W-9 form to submit via Secure File Upload (in lieu of emailing)
Your screen will look like this once at the Secure File Uploader site. Please follow these instructions to upload:
Please fill in the following two fields:  First Name and Last Name
The following two fields can be left blank: Y# and Username
For email enter: procurement@yc.edu
Use the drop down arrow in the field "Where should we deliver this document?" to select "Procurement"
Use the drop down arrow in the field "What type of document are you uploading?" to select "W-9 Form or Substitute W-9 Supplier Authorization Form"
Click on "Choose File" and then select the saved W-9 file from your computer.
 In the field that states, "Please indicate who requested this document and why so we may deliver it to them." You have to type in something, even "W9" will suffice.
Then click on "Upload Document".
 If you receive an error message of any kind, the W-9 will need to be uploaded again.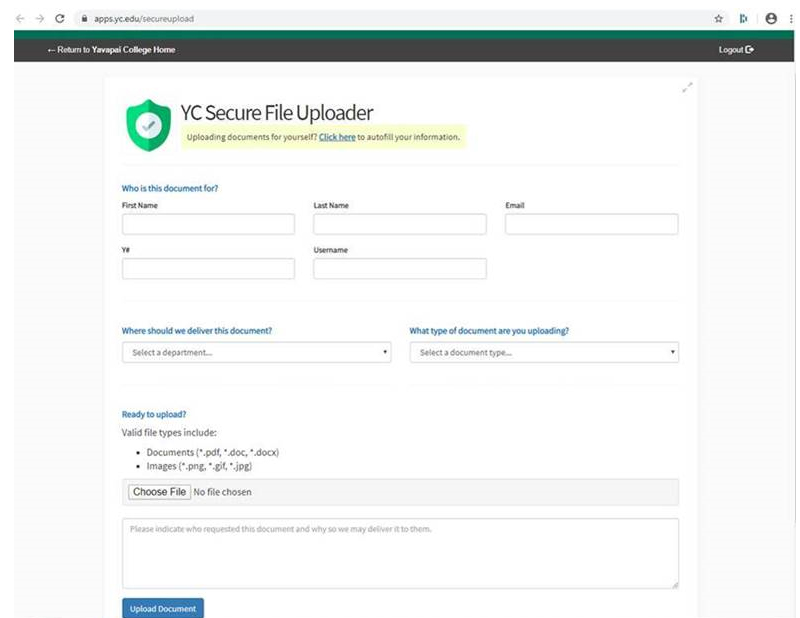 ---
Supplier Guide - 2019 - assists your efforts to conduct business with Yavapai County Community College District, doing business as Yavapai College.
YC Purchase Order terms and conditions
Supplier Registration Form - have your company listed on the Yavapai College supplier list.
---
For consideration of purchases between $5,000 - $49,999, suppliers can register via Yavapai College's online form.
The information received from this form will be included in the supplier database maintained by the Procurement and Contract Services Department and is available to YC staff. If there are changes to your business information, please submit an updated form. This information will be purged every three years of companies that have not done business with Yavapai College.
---
Current Open Request for Qualifications (RFQu)
---
Current Open Request for Proposals (RFP)
RFP21-324

Food Service Operation.  Available online Reference # BPM003048 through the State of Arizona's e-Procurement system, Arizona Procurement Portal (APP) (

https://appstate.az.gov

) 
---
Current Open Invitations for Bid (IFB)
---
Current Open Notices of Intent (NOI)
---
Awarded Projects
RFQu-JOC21-326 & RFP-JOC21-329:

 Job Order Contract General Construction Services.  Multiple Awards: BWC Enterprises dba Woodruff Construction Regions 1-5
CORE Construction, Inc. Regions 1, 3, 4, and 5
Haley Construction Company Regions 1-5
Haydon Building Corp Regions 1-5
Ridgeline Builders Region 2
Skyline Builders & Restoration, Inc. Regions 1-5

RFQu-JOC21-328 & RFP-JOC21-329:

  Job Order Contract Mechanical, Electrical and Plumbing Services.  Multiple Awards: Corbins Electric; HACI Service LLC; McCarthy Building Companies; Midstate Energy LLC; Pueblo Mechanical & Controls; Summa Mechanical Contractors, Inc.; Sunstate Mechanical Services, LLC. 

RFQu-JOC21-327 & RFP-JOC21-329:

  Job Order Contract General Engineering Services.  Multiple Awards: Fann Contracting, Inc.; Kinney Construction LLC; The S.J. Anderson Company

RFP21-325:

3D Printer Building Contractor Partnership - awarded to Arizona Custom Concrete Homes 12/4/20.

IFB21-648

: PAC Technical Theater Bldg 16 Addition – awarded to Danson Construction LLC on 01-21-21

IFB 21-647

: FANUC CERT Carts - awarded to Klein Educational Systems Inc on 08/20/20.
RFP 20-323: Charter Bus Services – awarded to Master's Touch Christian Charter Services and Arrow Stage Lines on 07/16/20