Employee Recognition Committee
Improve staff engagement and job satisfaction through highlighting fellow employees with appreciation.
It's YCWAY Award nomination time!
All YC employees—faculty, staff, and administration—are eligible to be nominated for a YC Way Award. Anyone can nominate someone: peer-to-peer, supervisor-to-employee, and employee-to-supervisor.
The nomination process will close after July 1, 2020.
---

Fall Convocation August 10, 2020
---
Nominate a colleague by the following links
Relationship Excellence keeps people feeling connected to the organization as a valued contributor and makes learning and service excellence possible.
Service Excellence is a significant advantage and performance differentiator for organizations.
Learning Excellence moves beyond a set of principles and outcomes –it is a set of beliefs at the core, that determine an organization's way of thinking and being and how that shapes the learning environment and what happens there.
YCWAY Award Winners - January 8, 2020
---
Employee Recognition Committee Members
---
---
Recognize a peer for going above and beyond the call of duty!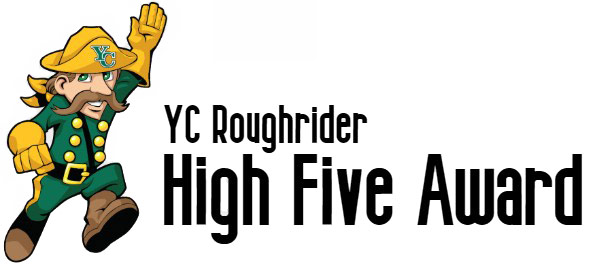 When you fill out the form a certificate of gratitude sent to the person and their name is listed on the website for a long time!
It only takes a moment, and a simple "I appreciate you" is usually enough to brighten someone's day.
Click here to send a YC Roughrider High Five Award
This is open to all staff members, full-time, part-time… it doesn't matter.
Let's celebrate the hard work and dedication our staffers give every day.
We look forward to seeing your nominations!
---
YC Roughrider High Five Recipient List - April 2020
Robb Ferguson
Andrea Schaben
Ike Whisenand
Tom Aldridge
Ryan Gray
Frankie Cardamone
Nicole Mangelsdorf
Kenny Ryder
Paula Gregory
James Rider
Sonya Liadis
President's Office
Brennon Francis
Julie Galgano
Lauri Dreher
Teresa Schwickerath
Anne Stoxen
Ryan Winkelman
Darcien Balog
Angela Fabela
Zach Wigle
Ed Schultz
---
YC Roughrider High Five Award Recipient List Archives
Employee Recognition Meeting Notes
Winter Celebration Meeting Notes
Years of Services Meeting Notes
The Years of Service events for Prescott Campus and Verde Valley Campus have been canceled due to COVID-19. The events will be moved to an online slideshow, which will be made available shortly.