Employee Recognition Committee
Improve staff engagement and job satisfaction through highlighting fellow employees with appreciation.
Yavapai College Years of Service Awards
Due to COVID-19 the Years of Service event will be virtual and emailed via Duck Soup on March 25, 2021. If you are a recipient, be on the lookout after March 26, 2021 for your awards, they will be mailed to you.
---

Winners to be announced at Spring Convocation, January 13, 2021
Spring 2021 YC WAY Award Winners
Cristina Poeppel

- Early College - Relationship Excellence

Barrett Johnson

- Teaching and E-Learning Support Specialist - Service Excellence

Jennifer Ritter

- Clinical Nursing - Learning Excellence
Download the Spring 2021 Nominee slides - pdf
All YC employees—faculty, staff, and administration—are eligible to be nominated for a YC Way Award. Anyone can nominate someone: peer-to-peer, supervisor-to-employee, and employee-to-supervisor.
Any nominations received after the deadline will automatically be applied to the next Semester's award process.
---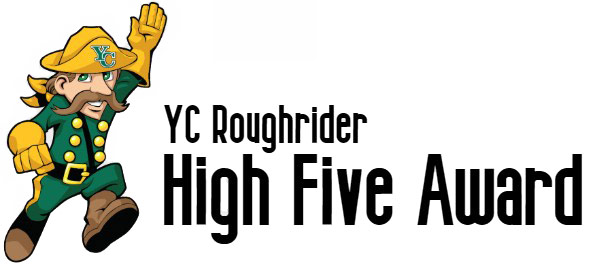 Recognize a peer for going above and beyond the call of duty!
When you fill out the form a certificate of gratitude sent to the person and their name is listed on the website for a long time!
It only takes a moment, and a simple "I appreciate you" is usually enough to brighten someone's day.
Click here to send a YC Roughrider High Five Award
This is open to all staff members, full-time, part-time… it doesn't matter.
Let's celebrate the hard work and dedication our staffers give every day.
We look forward to seeing your nominations!
---
YC Roughrider High Five Recipient List - January 2021
Biro, Brandon
Classen, Joyce Edwards
Crockett, James
Dodwell, Jami
Earles, William
Ellis, Scott
Hernandez, Jaime
Hoots, Linda
Lillie, Amber
Pfister, An
Rhodes, Lisa
Ryder, Ken
---
YC Roughrider High Five Award Recipient List Archives
---
Meeting Notes
---
Employee Recognition Committee Members
---
The Years of Service events for Prescott Campus and Verde Valley Campus have been canceled due to COVID-19. The events will be moved to an online slideshow, which will be made available shortly.