Employee Recognition Committee
Improve staff engagement and job satisfaction through highlighting fellow employees with appreciation.
Yavapai College Years of Service Awards
Due to COVID-19 the Years of Service event will be virtual and emailed via Duck Soup on March 25, 2021. If you are a recipient, be on the lookout after March 26, 2021 for your awards, they will be mailed to you.
---

Winners to be announced at Spring Convocation, January 13, 2021
Spring 2021 YC WAY Award Winners
Cristina Poeppel

- Early College - Relationship Excellence

Barrett Johnson

- Teaching and E-Learning Support Specialist - Service Excellence

Jennifer Ritter

- Clinical Nursing - Learning Excellence
Download the Spring 2021 Nominee slides - pdf
All YC employees—faculty, staff, and administration—are eligible to be nominated for a YC Way Award. Anyone can nominate someone: peer-to-peer, supervisor-to-employee, and employee-to-supervisor.
Any nominations received after the deadline will automatically be applied to the next Semester's award process.
---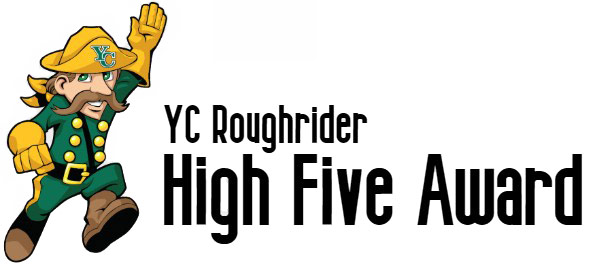 Recognize a peer for going above and beyond the call of duty!
When you fill out the form a certificate of gratitude sent to the person and their name is listed on the website for a long time!
It only takes a moment, and a simple "I appreciate you" is usually enough to brighten someone's day.
Click here to send a YC Roughrider High Five Award
This is open to all staff members, full-time, part-time… it doesn't matter.
Let's celebrate the hard work and dedication our staffers give every day.
We look forward to seeing your nominations!
---
YC Roughrider High Five Recipient List - February 2021
Alsobrook-Hurich, Ruth
Baker Stock, Susanne
Belknap, Monica
Clifford, Brad
Comstock, Courtney
Dodwell, Jami
Eads, Karen
Freeman, Curtis
Galgano, Julie
Gilliam, Shelly
Gray, Ryan
Holbrook, Dean
Leja, Karen
Lillie, Ruth
Lopez, Mandi
Mangelsdorf, Nicole
Mooney, Deanna
Payne, Gwen
Poland, Angie
Polland, Dawnette
Quinlan, Michael
Ruggles-Kruger, Paige
Schwickerath, Teresa
Showler, Jodi
Tenney, Chris
Vodika, Lorrie
White, Ustadza
Zarifis-Russell, Sophia
---
YC Roughrider High Five Award Recipient List Archives
---
Meeting Notes
---
Employee Recognition Committee Members
---
The Years of Service events for Prescott Campus and Verde Valley Campus have been canceled due to COVID-19. The events will be moved to an online slideshow, which will be made available shortly.