---
The Literary Southwest
Spring 2021 Online
Readings and conversations with the finest writers from the West and beyond: distinctive voices, diverse backgrounds, and multiple genres. All events presented free via livestream.
---
---
An Evening with Diana Gabaldon
Friday, April 2, 7:00 pm
YouTube - live stream
Register for Zoom - interactive format
Diana Gabaldon is the #1 New York Times bestselling author of the wildly popular Outlander novels, on which the acclaimed Outlander television series is based: Outlander, Dragonfly in Amber, Voyager, Drums of Autumn, The Fiery Cross, A Breath of Snow and Ashes (for which she won a Quill Award and the Corine International Book Prize), An Echo in the Bone, and Written in My Own Heart's Blood. She's also written the related Lord John Grey books— Lord John and the Private Matter, Lord John and the Brotherhood of the Blade, Lord John and the Hand of Devils, and The Scottish Prisoner; a collection of novellas, Seven Stones to Stand or Fall; two works of nonfiction, The Outlandish Companion Volumes 1 and 2; and the Outlander graphic novel The Exile.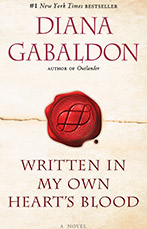 Beyond being remarkably prolific as a writer, she holds three degrees in science—Zoology, Marine Biology, and a Ph.D in Behavioral Ecology (plus an honorary degree as Doctor of Humane Letters)—and spent a dozen years as a university professor with an expertise in scientific computation before beginning to write fiction. She has written scientific articles and textbooks, worked as a contributing editor on the MacMillan Encyclopedia of Computers, founded the scientific computation journal Science Software Quarterly, and has written numerous comic book scripts for Walt Disney. She lives in Scottsdale, Arizona, with her husband.
---
An Evening with Tommy Orange
Friday, February 5, 7:00 pm
YouTube - live stream
Register for ZOOM - interactive format
Tommy Orange is the author of the New York Times bestselling novel There There, chosen as the 2020 Riders Read selection by Yavapai College. There There is a multi- generational, relentlessly paced story about a side of America few have ever seen: the lives of urban Native Americans. It was one of The New York Times Book Review's 10 Best Books of the Year, and won the Center for Fiction's First Novel Prize and the Pen/Hemingway Award.
There There also was longlisted for the National Book Award and was a finalist for the Pulitzer Prize. Orange graduated from the MFA program at the Institute of American Indian Arts, and was a 2014 MacDowell Fellow and a 2016 Writing by Writers Fellow. He is an enrolled member of the Cheyenne and Arapaho Tribes of Oklahoma. He was born and raised in Oakland, California.
---
The Literary Southwest Online Archived Programs (on YouTube)
---
Thank you!
The Hassayampa Institute presents The Literary Southwest is made possible by Yavapai College and the Yavapai College Foundation, with additional support provided by Peregrine Book Company.
---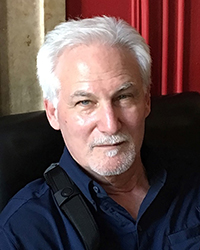 Jim Natal
Literary Southwest Program Director
---
Jim Natal helped found the Hassayampa Institute's The Literary Southwest series at Yavapai College in 2008 and has served as series director since then. Prior to that he curated and co-hosted literary series and events in Los Angeles for more than 10 years.
Natal is the author of five poetry collections, most recently Spare Room: Haibun Variations and 52 Views, both written entirely in the centuries-old Japanese haibun form. His previous full-length collections include Memory and Rain; Talking Back to the Rocks; and In the Bee Trees.
He is a multi-year Pushcart Prize nominee whose poetry has appeared in numerous journals and anthologies. A former executive for the National Football League's Creative Services Group in Los Angeles for 25 years, Natal received his MFA in Creative Writing from Antioch University Los Angeles in 2005.
With his wife, graphic designer and book artist Tania Baban, he founded indie publishing house Conflux Press in 2003.
---
The Literary Southwest: Featured Writers 2008-2021
Kim Addonizio
Ralph Angel
Jimmy Santiago Baca
Dorothy Barresi
Beau Beausoleil
Marvin Bell
Sherwin Bitsui
C.J. Box
Gayle Brandeis
Ron Carlson
Ana Castillo
K. L. Cook
Bernard Cooper
Ann Cummins
Marsha de la O
Alison Hawthorne Deming
Natalie Diaz
Chitra Banerjee Divakaruni
Mark Doty
Camille T. Dungy
Geoff Dyer
B. H. Fairchild
Janet Fitch
Ben Fountain
Alan Dean Foster
Diana Gabaldon
Richard Garcia
Eloise Klein Healy
Steve Heller
Laraine Herring
Naomi Hirahara
Jane Hirshfield
Linda Hogan
T. R. Hummer
Sean Huze
Joe Ide
Tara Ison
Craig Johnson
Lisa Ko
Ron Koertge
Jim Krusoe
Ilyse Kusnetz
Laila Lalami
Susan Lang
Layli Long Soldier
Anthony Marra
Demetria Martinez
Domingo Martinez
Gerald McDermott
Christopher Merrill
Dunya Mikhail
Jane Miller
Manuel Muñoz
Sean Nevin
Naomi Shihab Nye
Tommy Orange
Susan Orlean
T. Jefferson Parker
Jewell Parker Rhodes
Alberto Rios
Sharman Apt Russell
Kay Ryan
Benjamin Alire Saenz
David St. John
James Sallis
Lisa See
Rebecca Seiferle
Rebecca Skloot
Arthur Sze
Susan Terris
Lynne Thompson
Laura Tohe
Peter Turchi
Brian Turner
Charles Harper Webb
Al Young
Ofelia Zepeda