The YC☆WAY
Like a well-used deck that needs some shoring, pockets of Yavapai College need rebooting to ensure an optimal student experience, foster organizational health and earn community esteem.
Initiatives, momentum fueling "The YC☆WAY" forward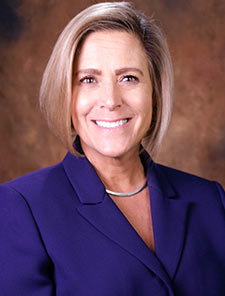 Dr. Lisa Rhine, President
"The YC☆WAY" a new way forward for all Yavapai College staff, faculty and administration – will help us achieve those specific objectives and then some on our way to becoming not a mediocre, not a great, but a premiere destination for higher learning, career training, cultural enrichment and economic vitality.
Much of my time these first six months has focused on determining where we stand as an organization and working with the Executive Leadership Team to engineer "The YC☆WAY". As promised, I am finishing up my meetings with every corner of the college where I have talked to individuals and small groups about their experiences here.
Not surprisingly, the talks have shed light on more than a few opportunities to roll up our sleeves and do more by our students and stakeholders so that their time here is truly life-changing and unforgettable. As the program tours and employee visits wind down, please accept my sincere thanks for your hospitality, your candor and your genuine interest in the college's evolution.
Earlier this summer, we introduced a key ingredient of the YC☆WAY -- training in a model of human interaction called "The Outward Mindset." As its name denotes, "The Outward mindset" asks us to shift our mindsets outward, focus on others' needs, listen, and work together to fulfill those needs.
I believe adoption of "The Outward Mindset" will go a long way toward curing some of the ills that threaten our organizational health, because how we relate to each other and work together really does matter.
In time, every employee will be trained in "The Outward Mindset. My expectation is that this training will transform us into an optimally functioning organization. We will recognize the day when it arrives and we will celebrate!
A more tangible element of "The YC☆WAY" was the creation of a leadership position responsible for the strategic initiatives that "The YC☆WAY" engenders. I am ecstatic to have Dr. Diane Ryan join our YC family in this new position. Her community college experience in multiple areas will be crucial in helping us shape our future.
Again, I want to thank all of you for opening your hearts and minds to the changes from the inside out coming our way and for understanding that this is not the latest fad. It is a philosophy, a practice, a direction. It is "The YC☆WAY" and I am honored to going there with you.
Sincerely,
Dr. Lisa B. Rhine,
President