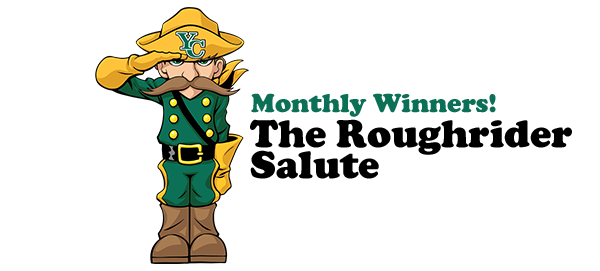 Dr. Lisa Rhine and the Executive Leadership Team
are delighted to present the recipients of The Roughrider Salute.
Congratulations, and thanks for being you! 
The Salute nomination rules and procedures -pdf | All winners SEPT 2020- JUNE 2023
---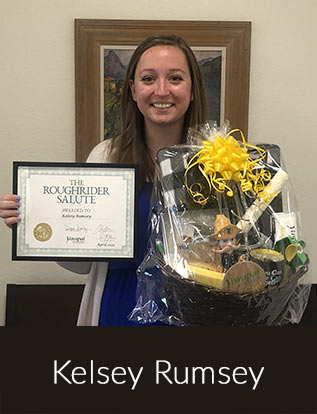 Academic Advisor
Kelsey constantly & consistently demonstrates a willingness to help students and her team members. She always demonstrates a team player attitude and never drops the ball with deadlines and accountability to team projects. Kelsey exhibits genuine concern and support for her team and is always there when we need backup.
Kelsey deserves the Roughrider Salute because she goes above and beyond the call of duty. Not only is she a proactive member of numerous committees, but she also created the support system for one of our colleagues who is struggling with cancer. My experience, while working with Kelsey, is that she is extremely intelligent, efficient, and a great collaborator. She would volunteer to create the materials needed for our Transfer Fair Committee, which must have been extremely time consuming. In addition, she set up an elaborate, financial and emotional support network for our suffering colleague. Kelsey's got heart and soul! Thanks for all that you do!
---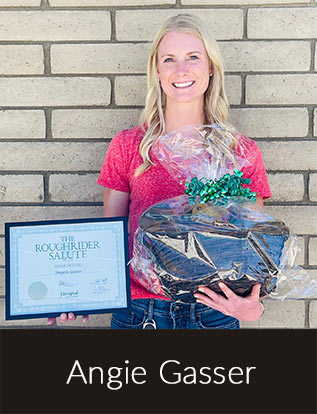 Environmental Health and Safety Manager
Angie has quietly handled much of the COVID-19 pandemic response with no recognition, fanfare, or accolades.
She has tirelessly endured webinar after webinar, fielded probably thousands of staff and faculty questions and even spent many hours stuffing masks into zip lock bags for our students. All of this was thrown at her with no warning due to the pandemic and she has kept a smile on her face throughout the whole experience.
Angie is always pleasant and upbeat and a pleasure to have in the office.
She has a great ability to manage a number of divergent ideas and personalities and keep the college safe while navigating an ever changing COVID landscape. Through it all, she is still a great sounding board for other College issues and never seems to tire of my endless questions.
---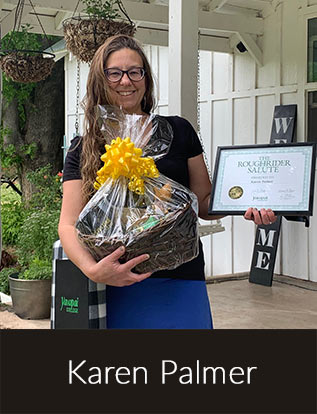 English Professor
Karen Palmer has gone out of her way to get our General Education criteria up to par. She took over in the middle of the semester and has worked tirelessly and cheerfully on a project that is frequently cantankerous, at best. We are lucky to have her and her commitment to Gen Ed.
Karen is one of the most diligent and thorough workers I have met. This is not only true as a teacher, but she also is committed to learning about the workings of the institution. She is always volunteering for different tasks, to serve on different committees, and to grow professionally.
She recently stepped in to take over as general education coordinator and put together a comprehensive gen ed assessment plan quickly and thoroughly. Her work is precise.