Awards Committee
Improve staff engagement and job satisfaction through highlighting fellow employees with appreciation.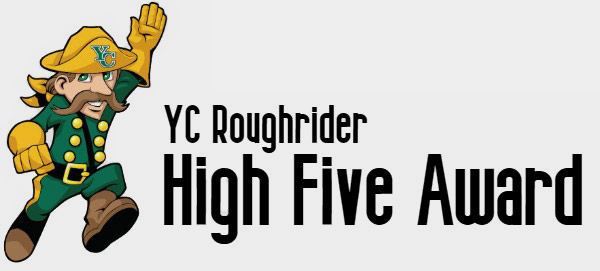 Yavapai College is overflowing with awesome team members. This is your chance to recognize a peer for going above and beyond the call of duty!
High Five awards are open to ALL college employees
Upon receipt of the nomination, an electronic award is sent to the employee
The employee will also receive a paper version and a Ruff magnet to showcase
The winners' names are then displayed on the website for all to see
It only takes a moment to say "I appreciate you" and brighten someone's day!
We look forward to seeing your nomination!
Click here to send a YC Roughrider High Five Award
October 2023 Winners
Alexa Cobarrubias
Sam Johnson
Angela Fabela
Ashley Harlan
Barrett Johnson
Bob Hoskovec
Brenda Burns
Calen Peterson
Carolyn Heath
Carol Beard
Cathleen Cunningham
Corinne Plapp
Cristina Poeppel
Dawnette Poland
Elijah Jones
Gwen Payne
Heather Knowles
Jessica Gaff
Layla Tenney
Lizzy Francis
Lori Couture
Natalie Inouye
Patrick Leon
Petra Bennett
Nick Rideout
Mattie Dundas
Wendy Present
Catherine Kefer
Linda Brannock
---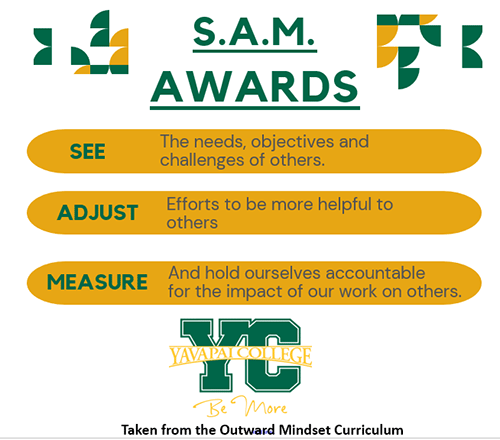 Awards Committee Meeting Notes
Join the Awards Committee!
Come join the Awards Committee as a Division Rep and enjoy the planning of various fun activities to help recognize the excellent employees of Yavapai College. The committee plans events such as the Winter Celebration and the Years of Service. The committee also awards employees via the High Five Awards and the YC Way Awards.
---
Awards Committee Members