Awards Committee
Improve staff engagement and job satisfaction through highlighting fellow employees with appreciation.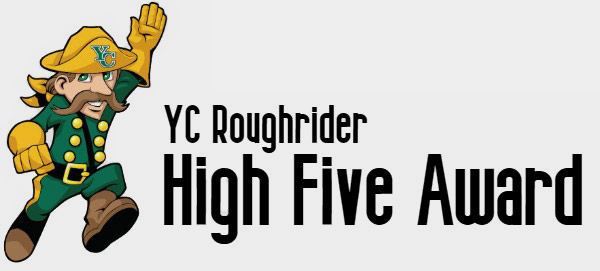 Yavapai College is overflowing with awesome team members. This is your chance to recognize a peer for going above and beyond the call of duty!
High Five awards are open to ALL college employees
Upon receipt of the nomination, an electronic award is sent to the employee
The employee will also receive a paper version and a Ruff magnet to showcase
The winners' names are then displayed on the website for all to see
It only takes a moment to say "I appreciate you" and brighten someone's day!
We look forward to seeing your nomination!
Click here to send a YC Roughrider High Five Award
January 2023 Winners
Harlee Morrison
Nicole Mangelsdorf
Andrea Schaben
Ashley Harlan
Ashley Picard
Craig Ralston
Fanny Zapata Sanchez
Jami Dodwell
Jennifer Jacobson
Jordan LaJeunesse
Karen Eads
Karen Smith
Molly Beauchman
Richard Hernandez
Russell Ivie
Ryan Harms
Sean Grylls
Tony Vytuvis
Alex Lewis
Bobbi Evans
Cathie Linn
Jami Dodwell
John Morgan
Lorie Smith
Shawn Lewis
Taylor Oest
Thomas Eastlack
Tresa Hibben
James Haile x2
Jennifer Ritter
JJ McCormack x2
Kellie Porter
Shelly Gilliam
Susanne Baker
---

---
YC WAY Award Winners
Jeremy Poehnert

- College Advisor - Relationship Excellence

Jim Voska

- Career Coach - Service Excellence

Maria Thomas

- Clinical Nursing - Learning Excellence
All YC employees—faculty, staff, and administration—are eligible to be nominated for a YC Way Award. Anyone can nominate someone: peer-to-peer, supervisor-to-employee, and employee-to-supervisor.
Any nominations received after the deadline will automatically be applied to the next Semester's award process.

Awards Committee Meeting Notes
Join the Awards Committee!
Come join the Awards Committee as a Division Rep and enjoy the planning of various fun activities to help recognize the excellent employees of Yavapai College. The committee plans events such as the Winter Celebration and the Years of Service. The committee also awards employees via the High Five Awards and the YC Way Awards.
---
Awards Committee Members