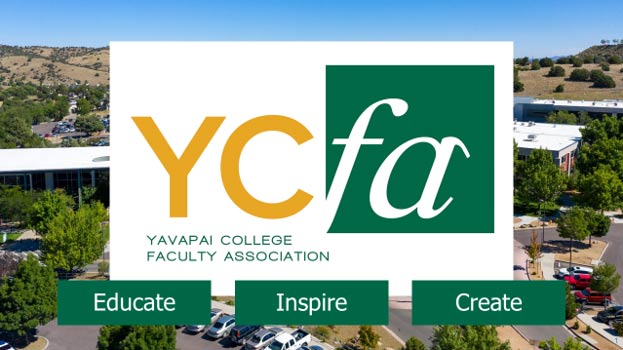 Faculty Association
All personnel with full-time faculty contracts are eligible for membership in the Faculty Association (FA).
The FA participates in matters of educational policy within the limits prescribed by Federal and State law, the policies of the District Governing Board of Yavapai College, and YC Operational Policies 3.01 and 10.11.
The FA includes ten standing committees focused on academics and instruction and faculty matters, as prescribed by the HLC. When appropriate, FA committees include members of administration and staff to gain insight and feedback: while faculty should retain oversight of academic matters, it is understood that, often, feedback from other stakeholders is vital, and, thus, most FA committees include non-faculty members and/or frequently consult with non-faculty. Committees work to complete tasks assigned by administration and those identified by FA committees/members. Committee membership, agendas, minutes, and meeting information is posted in the FA Canvas site in the individual committee modules. Past committee documents are archived there as well.
The Association coordinates committee work through its representative body, the Faculty Senate. Faculty Senate consists of the officers of the association and senators elected for limited terms by the Faculty Association members. The Senate has two senators from each school for a total of twelve senators plus the president, past-president, secretary/treasurer, and the Adjunct Faculty Coordinator. Each committee reports directly to Senate to ensure representative feedback from all faculty employed by the college.
Regularly scheduled meetings are held from August through May, generally on the 2nd and 4th Fridays of each month from 12:00 to 2:00 via Zoom. Senate meeting agendas are posted in the Senate module of the FA Canvas shell 24 hours in advance of each meeting. Contact any officer or your senator for items you wish to be added to an agenda or to speak on an agenda topic. All faculty members are invited to attend. Approved meeting minutes and supporting documents are posted in Canvas.
---
| Officers |   |
| --- | --- |
| President | Jill Fitzgerald |
| Past President | Jennifer Jacobson |
| Secretary/Treasurer | Vikk Bentz |
| President Elect |   |
| School | Senator |
| --- | --- |
| ARHU | Joshua Harper, Karen Palmer |
| CATE | Robert Smith, Marnee Zazueta |
| SOSC | Mark Woolsey |
| BUCS | Philip Reid, Jennifer Riley |
| HEWE | Jason Ebersole |
| SCEN | Jeb Bevers, Andrea Schaben |
2021-22 Faculty Association Committees and Membership - 11/02/21 pdf
| Standing Committee | Chairs |
| --- | --- |
| Budget and Compensation | Vikki Bentz (BUCS) |
| College Standards | Amy Stein (ARHU) |
| Curriculum | Matt Pearcy (SCEN) |
| Developmental Education | Nicole Dean (ARHU) and Tina Luffman (ARHU) |
| Faculty Affairs | Jennifer Riley (BUCS) |
| General Education (Advisory to Curriculum) | Karen Palmer (ARHU) |
| Peer Faculty Mentor Oversight | Marie Hardman (HEWE) |
| Professional Growth | Stephen Doyle (SOSC) |
| Student Learning Outcomes Assessment | Bill Swenson (SCEN) |
| Teaching and Learning | Gino Romeo (SCEN) |
Constitution & Shared Governance
Association members have the option to join the American Association of University Professors as an extension of their association membership.
How the College benefits by AAUP Membership
Provided the framework for the approved Statement of Understanding on Shared Governance
Helped in the development of the Peer Review process
Provided a working model that was proposed to provide faculty input into the YC budgeting process
Provided clarification and models that the original faculty handbook committee used to initiate that product.
Reviewed and provided valuable feedback when faculty initiated a substantial change to the grievance policy.
Provides ongoing training via conferences
Provides valuable web resources pertaining to policies, procedures, and best practices that all members have access to.
"By joining, faculty members, academic professionals, and graduate students help to shape the future of our profession and proclaim their dedication to the education community. Joining the AAUP says that you're concerned about academic freedom, and about the way that basic freedom protects your teaching and research. It says that participating in faculty governance is important to you, and that you are concerned about career issues, tenure, and the overuse of contingent faculty".
In addition, there are practical benefits available to AAUP members such as Academe subscription, discounts, insurance programs, and financial incentives.
View membership benefits here.
Affordable and convenient payroll deduction is available; contact the FA Secretary for forms.
The Faculty Association collects donations through payroll deduction and gives to a variety of local charities. In addition, faculty donations have directly supported YC students through the Foundation and the IamYC student support organization. 100% of donated funds go to deserving organizations. Past recipients include:
YC Foundation – since 2010, over $7,800 has been donated to Foundation for scholarships in honor of retiring/deceased faculty members and other fundraising campaigns.
YC Foundation – gift cards for Evening of Recognition award recipients, $2,341.
IamYC – since 2017, $4,150 has been donated for the student emergency and food bank funds.
Friends of the Library
Yavapai County Food Bank
Central Arizona Food Bank (Cottonwood)
Imagination Library, Prescott and Verde Valley
Boys & Girls Club