Welcome to Waitlisting
Reserve a space if a seat comes available in a full class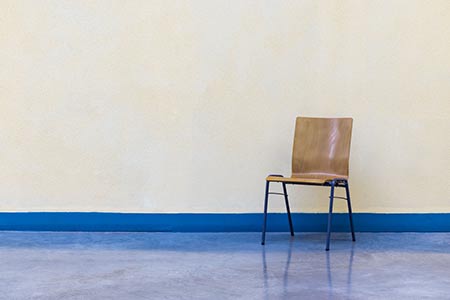 Students who wish to register for a class that is full can now add their name to a waitlist to hold a seat if space becomes available. Your position on the waitlist depends on what day/time you signed up for the waitlist.
Waitlist ends on the Thursday after the start of the semester term (see academic calendar). Students who have not been offered a seat at the time waitlist ends will be removed from the waitlist so that they may register for another section. After that point, enrollment will be allowed on-demand as seats become available. 
---
How waitlisting works
When a seat opens a notification email is sent immediately to your YC email account notifying you that you may register for the Waitlisted course within 24 hours from notification time. These notifications may happen at any time -- the system checks frequently every day, including evenings, weekends and holidays.
To add a waitlisted class, go to Register for Classes and change your enrollment status from "Waitlist" to "Web Registered" for that course and click "Submit".
Waitlisted classes will show on your schedule but will not count towards your total enrolled credits. They also do not count towards federal financial aid or other program credit requirements.
It is your responsibility to check your YC email daily and to take advantage of the offer once notified of an available seat within the time allowed.  If you don't register by the expiration date/time you will be removed from the Waitlist and the seat will be offered to the next student on the Waitlist.  (Please note this is an automatic process, so if you miss the deadline you will have to put yourself back on the Waitlist, if there is room, in your desired section

Waitlists will expire on the Saturday after the start of the semester term at 5pm.

All students who are waitlisted students will be purged within 24 hours of that deadline. Students who are offered a seat by the deadline will still have the 24-hour option to register. 
---
Registration Self-Help - learn how to register
---
How can I see if a course has a Waitlist option?
Full classes will show an alert in the Status column. If a waitlist is available for that class, it will show how many seats are available for waitlist.

NOTE: if there is a blue triangle next to the waitlisted seat count, this means that the class is crosslisted with another course. The number of waitlisted seats available between both classes is the count displayed.
---
How do I add myself to a Waitlist?
Click on the "add" button. This will add the class to your Enrollment Activity window and list it as pending. 

Using the Action drop-down menu, change the Enrollment Status to "Waitlist". 
Click Submit. 

If you submit classes from your Enrollment Activity window without changing the status to waitlist, you will receive a Registration Add Error stating "Class is full. Waitlist available". You may select Waitlist from the drop down menu under Action and then click submit to waitlist the course on your schedule.
---
Does being on a Waitlist for a closed section guarantee me a seat in that section?
No.  You will only be offered a seat if another student drops the course.  The only way to guarantee a seat for a course is to register for an open section.
---
Can I Waitlist for multiple sections for the same course?
No.  You can Waitlist yourself for multiple courses, but NOT for multiple sections of the same course.
---
Can I add myself to more than one Waitlist?
Yes, but only for different courses.  You cannot be on multiple Waitlists for different sections of the same course.
---
If I no longer want the class I am Waitlisted for does it matter if I stay on the Waitlist?
If you are no longer interested in a class for which you are on a Waitlist, you should drop yourself from the Waitlist.  This allows other people to move up the waitlist. Also, if you end up being notified about an open seat for that class but you no longer want it, it will keep you from registering for another section of the same course for the entire 24 period. 
---
Are Waitlists available for all sections?
Many but not all courses may offer a waitlist if the section is full. Please check the status column to see if a waitlist is available for a full class. 
---
Will YC automatically register me for a course if I'm notified when a seat opens up?
No, you will not be automatically registered.  Once you are notified via your YC Email that your Waitlisted course now has an open seat for you, you must log into your myYC account, go to Banner Self-Service and officially change your status from "Waitlisted" to "Web Registered".  Do not respond to the Waitlist notification email and asked to be registered for the course.
---
What happens if I missed my email and failed to register by my designated deadline?
When you add yourself to a Waitlist, it is your responsibility to check your YC email on a daily basis.  If you lose your spot on a Waitlist, or intentionally drop your spot, you can get back on that waitlist, but keep in mind you will then be lower priority on the queue. 
---
The class has open/available seats, so why can't I register for it?
If a seat opens up in a full course that has students on a Waitlist, the section will remain closed as that seat is reserved for the person on the Waitlist.  If that student does not take action within the allotted time the seat will go to the next person on the Waitlist (if applicable).  If there are no students on the Waitlist the course will open, allowing non-Waitlisted students to enroll. The following alert will show if seats are being held for students already on the waitlist
---
What if I change my mind and want to remove myself from the list?
Go to Self-Service Banner and drop the Waitlisted course the same way you would drop a course you are registered for by choosing remove from the Action drop-down menu in the Enrollment Activity window. If you have already received notification about an available space in the class, you will be unable to register for a different section of the course until the 24 hour notification period has passed. 
---
Are holds, prerequisites, and other registration restrictions, checked before joining a Waitlist?
All registration holds, prerequisites and other restrictions are checked prior to allowing a student to join a Waitlist, and again upon registering. 
---
Will I be charged for a class if I'm on the waitlist?
No.  You will only be charged tuition and fees if you actually register for the class.
---
Do Waitlisted courses count towards my full-time enrollment status?
No, waitlisted courses do not count for any hours attempted, enrolled, or earned UNTIL you officially register for the course.