Filmer Kewanyama
Member of the Qalwungwa Clan and an award-winning artist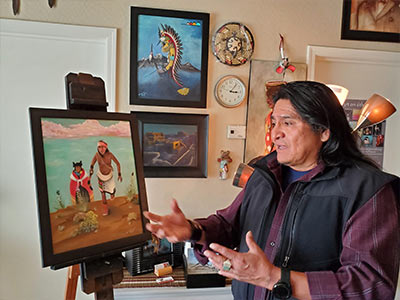 The depiction of the meaning of the Hopi, spirituality: The People of Peace
Filmer Kewanyama's father, Leroy, was a revered artist who carved Katsina dolls, made jewelry, and painted. Watching him was an education, Fil says, in more ways than one.
"Not only did I learn about art, but I learned all that it gives us Hopis in our ceremonial way of life." Now, as a member of the Qalwungwa Clan, a YC alumnus and an award-winning artist in his own right, Fil applies that same sense of mission to his own work. "I take so much pride in what I create, because the work has a story behind it and that's how I teach others about who we are as Hopi People."
A look at Fil's vibrant portrayals of Hopi culture might lead you to believe he's been painting all his life. But Fil came to painting after a 21-year career in the Army, where he instructed cadets at the University of California Davis and at CSU Sacramento. "I was taught by my family that you treat everyone with respect, no matter what their beliefs, ethnicities or religion. I've lived by that rule, and the Army reinforced it."
A back injury brought First Sergeant Kewanyama to Prescott. After treatment at the V.A. hospital, he enrolled at Yavapai College and earned his Associate of Applied Science Degree, specializing in Graphic Design. His dedication to the craft paid off in 2017, when his painting "Homage to the Hopi Code Talkers" won first place at the local National Veterans Creative Arts Festival.
"I am constantly striving to learn and develop new techniques and ideas to use in my paintings, digital art, sculpture, and much more," he says.
"I focus on trying to depict the spirituality of what Hopi means to me: The People of Peace."