Nancy Ostapuk
From a lab monitor to a Director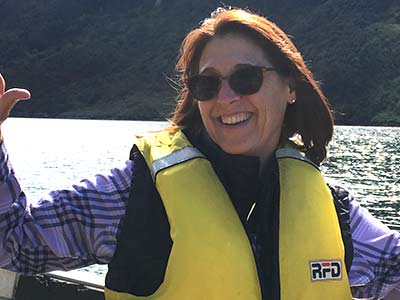 From lab monitor to Director of Community Education/EDventures Division of Lifelong Learning, Nancy Ostapuk has taken the "long and winding road" along both her educational path, and her employment at Yavapai College.
Beginning her academic coursework in 1989, Ostapuk finally completed her AA in Office Administration 14 years later by taking one class at a time. "I was raising my two son's and working and did what I could to make my education a priority as well." After finishing her studies at YC, she went on to complete both a BA and an MA from Bellevue University in Nebraska.
While diligently chipping away at her coursework, Ostapuk worked her way through various roles at YC including lab monitor, Division Assistant for Business and Computer Science, Prescott Valley Center Division Assistant for Public Safety, dean's assistant for Lifelong Learning, and now serves as Director of Community Education/EDventures Division of Lifelong Learning. "YC is a true community college for the community and I'm proud to be an employee here, in service to this great community."
Her all-time favorite YC course was Astronomy, taught by current faculty member, Diane Dutkevitch. "Astronomy was by far the hardest class I took, but the physics toys were amazing! I remember taking a photo of Saturn and the moon…it was an amazing experience. I would have been an Astrophysicist had I known better."
Ostapuk reminisced about the her early days at YC and remarked, "Watching the masterplan for the college come to life and transition from four basic buildings to ALL of this…it's been incredible to be a part of it all."
Lifelong friendships were another theme that Ostapuk remarked warmly about. "I helped three other women through Algebra class. We called ourselves "math campers" because we camped out and had regular sessions at the Learning Center about three to four times a week. We would bribe Susie Check's son Tom with pie and coffee to help us get through it. We all still get together today for each other's birthdays – math campers unite!"