JP Searce
JP's story is one of personal determination, positive attitude, lack of ego, and tremendous self belief.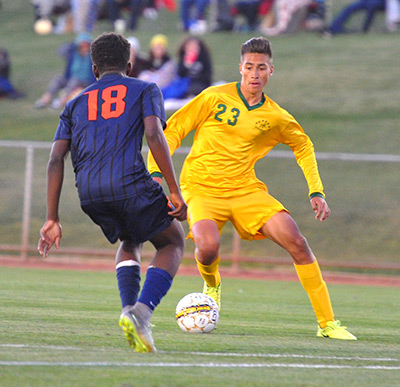 JP's story is one of personal determination, positive attitude, lack of ego, and tremendous self belief. He took a decidedly non traditional path to his first professional touch for Union Omaha, but from the time he first started kicking a soccer ball on the sidelines of his sister's soccer game in Nogales, AZ, he knew he wanted to go pro.
Before his freshman year of high school, JP's dad got a job in the Phoenix area and the family moved to Scottsdale, AZ. Moving to a new school in a new town JP was nervous to try out for the soccer team at Chaparral HS in Scottsdale as a freshman and yet he made varsity and was a starter from day one. Chaparral was not exactly a soccer powerhouse, and JP quickly became the best player on the team. Despite playing for a well known Arizona club and staring at his high school, JP never played for a USSDA program.
Not playing DA, JP didn't have much exposure to the coaches of top DI programs, and since he was not the kind of goal-scoring "ten goals a game freak" that would attract attention anywhere and more of a "pretty decent," but "low-key" kind of player, the DI attention was very slow to arrive. However, during his senior year of college, the Air Force Academy offered JP a scholarship.
About a month in advance of boot camp, JP received a letter informing him he was medically disqualified from the Air Force because he indicated he had a peanut allergy on his medical forms. After some back and forth on the phone, JP agreed to get allergy tested for his peanut allergy. He successfully argued that since it had originally been diagnosed as a child and occasionally children grow out of their childhood allergies, he should get a chance to prove he no longer had the allergy.
...His Air Force career was over before it even began. With his DI soccer offer off the table, JP considered quitting soccer entirely, going to Arizona State, and moving on with his life. Instead, he called up a school that was interested in him very early in his recruiting that he had turned down: Yavapai College in Prescott, AZ.
Talking with the coach a week before practice started, he discovered there was a spot for him on the team and so began a very successful juco career for JP.

His freshman year at Yavapai College, he scored three goals and had the fourth most assists, 16, in NCJAA. His sophomore year was even more successful with ten goals, 15 assists, good for ninth in NCJAA, he was Yavapai student-athlete of the year, and Yavapai played 29 games, more than anyone else in the country.

Yavapai also made an appearance in the National Championship game where they lost to Tyler (TX) 3-2 in the 91st minute.
On the backs of this impressive season, JP got the attention of five or six DI programs including Cal Poly, American University, Grand Canyon and of course, Cornell. During his visit to Cornell, JP clicked the coaching staff and decided to continue his journey in Ithaca, NY.
If you've been tracking the geography of our story, JP has been moving north steadily from the southern border of Arizona in Nogales, to northern Arizona in Prescott. That's about a 280 mile drive. Prescott, AZ to Ithaca, NY is about a 2,300 mile drive.