Sara Ireland
Sarah Ireland, ICU Nurse, Making a Difference in our Community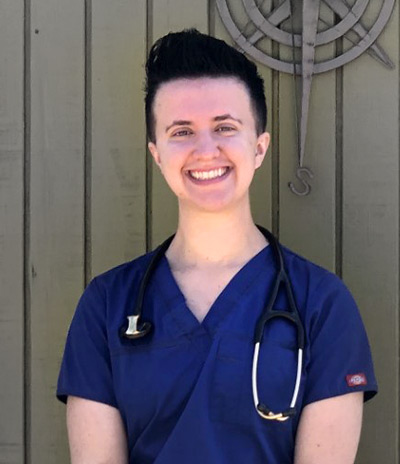 "I can be changed by what happens to me, but I refuse to be reduced by it." – Maya Angelou. Sarah is clearly making a difference in our community and we are truly fortunate to have her.
"Although the world is full of suffering, it is also full of overcoming it." Helen Keller's words could not be more valid than today. The COVID-19 pandemic has undoubtedly disrupted everyone's life in some form, but we are fortunate to have a dedicated front line and essential workers in our community bravely continuing the important task to help us maneuver it.
ICU nurses are one of those incredible, fundamental workers faced with the difficult challenge of caring for critical COVID-19 patients. Working 12-hour shifts, cognizant of the proper wearing of PPE to protect themselves and their loved ones are just a few challenges they face. Now add to that list, being the communication link to the patients and their loved ones. It takes a special person to be an ICU nurse. They need to be technically proficient in medicine, possess astute organization skills, have the ability to multitask and think quickly on their feet. All of this in an incredibly intense situation with a team.
Sarah Ireland is an ICU (Intensive Care Unit) nurse at Yavapai Regional Medical Center and possesses all those skills. A graduate from Yavapai College, she moved to Prescott Valley when she was 8 years old. She graduated from Bradshaw High School in 2013. Sarah had a strong interest in math and sciences but was unsure what she wanted to do after graduation. She deliberated between pursuing an engineering or nursing degree. It was her dad, a nurse himself, that encouraged her to pursue nursing.
She enrolled at Yavapai College and was fortunate to be a recipient of the Community healthcare scholarship award. It was this scholarship that solidified her decision to pursue nursing. She entered the nursing program at YC in 2016 and describes the scholarship as "a blessing". This award helped her tremendously as she was able to focus more on the academics of nursing. Upon graduation, the timing would not have been more perfect as Yavapai Regional Medical Center had a new graduate program in which she was accepted. Sarah would spend a year at the YRMC East Campus in a multilevel care unit.
She later transferred to the west campus where she now works as an ICU nurse. Sarah shares, "I like working in the ICU. The way the nursing school is set up, there's just so much it can't prepare you for. It is an in-class environment, and it can't prepare you for the ever-changing healthcare field. I really enjoy the effort you have to put in to help people and to be able to kind of make a difference. You have to engage your brain and actively anticipate the things that could go wrong so you can help people. I like that." She welcomes the challenge of focusing on critically ill patients. "We end up having a lot of autonomy and you're usually just focused on two patients at a time because they are so critically ill. It allows you to dig deep and think about what you're seeing and what is going on with your patient and think about what you should be talking to the doctor about because you are their eyes and ears.", says Sarah. With COVID she is also now the eyes and ears and the communication link to patients' loved ones. This has changed her and her colleagues' approach. "You get to know the patient through their families and their interactions.", Sarah reflect. She facilitates IPAD zoom meetings which provide them with some comfort. You are not alone when family can't be there, and Sarah and her colleagues are there to ensure this.