YC Love Stories
Share your personal stories, life milestones, and other wonderful experiences.
We want to share your stories about life!
Email your stories and photos to be featured in a future e-newsletter and right here on the Alumni website.
---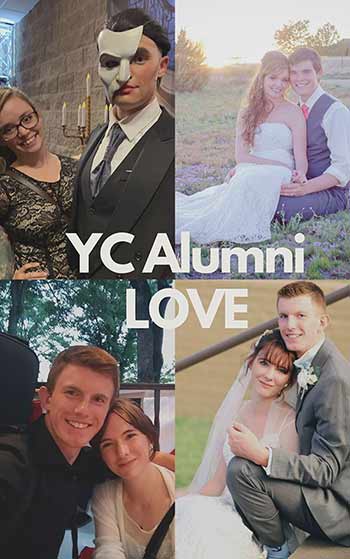 Four YC alumni, two love stories: music as matchmaker in the Performing Arts Department
Is it fate? Serendipity? Intervention by a higher power, or simply the stars aligning when two people meet and fall in love? Perhaps all of those forces collided with the awakening power of music to bring Andre and Andrea Sylvester and William and Taylor Reese together while each studied music seriously or for pleasure at Yavapai College.
The four YC alumni found in the college's performing arts department a community -- a home where their authenticity and talent were embraced, encouraged and honed. It's also where each found the love of their life…
---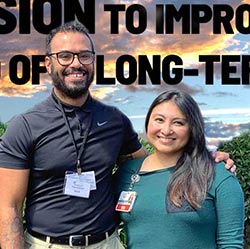 Amanda Vivanco and Ekklesia "EK" Breed
This inspired couple is on a mission to improve the standard of long-term care in rural Arizona. The pair of YC Nursing Program alumni are pursuing the mission separately – as nursing directors at care centers in the Verde Valley -- and together as a soon-to-be married couple with a shared passion for improving the lives of people dependent on nursing care.
---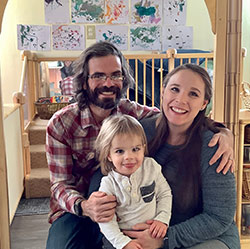 Killian & Erica Lord
Killian and Erika Lord fell in love with teaching and each other as students working together at the Del E. Webb Family Enrichment Center. Their friends-to-sweethearts story took three years to unfold, but today they are growing a "family within a family" at the college's early childhood development center. Erika and Killian Lord aren't the first people to fall in love at Yavapai College. Nor will they be the last. But their story is sweet. It's unique. It's a treasure. And it just may cause you to cast aside any doubt and believe in love for the first time, or better yet, again.
---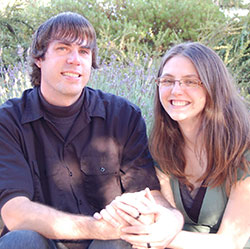 Sean & Lydia Watts
"In the Fall of 2011, I moved back to Prescott after living in Chandler for a year. I wanted to finished my Associate's Degree and began taking classes at Yavapai College again. I signed up for an evening poetry class with Michella Carter and sat by myself for a few weeks.
A young man then approached me and asked to sit next to me. I was shocked as my peers usually don't ask or want to sit next to me, but I said yes. Eventually, we began sharing our poetry and talking about our interests such as music, video games, and favorite movies.
As our friendship continued to grow so did our attraction to each other. We began dating and then got married in September 2013. To this day, when anyone asks how we met, they always find it romantic that we met in a poetry class.
I completed my Associates Degree in 2012 (geared toward an English/teaching degree) and then went back to earn a "Administrative Office Specialist" certificate in 2014 which assisted me in landing the job I am currently in now."
---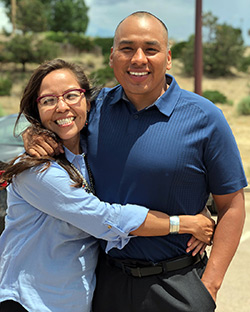 Denise & Mike Sixkiller
Mike Sixkiller took a chance on love and his future wife, Denise, on Valentine's Day 26 years ago, while both were students at Yavapai College.
The couple recently visited the Prescott campus where Mike pointed out to three of their four children the second-floor room at Kachina residence hall where, according to Mike, the couple "miraculously" met.
---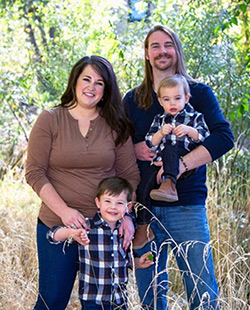 Lauren Kooken & CJ Kooken
My husband (CJ Kooken) and I met in 2009 taking a chemistry class as a prerequisite for the nursing program. We were lab partners and then friends and then started dating at the end of the semester.
We went through the entire nursing program together and got married a week before graduation in 2012. We studied for finals and the NCLEX while on our honeymoon.
We have now been married almost 9 years, and have two little boys together. I teach as faculty in Allied Health and my husband is an ED/trauma nurse at YRMC.
---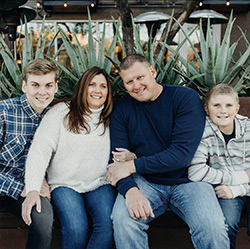 Michele Vickrey Shuey & Tom Shuey
We love sharing our Yavapai College love stories!
My husband, Tom Shuey, and I were both Roughrider Basketball players that started dating January 21, 1992. It was love at first sight. Within weeks of starting to date we knew we wanted to get married after we finished our degrees. Now 29 years later we have two amazing boys and will celebrate our 25th wedding anniversary in July.
Yavapai holds a special place in our hearts. It brought us together and gave me some of the very best friends anyone could ask for.
We live in Gilbert AZ. Reed is 16 and plays both varsity basketball and volleyball at Gilbert HS as a Junior. Spencer is 12 and plays club volleyball for Aspire and is at Greenfiled Jr. High.
I graduated with honors (3.94) as an academic and athletic All American, was chosen to give the commencement speech at graduation, and earned an Associates in General Studies. I transferred to Illinois State on a full ride basketball scholarship. I graduated with a BS in Psychology and currently work as the Sr. Director of People Development at Integrate a B2B SaaS Martech company.
Tom also earned his Associates in General Studies and transferred to Grand Canyon University on a full ride basketball scholarship. He graduated with a BS in Sales and Marketing, worked 20+ years in the commercial roofing business and now we own our own company Section 7 Marketing specializing in commercial roofing and water proofing products.
We love YC and Prescott. I actually grew up nearby in Mayer. So Tom and I met at Yavapai and swapped states to finish our schooling. I actually came back to be the assistant coach under Coach Becker for the 95-96 season and then moved down to the valley after we got married in '96.
Such fond memories and still so connected to all of the people we met there!
---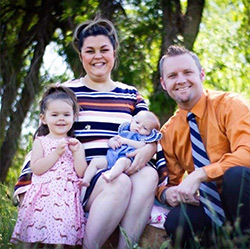 Jenni Mcclearn-Beaver and Trent Beaver
We're not done sharing YC love connections! Here's one from Jenni Mcclearn-Beaver and Trent Beaver.
I first met my husband at YC in Kachina- he lived across the hall! Our RA made us attend a mandatory hall meeting and ALAS I met Trent.
We both graduated from YC, went on to graduate from NAU and ODU both at YC distance learning campuses... we have been together for 15 years, married for 10 and have two daughters that visit YC for celebrations and farmers markets!
I taught in the Prescott area for 8 years before staying at home to raise our girls. Trent is a successful realtor with the Premier Homes Team at Better Homes and Gardens, Bloomtree Realty in Prescott!
We love YC and are so grateful for the memories made there!
---