Phi Theta Kappa Honor Society
Beta Gamma Pi chapter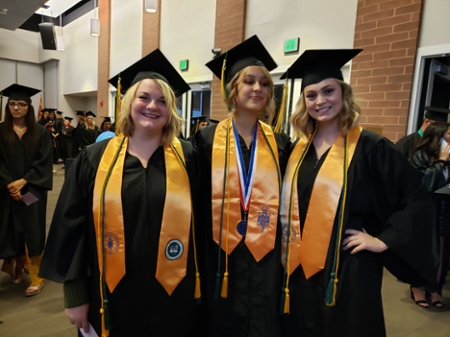 Phi Theta Kappa at Yavapai College is our branch of the National Honors Society for two-year colleges,. Our chapter, Beta Gamma Pi, aligns with the national organization's mission to recognize academic achievement of college students and to provide opportunities for them to grow as scholars and leaders. 
---
Gain a competitive edge
$37 million in scholarship opportunities for members only
FREE enrollment in CollegeFish.org, a transfer and college completion planning tool
Opportunity to be published in Phi Theta Kappa's anthology, Nota Bene
Opportunities to develop research and servant leadership skills by participating in Honors in Action programming in local chapter
Opportunity to become part of a network of nearly 3 million fellow scholars and servant leaders on more than 1,285 campuses worldwide
Personalized letters of recommendation for scholarships and employment
Special benefits, financial offers, and member discount offers from Phi Theta Kappa Corporate Partners such as GEICO and Bank of America
Have your academic achievements recognized
Phi Theta Kappa Golden Key Membership Pin
Phi Theta Kappa Membership Certificate
Recognition during college induction ceremony
Notation of membership on your college transcript*
Recognition by wearing Phi Theta Kappa commencement regalia during college graduation and other official ceremonies*
Press release announcing your academic achievement
* Contingent on college policy.
---
All eligible students can participate in the Phi Theta Kappa society meetings on either the Prescott or Verde Valley campuses.
---
Eligibility Guidelines
Eligibile students must meet all of the following criteria:
must have completed at least 12 or more Yavapai College credits of 100-level or higher courses
have a 3.5 grade point average

must be enrolled in at least six credit units
---
Invitation to Join
Invitation to all eligble students will be sent after the third week of the fall and spring semesters
Invitations must be accepted before the end of the semester in which they are sent
A one-time $95 lifetime membership fee is required to join. If paying this fee would be a hardship for you, please contact Denise.Woolsey@yc.edu to obtain information about scholarship money to help cover this cost. 
---
PTK memberships allows access to several exclusive scholarship opportunities
Direct any questions about scholarship deadlines to the PTK advisor