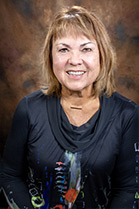 In August of 1962, Deb Williams McCasland moved to Prescott with her family from Enders, Nebraska. She attended Lincoln, Prescott Junior High, Mile High Middle, and Prescott High Schools. Deb helped her mother collect signatures to get Yavapai Community College established and in January of 1970 she took her first Yavapai College class while still a senior at PHS. During her time at Yavapai she was involved in Student Government and Associated Women Students.
After graduating from YC she attended Northern Arizona and obtained a Bachelors degree in Southwest Studies and a Masters in Community College Education with an emphasis in Guidance and Counseling. In 1976 Deb started her 34 year career at Yavapai College as the Student Activities Director. Her most successful achievements were founding and developing the Community Events program and the Performing Arts Charitable Endowment. In 2010, Deb was chosen as an Outstanding Yavapai College alumnus and retired from Yavapai College in 2011 as Director, Major Gifts. She has been elected twice to represent District 2 and is currently serving her fifth year on the Yavapai College Governing Board.
Deb is married to Jim McCasland and has two children, Sarah McCasland Downs and Nathan McCasland, who are also alumni of Yavapai College. Deb enjoys traveling, babysitting her three grandchildren, and volunteering. Currently she is President of the Adult Center of Prescott Board, Treasurer of the Yavapai County Republican Women, member of the Friends of the Prescott Public Library Board, Vice Chair of the City of Prescott Library Advisory Board, and a member of the Arizona Cowboy Poets Gathering.
---
District 2: Aqua Fria, Beaver Creek, Camp Verde 1 and 2, Canyon, Cherry Creek, Cordes Lakes, Cornville, Crown King, Humboldt, Mayer, Middle Verde, Montezuma, Prescott Country Club, Stoneridge, Sugarloaf and Verde Lakes
Term Expires: December 31, 2022