Commencement
Yavapai College Commencement (graduation) ceremonies are held in May of each academic year at the end of the spring semester (see academic calendar).
View graduate photos (requires login)
Who is eligible to participate in Commencement?
All students who graduated in the Fall or Spring semester, or who plan to graduate in the Summer semester of the current academic year (prior year graduates are not included).
Students will be notified when the online graduation application is available. There is no fee to apply for graduation or to attend the Commencement ceremony as a graduate. 
---
Are graduates required to wear a cap and gown?
Yes. Purchase these by calling the YC Bookstore directly at 928-776-2213 or attend one of the grad fairs listed in the Commencement brochure. NOTE: the YC bookstore does not accept cap and gown orders via their website. 
---
Do I have to attend Commencement to get my diploma?
No, you do not have to attend Commencement to get your diploma (or certificate).
After final grades are posted, we will complete an audit to verify that all degree/certificate requirements have been met.
Diplomas (and Certificates) will be mailed to successful graduates approximately two weeks after the end of the semester to the current mailing address on file. Please check your current address on file by logging in and going to My Account --> My Personal Information.
Any balance due the College or holds on your student record will prevent the release of your diploma.
---
What does graduation "with honors" mean?
A student who is awarded an associate degree with a cumulative grade-point average of 3.5 or higher at Yavapai College is designated as graduating "with honors". See catalog for additional requirements. There is a notation in the Commencement program, and the words "with honors" are included in the degree conferral on the student's official transcript and also on the diploma.
---
Honors designations recognized at graduation:
Member graduates have a CHP notation in the Commencement Program
Graduates are provided with a gold cord to wear around the neck at the ceremony.
Member graduates have a PTK notation in the Commencement program
Member graduates are encouraged to purchase the " key honors stole" available at here to wear at Commencement.
---
Eligible students are expected to submit an application to graduate using the self-service Graduation Application link under the Students tile in the myYC portal. The application is only open at certain times of the year. Monitor your YC scholar email for instructions on how and when to apply. 
Submitted applications will be reviewed for eligibility. Once you have applied, monitor your YC scholar email for any updates to your graduation status and commencement information.
Any questions regarding your graduation application should be directed to the Registrar: (928) 776-2107 or registrar@yc.edu. 
Students may review previous self-service graduation applications using the same link.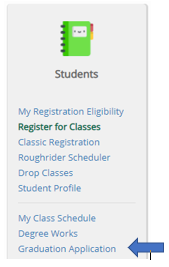 ---
---
---
2020 Virtual Commencement Information

2020 Commencement Program
printable pdf | flipbook
---
2019 Prescott Commencement
2019 Verde Valley Commencement
---
Staying in touch as a YC Alumni
Stay connected to Yavapai College after you graduate via our Alumni Office. We offer many ways to engage and support our alumni.