Nursing
What is Nursing?
Nursing, as an integral part of the health care system, encompasses the promotion of health, prevention of illness, and care of physically ill, mentally ill, and disabled people of all ages, in all health care and other community settings. Within this broad spectrum of health care, the phenomena of particular concern to nurses are individual, family, and group "responses to actual or potential health problems" (ANA, 1980, P.9). These human responses range broadly from health restoring reactions to an individual episode of illness to the development of policy in promoting the long-term health of a population.
  Apply for the Nursing AAS Program   Apply for the Bachelor of Science in Nursing (RN-BSN)
---
Accreditation
The associate of applied science nursing program at Yavapai College at the Prescott Campus, Prescott, AZ, and Verde Valley Campus at Clarkdale, AZ is accredited by the:

Accreditation Commission for
Education in Nursing (ACEN)
3390 Peachtree Road NE, Suite 1400
Atlanta, Georgia 30326
(404) 975-5000
acenursing.org

Arizona State Board of Nursing
1740 W Adams Street, Suite 2000
Phoenix, AZ 85007
(602) 771-7800
azbn.gov
The most recent accreditation decision made by the ACEN Board of Commissioners for the associate of applied science nursing program is Continuing Accreditation.
View the public information disclosed by the ACEN regarding this program at: http://www.acenursing.us/accreditedprograms/programSearch.htm
---
Program Resources
---
Pre-Nursing Workshop Information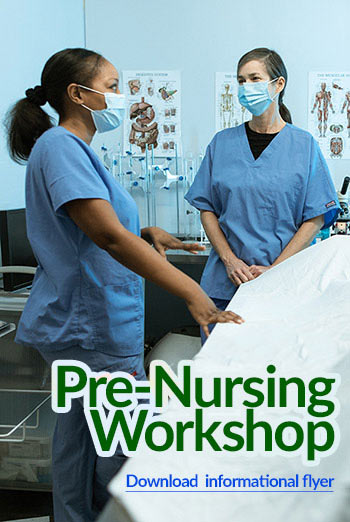 Degrees
---
Nursing - Associates of Applied Science
SEMESTERS: 4
CREDITS: 64
LOCATIONS:
Prescott
Special application is required for admission to the nursing program. It is recommended that students work closely with their advisor to ensure all application requirements are fully met. A Nursing Applicant Information Guide, available from the Advising Center and online at the Nursing website, describes program prerequisites and application process
Additional Program Information
---
Start at Yavapai College - Finish at the university of your choice
We are dedicated to helping students get started at Yavapai College and transfer into the university program that will fit their goals. Through our transfer partnerships and tools we can help you prepare for your next steps. 
Cost, Financial Aid, and Scholarships
YC Pipeline Career Exploration
The YC Pipeline career development and job skills platform allows YC students and Yavapai County job seekers to explore in-demand careers that align with their passions, skills, and the region's economic demands. The platform gives students and job seekers advanced insights about the exact skills, education, or certificates they need to reach their career goals. Upon completion of their profile, users will then have access to a variety of career exploration opportunities and information, including job shadowing, service learning, field experience, research, apprenticeship, further education, and other opportunities specific to Yavapai County.