Gift Options and Policies
You can specify the purpose of your gift and the program that will benefit from your generosity.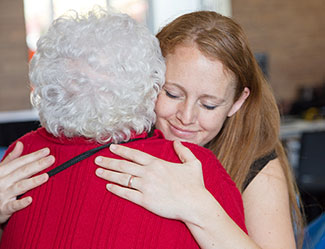 Our goal is to blend your vision with the objectives of Yavapai College so your gift is personally satisfying and beneficial for you and the College.
The Yavapai College Foundation is a not-for-profit entity organized under the laws of the State of Arizona. We are a 501(c)(3) organization and gifts are tax deductible to the limit allowed by law.
---
Types of Gifts
| Type | Description |
| --- | --- |
| Give Online | You will have the ability to make recurring payments or make a one-time gift. Click here to give online |
| Gifts of Cash | Checks may be mailed or delivered to the Foundation, along with a letter indicating how you would like your gift applied. |
| Gifts from IRA Accounts | A qualified charitable distribution (QCD) allows individuals who are 70½ years old or older to donate up to $100,000 total to one or more charities directly from a taxable IRA instead of taking their required minimum distributions. |
| Gifts from Donor Advised Funds (DAF'S) | YCF welcome grants from donors who have DAF accounts. Contact your DAF sponsor for the best way to make a gift. |
| Gifts of Securities | There are special procedures for transferring securities to the Yavapai College Foundation. Please contact the Foundation Office for details prior to initiating a transfer. |
| Gifts of Real Property | Such gifts are accepted on the basis of their verified fair market value. In most cases, two professional appraisals are recommended to assure the valuation of the gift and the deduction you claim. |
| Gifts with Life Insurance/Trusts | Many donors find they can make a more substantial gift to Yavapai College through a planned giving arrangement rather than an outright contribution. Usually, planned gifts are trust funds that generate income paid to you during your lifetime, with the principal going to Yavapai College at the time of your death. |
| Gifts by Bequest | A bequest is a provision in your will to provide a gift to Yavapai College after your death. |
| Pledges | A pledge arrangement will allow you to spread your commitment over a period of time. |
| Community Reward Giving | It's an easy way start donating a portion of your purchases at Fry's, Amazon.com or Goodsearch.com to Yavapai College. |
---
Options for Giving
| | |
| --- | --- |
| Options | Description |
| Student Support | Scholarships not only provides students with critical financial assistance, but also means that Yavapai College will be able to recruit and retain the brightest and most deserving students. |
| Program Support | Yavapai College has identified key areas where an infusion of private support would enable us to leverage the existing investment in research and teaching activities. These areas include information technology, the Family Enrichment Center, training for Early Childhood Development, Nursing, Emergency Medical Services and Fire Science Education. |
| Faculty Support | The need to meet the growth demands of the college is at the heart of the Foundation. Endowed faculty chairs attract the best instructors, who bring additional resources and prestige to the college and the community, attract outstanding corporations to the area and attract the brightest students to live and work in this area. |
| Unrestricted Support | Unrestricted gifts provide Yavapai College with the flexibility to respond to emerging priorities and use private funds wherever the need is greatest. In an era of declining state funding, your support will be even more important to provide course development and enhance Yavapai College facilities and student assistance. |
| Matching Gifts | Corporate and foundation matching gifts are a way to increase your contributions. Many corporations will match the gifts that employees (and former employees) make to educational institutions. |
---
Gift Policies
| Policy | Description |
| --- | --- |
| Gift Acceptance Policy | The Foundation encourages the solicitation and acceptance of gifts that will help the Foundation in the furtherance of its mission to foster private financial support for Yavapai College. This Gift Acceptance Policy shall apply to all gifts received by the Foundation for any of its programs or services. |
| Other Foundation Policies | |
| Fees | Standard fee schedules are set to recover administrative costs. They are periodically adjusted based on changing markets, expenses, and revenue needs. Currently, all donations to the Foundation are assessed a 5% administrative fee. For endowed funds, an annual fee of 1% of the invested fund balance is assessed to recover maintenance costs. |
---
For further information about giving options please contact
Yavapai College Foundation
1100 E Sheldon Street
Building 32, Room 214
Prescott, AZ 86301
928-776-2025
foundation@yc.edu