The Yavapai College Honors Program
Provides educational enrichment opportunities and scholarship incentives for exceptional Yavapai College students.
Fosters an environment of service, intellectual curiosity, academic achievement, and social responsibility.
Encourages both classroom and campus leadership.
CHP graduates are more likely to further their education, serve their community, and make the world a better place.
"The program has been a major source of educational and personal growth. I have been exposed to very bright people with a wide range of thoughts and beliefs."
-- Matt Stalter College Honors Program
---
---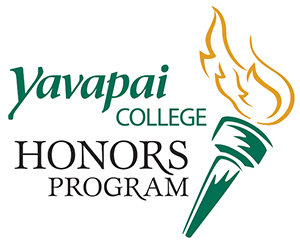 Denise Woolsey, College Honors Program Director
Email: Denise.Woolsey@yc.edu
Phone: (928) 776-2259
Book an appointment
Applications for admission to the College Honors Program are accepted from November 1st through March 1 for the following Fall.
Applicants must meet all the following criteria:
Be at least 17 years of age by the start of the Fall semester
Have at least two full semesters (24 credits) of work remaining before completion of an Associate degree (no more than approximately 60 college credit hours already accumulated)
Applicants with existing college credits may be asked to provide an advisor-signed academic plan
Must be pursuing their first college degree.
Five steps to apply:
Fill out the Intent to Apply using the link above. UPson submitting the form you will receive a confirmation email containing detailed instructions on the application process, essay prompts, cover letter and recommendations needed to provide with your application. Gather/complete those before submitting the application. Intent to Apply form becomes available on November 1st. 
Submit the application based on the information in the email.  You will not have officially applied until you complete this step. 

Application is not be available until November 1st. 

Fill out the Recommendation Request form You will ask two different people to submit a letter of recommendation and list who they are in the application. Recommenders should be people who can objectively speak to your accomplishments. One recommender should be able to focus on your leadership skills and community service. The other should be able to focus on your academic accomplishments. Best practice if to ask a third person to submit a lterr in case there is an issue with the other submissions. You will also need to follow up with each person to ensure the letter is sent. 
Complete the FAFSA application for the upcoming academic year for financial aid . You are required to have a FAFSA application on file before the application deadline. We suggest that you complete this component before or during the application process. 
If you have any questions, please contact Denise Woolsey, College Honors Program Director at Denise.Woolsey@yc.edu or (928)776-2259.
---
Applicants must include only one of the following with their application:
High School Transcripts demonstrating a cumulative high school grade point average (GPA) of 3.3 or greater on a 4.0 scale (or a score of 650 or greater on a High School Equivalence Diploma). This requirement is for current and just recently graduated high school students. 
College Transcripts demonstrating 12 or more completed credits of degree or certificate seeking classes of a GPA of 3.3 or higher. This includes current High School students that have Dual Enrollment credits. 
Or an SAT score of 1100 or higher, OR An ACT score of 24 or higher.
---
Note: scholarship funding available for up to four semesters
Eligibility Requirements
Students who have proven their ability to excel academically can participate in the College Honors Program on either the Prescott or Verde Valley campuses.
Applications are accepted only between Nov 1 and March 1st for the following Fall.
---
After admission to CHP Students must:
Enroll and complete a minimum of 13 credit hours each semester (courses numbered 100 or higher)
Satisfactory Progress towards earning a Yavapai College Associates Degree or Certificate
Participate in special honors activities
Maintain a minimum semester GPA of 3.5
Participate in CHP 190: Honors Colloquium every Friday during the fall and spring semesters
Complete 60 hours of community service and leadership
2022-23 Projects
Past Project Highlights