Student Technical Self-Help
Getting around in your YC student portal.
Now that you have a YC account, here are the steps to take to login, access features and find important information related to your classes through your YC student portal.
---
Answer Center can help you to find resources Yavapai College
 
ITS Help Desk is 24/7 assistance for technical issues accessing or using YC systems on your mobile, smartphone or desktop device.
---
---
How do I reset my password?
I know my password, but want to change it:   Password Change Utility
I forgot my password:   Password Reset Utility
– if you need Help Desk can assist you over the phone provided you can verify identity
---
How do I login to my YC student portal?
Click on the orange myYC Login button in the upper right hand corner of any yc.edu page and enter your network username and password
---
Where is my student ID (Y) number?
Once you are logged into your YC student portal, you will see your student ID, know as a Y number at the top left corner. Click on "show" to see your Y number.
---
What can I do once logged into my YC student portal?
---
Once you are logged in , the upper links give you access to key information such as your Y number, account balances and important upcoming deadlines.In the center are messages about important upcoming deadlines.
Large tiles are quick, direct links to commonly used resources such as Canvas, your YC email, and registering and paying for your classes.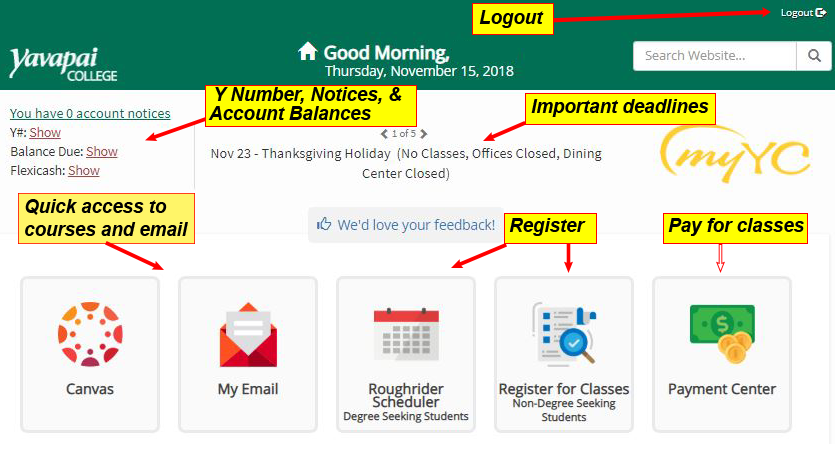 ---
Below the Quick Links, you will see a series of smaller tiles. Click on the tiles will expand the menu and give you link options including:
---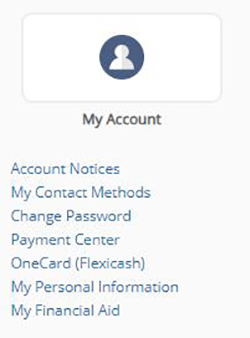 Some key links found within the tiles are:
email (My Email tile)

Check your YC Scholar email regularly

Canvas, Office365 and your network drives (Office 365/Drives tile)
DegreeWorks and Degrees/Catalog (Academics tile)
Web applications (365,Canvas) Cognos, & Marketing Requests (Applications tile)
Under My Account Tile

update personal information and pay for classes (My Account tile)

IMPORTANT!

–
Change your password
Under Student Tile

registration and residency status
financial aid status and awards 
college transcripts and grades
Class schedules, holds, and drops 
---
My Preferences / Account Settings - click on the My Account tile to set email forwarding, alert notifications, flexicash funds, display interfaces for your YC account.
---
Registering for Classes
---
YC Student Systems