NARTA
Northern Arizona Regional Training Academy is regional training center serving city, county, tribal, and state law enforcement agencies throughout the state of Arizona since 1996. In partnership with Yavapai College, the training center is housed at the Yavapai College Prescott Campus in Prescott, Arizona.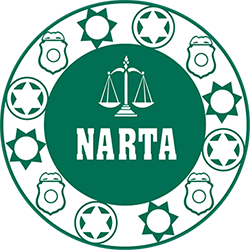 NARTA Program Contacts
Sgt. Thomas Tieman, Class Sergeant
(928) 717-7941
ttieman1@instructor.yc.edu
Katie Hoffman, Adminstrative Assistant
(928) 717-7940
katie.hoffman@yc.edu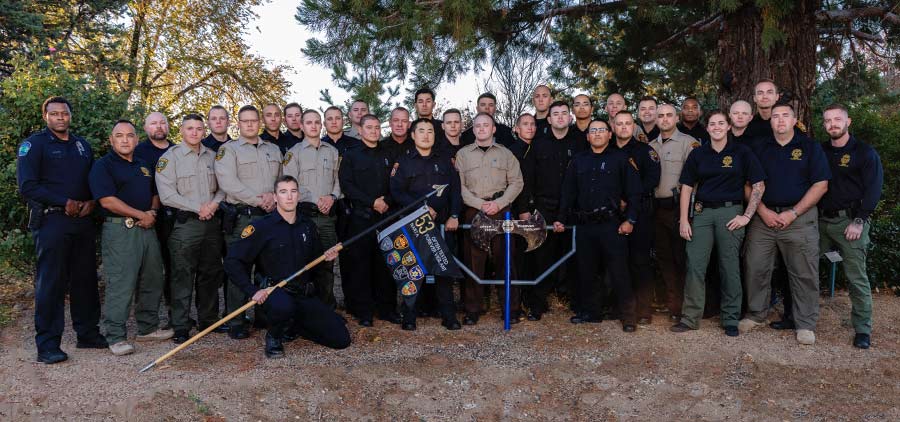 ---
The basic training program is designed to introduce recruits to law enforcement work. The training provided will be demanding, as is the job of law enforcement. The experience at NARTA will challenge the recruit mentally, physically, and academically, while at the same time, lay a foundation for advanced training.
In order to assure the best possible chance of future success, attention to detail, individual responsibility, self-discipline, autonomy, and teamwork, amongst other qualities will be stressed and required. The academy staff will provide a positive, professional environment for recruits so they may acquire needed knowledge, develop necessary physical skills, and become confident in their ability to become successful peace officers.
---
The goal of our Basic Training Program is to provide the highest quality law enforcement training so that recruits acquire the needed knowledge, develop necessary skills, and become confident in their ability to become a successful peace officer.
---
Basic Training Program
This program is a 21-week course encompassing more than 800 training hours. In addition to the 663 basic police curriculum, the program includes:
Intoxilyzer 8000 & 9000 Operation Certification
Impaired Driver Detection
Horizontal Gaze Nystagmus Training/Wet Workshop
Taser Certification
Response to Active Shooter, Vehicle Escapes, and Officer/Citizen Rescues
Lesson of the Holocaust
Blue Courage Certification
Tactical Medicine
Mental Health First Aid
Field Problems Practical
---
To Reserve a Seat at NARTA
NARTA runs two, 21-week, classes a year, fall and spring semesters. Maximum seat capacity is 40 recruits per class. To reserve a seat go to AZ POST ASSC Training Site.
---
Academy Instructors
All instructors are AZ POST certified general, proficiency or specialist instructors. Most instructors are active Arizona peace officers from local law enforcement agencies and staff from AZ Attorney General's Office, AZ DPS, Central Yavapai Fire District, Yavapai County Attorney's Office.
Officer Certification and Law Enforcement and Corrections Certificate
Upon successful completion of all academic and proficiency skills, graduates are awarded Full-Authority Peace Officer certification and a Law Enforcement and Corrections Certificate from Yavapai College. Graduates earn 24 hours of college credit in Administration of Justice
Class Start and Graduation Dates
Class 55: July 17 – December 7, 2023
Class 56: January 8 – May 30, 2024
Class 57: July 22 – December 12, 2024
---
Class Location and Times
Lecture classes are held at Yavapai College, Prescott Campus, Building 27 and 29. Training such as firearms and vehicle operations will be held at various off-site locations. Classes generally meet Monday through Thursday, 7 am until 5:45 pm. Schedule will vary during weeks with a holiday observance and night training.
---
Skills Assessment/Placement Test
AZ POST delineates a written examination measuring competency in reading and writing English. The ACCUPLACER is a skills assessment test used by Yavapai College for placement in reading, writing, and mathematics. Completion of the ACCUPLACER skills assessment test is required prior to the start of the academy.
Recruits residing in Yavapai County: can make an appointment at a convenient Yavapai College Testing Center.
Out-of-area recruits: Yavapai College will determine a testing location closest to their address.
Visit the Testing Center at Yavapai College
---
Minimum Physical Conditioning Standards
---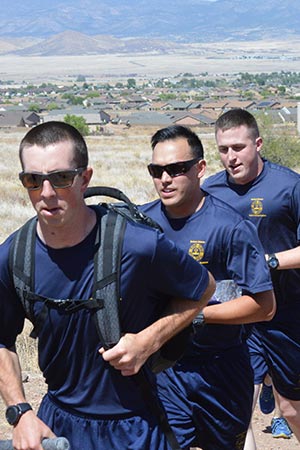 Law enforcement officers that maintain a high degree of physical conditioning are less prone to be effected by the stressful conditions of the job, sustain fewer injuries, and utilize less leave time related to illness. NARTA's physical conditioning program combines strength training and cardiovascular training to help students develop good exercise habits and to improve their fitness level throughout the academy.
Recruits participate in the academy's physical conditioning program which is based on standards developed by the Cooper Institute for Aerobic Research. Recruits are required to pass the Cooper's Standard Fitness Test with an overall average of 40% in the below areas. Any recruit failing to meet these standards will not be admitted into the Northern Arizona Regional Training Academy.


1.5 Mile Run – 15:20 or less
Sit-ups – 31 in one minute
Push-ups – minimum 29 until failure
Recruits are also required to participate in physical conditioning training and testing as determined by the Police Officer Physical Aptitude Test (POPAT).
---
Attire
---
Agency Uniforms
For the first few weeks, all recruits will be required to wear appropriate business attire. This consists of a button-down white shirt, black necktie, black dress pants, and running shoes. Recruits will begin wearing agency uniforms at the discretion of the class sergeant. Recruits must have their agency uniforms available no later than the beginning of the third week of training.
Required uniform articles consist of:
Agency long-sleeve shirt as designated by the class sergeant
Agency pants
Agency belt
Agency authorized uniform shoe or boot
Crew neck T-shirt with no markings (color authorized by individual agencies)
Gun/Utility belt (when directed)
Sports/running brassiere (females)
Agency-approved socks
Small pocket size notepad and 2 pens
---
Physical Training Uniforms
The physical training uniform consists of NARTA inscribed, navy blue t-shirts, navy blue shorts, navy blue sweat suits, and solid white no see-um athletic socks, athletic shoes, mouthpiece, sports/running brassiere (female), athletic supporter and athletic cup (males -when required). Authorized uniforms are available from Action Graphics 550 N. Washington Ave, Ste A Prescott, AZ 86301 (928)778-1157.
The physical conditioning program involves strength and aerobic conditioning exercises. It is highly recommended that recruits invest in a good pair of running shoes to aid in the prevention of injury.
---
Grooming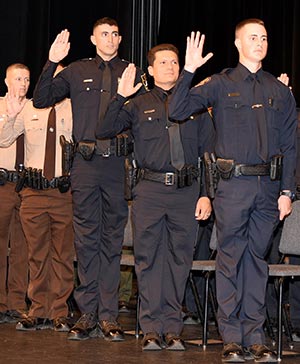 Recruits shall maintain the highest standards of personal hygiene. Hair may be worn in contemporary styles, but shall not touch the top of the shirt collar at the back of the neck, and no lower than the top of the ear at the sides when the officer is in a standing position with the head in normal posture.
Hair shall at all times be neatly trimmed, clean and combed. Multi-colored hairstyles are prohibited. Females with long hair must wear it in a bun or other appropriate styles. Sideburns will not extend below the mid-ear. Mustaches shall not extend below the corner of the mouth or hang below the upper lip. Beards are prohibited.
Earrings, bracelets (other than medical ID) necklaces, chokers, brooches or other items of jewelry that constitute a safety hazard are prohibited. Wedding bands are permitted.
---
Lockers
Recruits will be assigned a locker for storage of uniforms and gear. Recruits are allowed to bring appropriate toiletries and personal items to store in their assigned locker. Recruits are responsible for providing their own lock and securing their property.
---
Weapons
Weapons are not permitted on campus until week 4 of the academy. Beginning fall 2019, agencies will provide 1500 rounds of ammunition per recruit by week 4 of the academy for firearms training.
---
Lodging/Meals
Yavapai College Residence Hall Housing at Yavapai College in Prescott, 1100 E. Sheldon Street, is available for recruits living outside a 50-mile radius of NARTA headquarters.
Sponsoring agencies are responsible for the lodging expenses. Agencies will state their intent to pay on departmental letterhead and Yavapai College will invoice the first week of the academy. All rooms are double occupancy rooms and roommates are assigned.
For specific details on lodging arrangements and cost, please contact the NARTA Program Coordinator at 928-717-7940.
Information regarding amenities and needs for the residence life
---
Meals
All recruits residing in the dorms are required to purchase a meal plan. The meal plan offered is specific to NARTA recruits and will cost $2,250. The meal plan for NARTA recruits will be for 160 meals to be used over the course of the academy class (approximately 8 meals per week) at the campus cafeteria, the Rider Diner. Due to the hours the cafeteria is open, and the hours of instruction at the academy, recruits can use their meal plan for their lunch and dinner meals. All recruits, no matter if they are bringing lunch or purchasing one, will eat together.
---
Standards of conduct
The law enforcement profession demands honesty, integrity, and moral decency from its members. To foster this type of behavior, recruits will be expected to abide by the academy's Standards of Conduct - All recruits will work together and strive to obtain a high degree of cooperation and teamwork. They shall treat one another and staff with respect and courtesy.
Recruits are also required to conduct their private and professional lives in such a manner as to avoid discredit upon themselves, the academy, and their agency.
Training standards
The academy is required by Arizona Peace Officer's and Standards Training (AzPOST) to ensure that each graduate of basic training meets specific minimum performance objectives. NARTA meets this legal duty by enforcing the following training standards.
---
Assignments and Examinations
Recruits will be assigned a variety of written assignments and shall be tested frequently to measure knowledge gained and retained by the student. All assignments given to recruits are expected to be completed and submitted within the time frame specified.
Recruits are required to maintain a minimum passing grade of 70% in each of the functional area testing blocks. Recruits must also maintain a cumulative grade point average (GPA) of not less than 70%. In the event a block of instruction is failed, the recruit will be provided remedial training before being re-tested. Recruits who do not achieve a passing score on a remedial examination will be dismissed from the Academy. Additionally, a recruit who fails a third examination will also be dismissed.
---
POPAT
AZPOST rules require each graduate to complete all five of the activities in the POPAT test and achieve a minimum specified score. Failure to achieve this minimum standard will result in dismissal from the Academy.
The POPAT course consists of 5 events as follows:
Timed 99-yard obstacle course
165-pound dummy drag
6-foot chain-link fence climb
6-foot solid fence climb
Timed 500-yard run
---
Firearms Training and Qualifications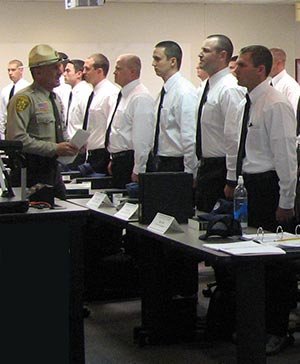 All recruits will have four daytime and four nighttime qualification attempts with an authorized duty handgun on a 50 round course of fire. NARTA uses state of art equipment, the VIRTRA simulator, to test recruits judgement when faced with shoot/don't shoot decisions. AZPOST requires each recruit to pass the judgmental shoot training.
Driver's Training
The academy provides 46 hours of intensive vehicle operations and pursuit training program. Each recruit is required to successfully demonstrate proficiency in the skills taught.
Report Writing
Recruits will be instructed on the mechanics of writing police reports. They will be challenged with multiple writing assignments.
---
Defensive Tactics Training
The emphasis of the defensive tactics training is officer safety. NARTA recruits will receive classroom lectures supplemented by practical proficiency to help them develop skills and techniques which will help them effectively control a situation. Prior to graduation, recruit officers will be required to demonstrate proficiency with the skills and techniques taught.
---
Community Involvement
NARTA recognizes the value of community involvement as a precursor to community-oriented policing. To that end NARTA is involved in many projects in the community to instill a sense of commitment to the community.
---
Some of the projects NARTA has been involved in include:
Head Start
Adopt A Highway
Big Brothers Big Sisters
The 100 Club of Arizona
Shop With A Cop
Special Olympics of Arizona
---
Arriving at the Academy
Recruits are expected to be punctual when reporting for duty at the academy. Those selected to attend will be notified of the time and place to report. Recruits should be prepared to participate in classroom and physical activity.
---
Vehicles and Parking
Parking Lot D is the designated parking area for recruits attending NARTA. Recruit vehicles will display current Arizona motor vehicle registration tags.
---
Mission Statement
"Northern Arizona Regional Training Academy is dedicated to provide the highest quality of basic law enforcement training to the diverse law enforcement agencies thought the state of Arizona, through effective instruction and leadership."
---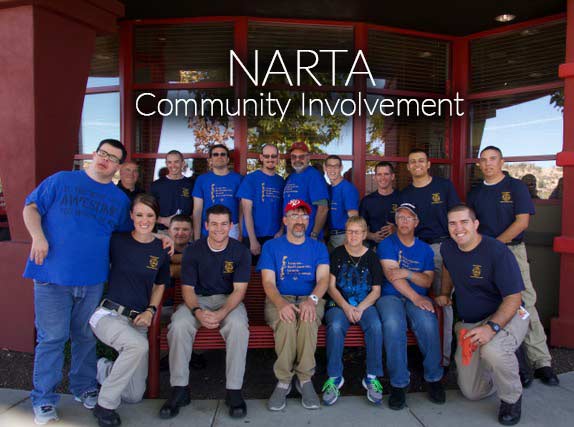 ---