Welcome Personal Interest Students
Follow the steps below to apply, browse and register for credit classes
(including Art, Physical Education, Music, etc.)
What is the difference between credit and non-credit classes?
Credit Classes for
Personal Interest Students

(application required)
What is a Credit Course?
At YC and elsewhere, most credit courses are applicable to a degree or certificate. Community members/personal interest students may choose to enroll in credit courses to enrich their skills in art, music, physical education and much more.  Browse our credit classes.
Students receive a grade after completing a credit course (A, B, C, D, F or Satisfactory/Unsatisfactory) and the course appears on a college transcript. Courses are offered with defined start/end days and times that align with the college academic calendar. These courses are also subject to the current tuition rate schedule.  
Need assistance? Contact the Admission office
(928) 717-7776 | ycadmission@yc.edu
Lifelong Learning
Non-credit courses

(no application required)
Yavapai College offers numerous non-credit classes for lifelong learning through its Community Education and Osher Lifelong Learning Institute (OLLI) programs. Non-credit courses are classes offered through the Continuing Education Division. They are intended for students who want to gain general knowledge, learn a new skill, upgrade existing skills, or enrich their understanding about a wide range of topics.
Completed courses will not appear on an official college transcript. Fees charged for these courses are determined by the Continuing Education Division. Students choosing this option do not receive grades for courses they complete.



View all non-credit classes and offerings here
---

STEP #1: Apply to YC (open admission;free)
Apply as a Personal Interest Student

The free application takes only a few minutes. Open, immediate admission. Check your email for your username and password.
Select this choice when you apply as personal interest:

Forgot your login? Reset your password

STEP #2:  Browse credit classes  - no login required

TIP:
Write down the Coure Record Number (CRN) (e.g. 10023).
You can quickly register by using the register by CRN
in any of the registration systems.
---

STEP #3: Register for a class
Login required
Registration Option 1:
Register using Roughrider Scheduler
Click here
(username and password required)
Click the Register by CRN Tab, enter the CRN, and click Register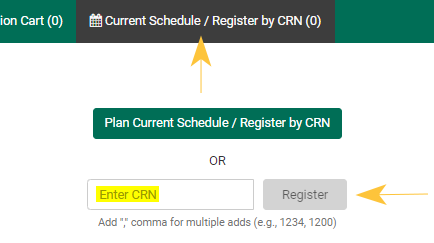 You'll receive a confirmation if you have been registered for the class or not. Click Current Schedule after to review your courses.
---