Roughrider Alumni Stories
Athletes, artists, trade professionals, allied health professionals and teachers our YC Allums move on to have successful careers, businesses and rich family lives check out these stories to learn more about our amazing alumni.
Haley (Shackelford) Neufeld
Jenna (Rodriguez) DiPrima
Roger Espinoza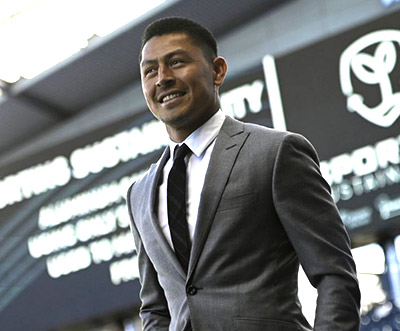 After starting his standout soccer career with Yavapai College in 2005 and 2006, Roger Espinoza (currently a midfielder for Sporting Kansas City) can now add to his trophy case as he is set to receive the United Soccer Coaches 2021 Honorary All-America Award along with his wife (Lo'eau LaBonta) who is a midfielder the Kansas City Current.
"I can't think of a better pair for the association to award as Honorary All-Americans for our 2022 United Soccer Coaches Convention in Kansas City," said Geoff VanDeusen, Incoming United Soccer Coaches Chief Executive Officer. "Roger Espinoza and Lo'eau LaBonta have made their mark on the Kansas City soccer landscape and they exemplify what it means to carry the title as Honorary All-Americans."
The pair will be presented with their awards at the association's All-America Ceremony which takes place at 1 p.m. on Saturday, Jan. 22 during the United Soccer Coaches Convention. Also at the convention, former men's soccer coach Mike Pantalioine (Espinoza's coach while at YC) will be inducted into the association's Hall of Fame in the Class of 2022.
About Espinoza and LaBonta
A beloved figure at Sporting Kansas City and a former Honduras international player, Roger Espinoza is a staple in the midfield and in Kansas City. Espinoza began his college playing career at Yavapai College, earning first team All-America honors as a sophomore and ACCAC Athlete of the Year honors for all sports before transferring to Ohio State. In his junior season with the Buckeyes, Espinoza helped advance the team to the College Cup national championship game and earned first-team All-Big Ten, second-team all-region, and earned a spot on the NCAA College Cup All-Tournament Team in the process.
Forgoing his senior year of college, Espinoza signed a Generation Adidas contract with Major League Soccer, being selected by the then Kansas City Wizards in 2008. In his first five years with the club, Espinoza appeared in 113 regular season matches and helped Sporting to victory in the 2012 Lamar Hunt U.S. Open Cup. Espinoza was also named an MLS All-Star in 2012. In addition to his time in Kansas City, Espinoza was called up to the Honduras national team for the UNCAF Nations Cup 2009, 2012 London Olympics, and the 2010 and 2014 FIFA World Cups.
After the 2012 Open Cup victory, Espinoza signed with the English Premier League's Wigan Athletic, winning the FA Cup with the team just one year later in 2013. Espinoza returned to Sporting Kansas City, lifting the Lamar Hunt U.S. Open Cup again in 2015 and 2017. Additionally, in 2021 the midfielder took an assistant coaching role with the Sporting KC Academy as part of his B License courses in the U.S. Soccer Coaching Education program, serving as a U-13 assistant to Luis Pacheco.
2021 1st Roughrider Golf Classic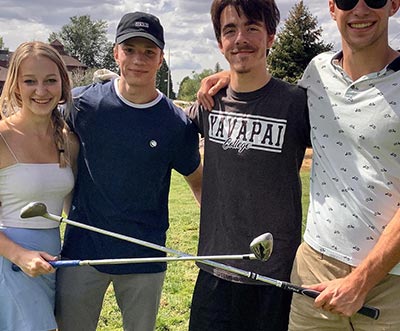 Thank you YC Alumni, current students, coaches, Hall of Famers and friends for playing in the 1st Annual Roughrider Athletics Golf Classic benefiting our student athletes. The inaugural event took place on Friday, September 24, 2021 at Antelope Hills Golf Course. Special thanks to Care1st Health Plan Arizona – Title Sponsor and HHS – Presenting Sponsor for supporting the event.
Prior to the event, Director of Athletics Brad Clifford said, "This is such an exciting time for Yavapai College. Unlike many, our department is growing and we are excited to grow with the Prescott community. This golf tournament is going to be a great time and a great continuation of that growth."
---
Clearly a good time was had by all.
Director of Athletics Brad Clifford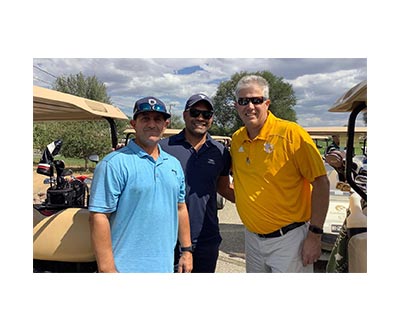 ---
Prescott Valley Chamber of Commerce President/CEO Marnie Uhl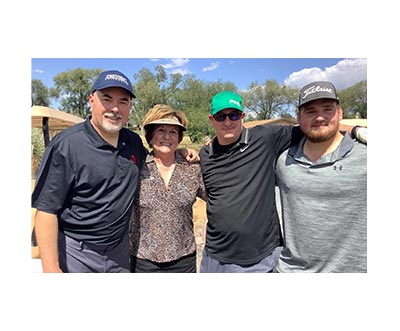 ---
Golfers after an amazing day on the links!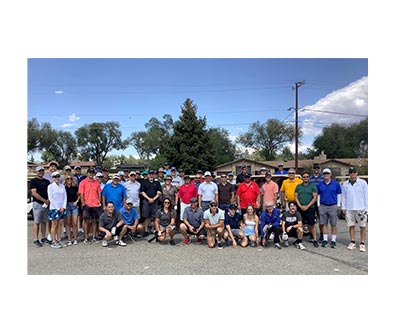 ---