Radiology
Who are Radiology Technologists?
Radiologic technologists are the medical personnel who perform diagnostic imaging examinations and administer radiation therapy treatments. They are educated in anatomy, patient positioning, examination techniques, equipment protocols, radiation safety, radiation protection, and basic patient care.
---
Radiologic Technology Program Resources
Program Application/Student Handbook
Fall 2023 application process is now open. We will accept applications December 6, 2022 through January 27, 2023
---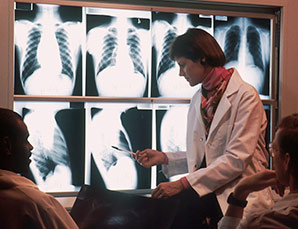 2022-2023 Radiologic Technology Information Sessions
Find out how to get started toward an AAS degree in Radiologic Technology!

You must attend one of the information sessions to be considered for placement in the program. There will be a short questionnaire at the end of each of the virtual sessions.
A hyperlink will appear on the virtual online date when they are open.  The download file contains a link at the end of it to take the quiz and verify attendance.
The information sessions will be held as a virtual presentation for two sessions that will be open from 6am-11:59pm on each of the online dates listed above. One session will be held in person at the Prescott Valley Center from 4p-5p.
---
CT & MR Certificate Program Resources
CT & MR Program Application/Handbook
Spring 2023 application is now closed.