What are your goals for your life?

Yavapai College Admission Advisors are available to help you make these decisions by helping you identify:
What are your interests, values, strengths and lifestyle goals.
What are current and future job market trends
Know what the educational requirements are for the many positions available.
Follow the steps below to determine what career and degree or certificate path works best for you. 
---
---
YC's Pipeline AZ
With Yavapai College Pipeline AZ you can complete an interest assessment to identify potential careers, explore your career interests, and find education and training options that will help you develop the skills you need to achieve your career goals.
Start Exploring
See Degrees and Certificates by Area of Interest | Program Type 
Transferring to a university? See the Associate degrees section
Plan your Course of Study
Now that you have identified a career path, find out what you need to do to achieve your goal. Create short-term and long-term goals for reaching those goals. Monitor your progress and make any adjustments as needed.
Contact your Academic/Career Advisor for help with your Degree Works plan - See your Advisor link in the myYC portal or visit www.yc.edu/advising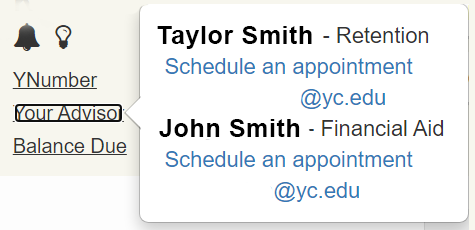 Degree Works tutorial - Note: login to the myYC portal and click on Degree Works link at the top of the portal instead of following the instructions in the first 25 seconds of the video
Employer-valued skills
Employers want employees who have career-specific skills, such as teaching or accounting, but they also want people to have good oral and written communication skills, computer literacy, problem-solving and critical thinking skills, the ability to work as a member of a team, and creativity, among other things. Your degree requirements include courses that will help you develop those skills. Volunteer work and involvement in clubs can further develop those skills. Think of ways to enhance your chances of getting a job, and select your courses and out-of classroom activities accordingly.
Stay on Track to Completion
Check your Degree Works plan to review where you are on your degree completion.
Connect with your advisor once a semester to do planning for your next semester or discuss areas where you could use assistance. Go to the myYC Portal → Your ADvisor link to make an appointment or email your advisor
Find a tutor or attend a study skills workshop at the Learning Center (in-person and online services available)
Get additional academic and career/transfer planning support from one of our specialized programs: VET Services | SSS-TRIO
Get the personal financial and emotional support you need. Sign up for a Strong Foundations services.
Lifelong Learning
In the job market of the 21st century, it will be common for people to have a variety of careers. Employees will need to keep their skills current to enhance opportunities for advancement and to pursue other positions. Attending professional development workshops, taking courses, and networking with others in your field will provide you with such opportunities.