Choose a Career
Use a Career Coach and our Planning Tools to identify a satisfying career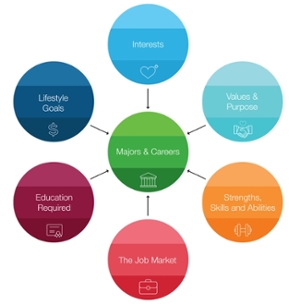 What is your major? What do you want to do with your life? These are questions you might get from family and friends, or fellow students. With so many career options, there are a variety of educational pathways. Yavapai College Academic and Career Advisors are available to help you make these decisions by helping you identify:
What are your interests, values, strengths and lifestyle goals.
What are current and future job market trends
Know what the educational requirements are for the many positions available.
It may be helpful to complete some of the assessments found in Step 1 below, prior to meeting with an advisor.
---
---
---
---
---
---
---
---
---
Career Exploration
Explore the descriptions of various occupations, as well as labor markets and salary information:
Additional Salary information sites:
If you are not sure about a career path right now, but have an interest in a certain subject, such as psychology, automotive, or biology:
Participating in the following may also help to give further insight into an interesting occupational field:
Make a Decision
Consider what you know about yourself and what you learned about various occupations to make a decision on the career path you want to follow. What strategy do you use to make your decisions? The best decisions often involve several of the following:
Experience – consider what's worked in the past for you and others
Opinion – consider what others say you should do
Logic – objectively weigh pros and cons of your alternatives
Serendipity – use your gift of finding good things
Feeling – subjectively consider how you feel about your alternatives
Intuition – rely on your 'sixth-sense' about your options
Desperation – take the first/quickest route
If you need some additional information to made a decision, consider talking with people working in the field in which you are interested:
Plan your Course of Study
Now that you have identified a career path, find out what you need to do to achieve your goal. Create short-term and long-term goals for reaching those goals. Monitor your progress and make any adjustments as needed.
Employer-valued Skills
Employers want employees who have career-specific skills, such as teaching or accounting, but they also want people to have good oral and written communication skills, computer literacy, problem-solving and critical thinking skills, the ability to work as a member of a team, and creativity, among other things. Your degree requirements include courses that will help you develop those skills. Volunteer work and involvement in clubs can further develop those skills. Think of ways to enhance your chances of getting a job, and select your courses and out-of classroom activities accordingly.
Getting the Job
Finding the right job takes planning, preparation, patience, and time. Organization, a positive attitude, and flexibility are all qualities that will you're your search all the much easier. You are selling a very valuable product - YOU!
Focus your attention on the matching qualifications and skills you bring to a job.
Prepare for your interview with this comprehensive guide.
Customize your resume for each job application, especially your Objective.
Emphasize the keywords in the job description that match your skills and experience.
Preparation is important – research the companies' mission statement and culture.
Dress to impress – clean, pressed clothes and excellent hygiene, but no perfume or cologne.
Clean up your web presence, as employers will Google you.
Convey positive energy and enthusiasm for the job and the company.
Shake hands at the beginning and end of an interview, and make eye contact, and make sure your phone is powered off.
Follow up with a thank you email or card, indicating your continued interest in the position.
Sites for local, state, and national jobs
Interviewing Tips:
Lifelong Learning
In the job market of the 21st century, it will be common for people to have a variety of careers. Employees will need to keep their skills current to enhance opportunities for advancement and to pursue other positions. Attending professional development workshops, taking courses, and networking with others in your field will provide you with such opportunities.