Aileen Castillas
Outstanding Alumni Award 2019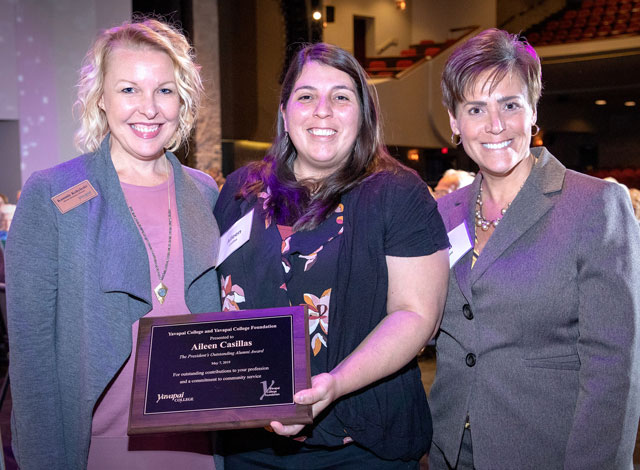 Yavapai College Names Florist/Firefighter Aileen Casillas Its 2019 Prescott Alumnus of the Year
Bravery, resilience, creativity and compassion – Yavapai College honored all these attributes Tuesday afternoon, when it named a firefighter, florist, entrepreneur and single mother as its 2019 Prescott Alumnus of the Year.
Aileen Casillas, a 2015 Fire Sciences graduate and the Owner and Floral Chief of Florian Floral Design in the Gateway Mall, accepted the award at the Yavapai College Foundation's Annual Luncheon. "I am genuinely surprised," she said. "Never did I think I would be chosen for an award like this. I want to thank my kids and my parents. Without the support of those five people, I would not be here today."
Casillas, 42, always had a talent for floral arrangement. Born in California, she was considering a career in Design when she married her high school sweetheart and became a Marine Corps wife instead. For the next 18 years, Aileen raised their three children as they moved around the country. Desperate for a creative outlet and unable to attend traditional classes, she became a certified florist through a class online.
When she divorced in 2010, Aileen found herself homeless in Prescott, with three young children and a dog. She took at temporary job at the Central Yavapai Fire District, where then-Chief Mary Dalton recognized her potential. With Dalton's encouragement, the 36 year-old mother of three enrolled in the Fire Academy at Yavapai College, became a firefighter in 2013, and was assigned to the Yarnell Hill Fire District.
The deadly Yarnell Hill Fire, which killed 19 Granite Mountain Hotshots, swept through Casillas' fire district in late June of that year. Assigned to a recovery detail, Aileen spent the next ten days in the area, putting out hotspots, guarding against looters and providing logistical support. Afterward, she returned to Yavapai College, earning her Emergency Medical Technician Certificate and her Associate's Degree in Fire Science while she continued working. But the memory of the fire haunted her. In 2015, she left firefighting and took on the challenge of reinventing herself once more.
"I always did flowers," she recalled. "It's a form of therapy. I thought, 'I'll just start a little business and run it out of my house.'" Her in-home endeavor blossomed into Florian Floral Design – named after the Patron Saint of Firefighters – which opened last August in the newly resurgent Gateway Mall.
Though the job is different, and her career path has been circuitous, Aileen credits her mentors for spotting potential in her, and her fire service training for drawing that potential out. "I learned I have leadership skills, imaginative skills, problem-solving and critical thinking skills," she said. "I didn't know I was a resourceful person until then. I'm grateful to them because I learned so much about myself."
The Yavapai College Alumnus of the Year Award is bestowed annually on Prescott and Verde Valley graduates whose careers exemplify scholarship, character and public service.