Leah Gosik
Outstanding Alumni Award 2018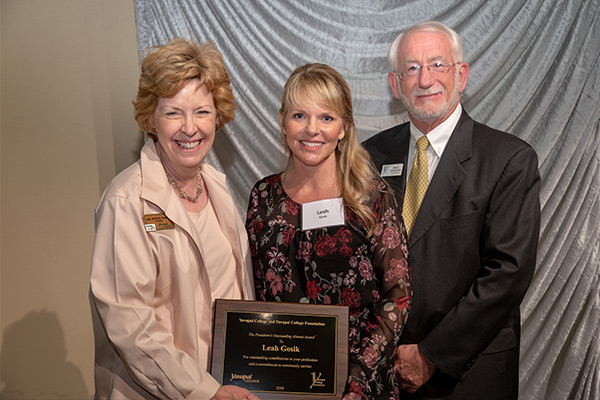 Morning light spills generously through the windows of the Bulleri Building on Cortez Street, as Leah Gosik welcomes guests into her new store. "We opened here in February," the proprietor of Bella by Leah Makeup, says. "We're still getting the feel of the place."
But the 2012 Yavapai College graduate seems at home already: the chrome and windows shine; the blushes and jewelry cases stand respectfully at attention. Kelsey, 11, and Abby, 9 – the youngest of Leah's five daughters – move easily among the displays. It may seem like they've been here for years, but that familiarity is actually the confidence of an experienced local business owner who knows how to embrace change, read new opportunities, and create a work life that channels her passion and values.
"I always wanted to be a counselor," Gosik, 44 says. A devout Christian, Gosik and husband Shawn are both anchored by a desire to give back to others. But they were graphic designers when they first discovered Prescott. "We came out to visit my father-in-law, and our car broke down." Their extended visit gave them time to bond with the community and plan their own graphics design firm. "A couple of weeks later, we were in a truck and moving out here."
When the graphic design business struggled, the Gosiks made changes. "My husband suggested cosmetics," she says. Leah opened a shop of her own, selling Bellapierre cosmetics. With a new business, an active church life and a growing family, Leah somehow still found time to pursue a counseling certificate at YC. "I got a degree in Human and Social Services in 2012." Shortly afterward, she won the Vice President's Award for Academic Excellence. "I was so humbled by it, I didn't tell anyone," she laughs.
Though she did not become a counselor, Leah took the dynamics of counseling to heart. "I gained a lot of knowledge about people in general, the variety of people and what people deal with." Her studies reinforced the principles of compassion and empathy she tries to live by – and she applies them to her work.
"I like making women feel beautiful, and feel good about themselves, honestly. I love it when a woman comes in here, and she's frustrated with her current makeup or skincare situation. I get to help her. And she walks out happy."
These days, in addition to selling Bellapierre, Leah has launched her own cosmetics line – Bella by Leah – and donates 20% of the proceeds to Prescott Big Brothers/Big Sisters. "I think we should all lift each other up," she says. "And if this is the way I get to do it, so be it."
Leah is bullish about her own future, as well as the future of women entrepreneurs in general. "To aspiring women, I'd say: 'Go for it. The sky's the limit,'" she says. "And I'd also say, 'how can I help?'"