Regina Gee
Outstanding Alumni Award 2018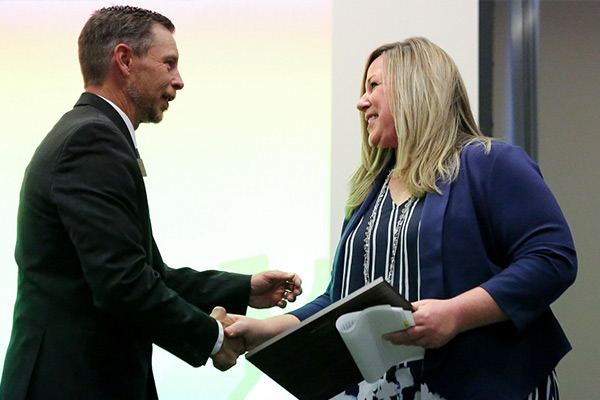 On Tuesday, April 10, Ms. Regina Gee, Principal of Mingus Union High School (MUHS), was recognized as the Yavapai College Outstanding Alumna of 2018.
Annually, Yavapai College hosts an Evening of Recognition to celebrate currently enrolled students excelling in various academic areas and programs of study, while also heralding a former student who has demonstrated extraordinary accomplishment in their career.
Ms. Gee, or "Genie" to her family, friends, and colleagues, graduated from Yavapai College in 2003, with an Associate of Applied Science in Elementary Education. She continued with her rigorous program of studies, subsequently earning her Bachelor of Science and two Masters degrees from Northern Arizona University. Today, Genie stands certified as a K-12 Teacher, Reading Specialist, Principal, and Superintendent.
Dr. Barb Waak, Verde Valley Associate Dean at Yavapai College, recalls Gee as an amazing student. Says Waak, who taught English before becoming a dean says, "She remains in the top 1% of my 6,000 students. Of course, her academic prowess was exceptional; but what stands out nearly 20 years later is her humor, quick wit, and classroom engagement. She was always more than merely physically present. She had a gleam in her eye with every new cognition; always eager to learn.
Imagine my surprise when in January, we met at a concurrent enrollment meeting at MUHS. We recognized each other immediately, although it had been many years. Here she was 'principal.' She sang the praises of Yavapai College and two professors who were the best of her college tenure."
Eighteen years ago, Gee was a young mother of twin boys and an infant daughter. She had just returned to Cottonwood, where she lived intermittently during childhood. After graduating high school in Oklahoma, Genie followed her dream to California, but soon found herself longing for the strength of family roots in the Verde Valley.
Twenty-five years old, and a single parent, Gee began working in the insurance industry. With the encouragement of her family and employer, she set her sights on more education and opportunity which would soon come knocking.
Gee grew up in a family that valued education, and especially treasured reading. Her parents were hardworking people who read for pleasure and "how-to." Gee and her older sister would become the first two members of their family to graduate from college. The family value system centered on integrity. Gee was encouraged to walk her path and be accountable for her choices and decisions. "We all have a story to tell, and everybody faces challenges. We can use those challenges as crutches (reasons to make excuses), or we can use them to fuel our fire and clear the path," says Gee. "It's about being authentic and vulnerable, and encouraging others around us to do the same."
Gee lives by that family dynamic in watching her young adult children, sons Sampson and Caesar, and daughter Sierra, forge their career paths. She models the same for her 1250 students at Mingus Union High School. Says Gee, "Some students and families are prepared financially and socially to start post-secondary at a university, but others will be best served, as I was, by starting at the community college. You can go as far as your vision and hard work takes you."
Rynnie Scott, Early College Advisor at Yavapai, and former Cottonwood Middle School teacher says, "Gee is known for wholeheartedly committing to what's best for students." Scott cites Gee's ability to "think outside the box to develop programs and opportunities," and touts Gee's role in "changing the culture of learning at Mingus."
Says Gretchen Wesbrock, GEAR Up Coordinator at MUHS, "Genie has been a cornerstone during my time working at Mingus. She is a visionary who brings positivity, laughter, and heart to all she does. Her love for students and their families is evident in every conversation, presentation or initiative that comes from Genie. She loves teachers and does an amazing job of balancing her desire to make them feel appreciated with her willingness to push them to grow and stretch. As a principal (which is a new role for her) she is a leader, a motivator, and an inspiration. As my supervisor, she helps me be a better version of myself. She is supportive and kind. Most importantly as a friend she gives encouragement and love. Genie Gee is well deserving of this honor for what she does each and every day to make our community a better place for young people and their families. She is impacting the future!!"
When Genie Gee takes the stage to receive her Yavapai College Outstanding Alumna 2018 award from Dr. James Perey, Executive Dean of the Verde Valley Campus, you might find her wiping away a tear or two as she talks about the impact of education. She lives and breathes the passion for lifelong learning and the importance of community-centered education.
Yavapai College Evening of Recognition was held Tuesday, April 10, 6 p.m. in the Verde Valley Campus Community Room, Building M, Room 137 located at 601 Black Hills Drive, Clarkdale, AZ 86324.