Office 365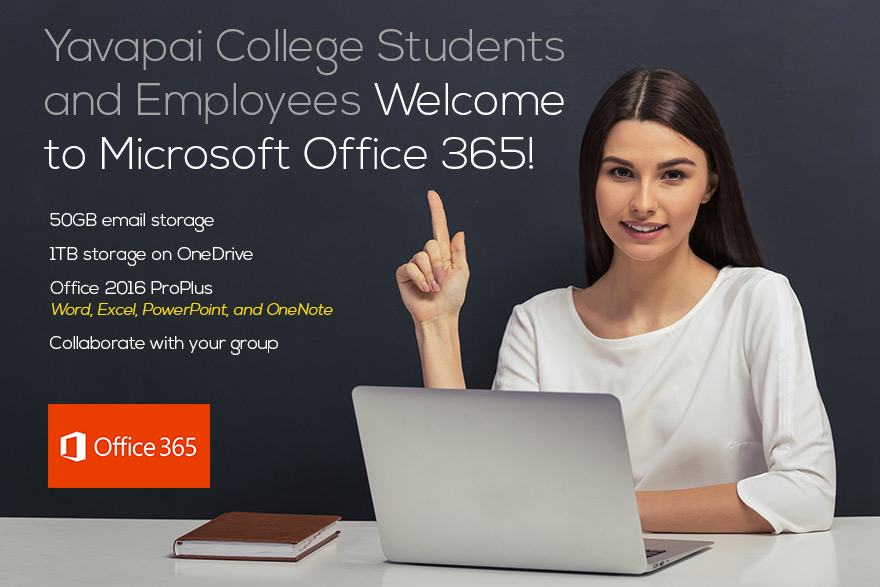 Office 365 is basically the same suite of Office products and services you recognize, now provided through the cloud.
---
In addition, you will be able to take advantage of new applications such as Sway, Forms, Video, and Planner. All students and employees will be migrated onto this new platform which gives us the ability to collaborate online with ease.
---
New Benefits
Our transition to Office 365 comes with many features and add-ons that we did not have at our disposal previously.
Larger email box: all YC email boxes now have 50GB of storage space for your emails
File storage: OneDrive allows you to store files (1TB) in the cloud so that your files are available to you from anywhere on any Internet capable device. In addition, OneDrive allows you to share files with others without having to email them as attachments.
Download and install ProPlus Office 2016 (Word, Excel, PowerPoint, Outlook, Publisher, and OneNote) on your personal computers and mobile devices via the Office 365 portal. Each person is allowed to install Office on up to 5PC's or Macs, 5 Tablets, and 5 Phones. It is important to note that your access to this service is tied to your relationship with YC, and ends when you leave the college. DO NOT attempt to install Office 365 ProPlus on YC-managed machines. If your computer is managed and you want the latest Microsoft Office software, please contact the ITS Help Desk at 928.776.2168 or helpdesk@yc.edu.
Via the Office 365 portal you can use online versions of Office including Word, Excel, PowerPoint, and OneNote. Microsoft has also added new online applications such as Sway (digital storytelling), Forms (surveys), Planner (task management), Video (video uploads/sharing), Yammer (social platform), and more.
Collaborate: You and your group can now edit ONE document - no need to email documents back and forth between the team members.
---
FAQs
---
Will my username and password change after the migration?
Your password will remain the same. Your username will remain the same for most login related activities at YC (e.g. your YC computer and your YC website login). However, you need to use username@yc.edu (e.g. lmott24@yc.edu) to log directly into any application that is Office 365 related. The following Office 365 applications require that you utilize the username@yc.edu syntax: direct logins to outlook.office365.com, Skype for Business client, OneDrive, and any Office 365 mobile application. Please note that you can access Office 365 via the YC website after logging in with your normal username and password.
---
My username is different for Office 365. Will my email address also change after the migration?
No, your email address (e.g. @yc.edu, @scholar.yc.edu, or @instructor.yc.edu) will stay the same. The only things that are changing are your username for direct access to Office 365 and the server where your email is stored.
---
How will I access my email/calendar?
YC students and most adjunct faculty can continue to access their email/calendar via the YC website login or directly via outlook.office365.com. YC employees can access their email/calendar online or continue to use their Outlook client on YC maintained computers.
Were all of my email and calendar items migrated?
Yes, with the exception of email messages larger than 35MB. The size restriction applies to the size of the entire email message. It is rare to have email messages greater than this size.
---
How do I setup a mobile device to sync my email and calendar?
Note: it is recommended that YC employees set up an in-person visit with our Helpdesk staff to configure their mobile device.
---
A Phased Transition
YC ITS staff and a pilot group were the first to be migrated to Office 365 as we wanted to work out any issues before rolling it out to everyone. These groups will be followed by all students then a phased migration of all employees.
---