FY23-24 Strategic Plan Priorities
Future Focused.
Community Inspired.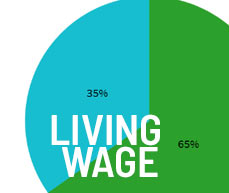 Click here to view the YC Key Performance Indicators

Key goals we are striving to achieve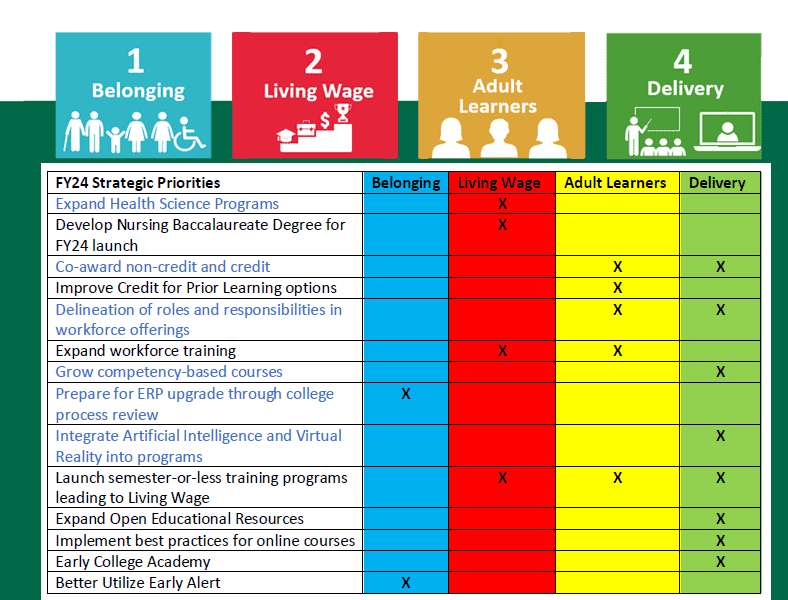 Technology Plan, Budget, Foundation Plan --
these plans are integrated and support all of the College's planning efforts.
---
Unlike past plans, the new plan is integrated with other
collegewide planning initiatives, and has a rolling 3-year horizon.
---
The college has several major concurrent planning initiatives including Academic, Budget (Financial), Development (YCF), Facility Master Plan, Human Resources, Marketing & Recruitment, Retention, and Technology Plans.
Integrated planning ensures these plans are aligned. Moreover, integrated planning engages all sectors of the academy—academic affairs, student affairs, community relations and administrative services—to ensure we are all pulling in the same direction.
What is a rolling strategic plan?
A rolling approach to planning provides the institution with an opportunity to be flexible and responsive to the dynamic local, national, and global environment. The planning process will involve continuous evaluation of the strategic priorities progress towards achieving YC's Mission and Ends, while simultaneously taking account of changes in our environment.
The rolling planning approach will enable YC to revise and develop our strategic direction, where necessary, while maintaining a focus on our Mission, Vision, and Values. This approach will enable the College to be responsive to emerging opportunities, and alert to uncertainty in our environment, needs, and opportunities.
New 2023-2024 Strategic Priorities
---
---
Strategic Plan Elements
---
For more information about Strategic Planning
at Yavapai College:
Tom Hughes, Executive Director
Institutional Effectiveness, Research, and Grants
928.776.2205
Strategic Education and Data Collection Fall 2020
In this phase, the Strategic Planning Committee is reviewing external data related to current issues and future trends in higher education, and YC specific data.
Click on Planning Data if you want to read along with the committee.
---
Strategic issues in higher education readings and discussions
An environmental scan analysis (awareness of Society, Political, Economy & Workforce, Education, Technology, Demographics)
Review of the current plan, Yavapai College 2015-2020 Strategic Plan
Review YC and benchmark data
Review of the recent PACE Campus Climate Survey
Review of the most recent Ruffalo Noel Levitz Student Surveys
Review of the Mission, Vision, and Values Statements
This information will be the basis for creating the draft Strategic Plan Recommendations presented at the Data Summits
Review Mission, Vision, Values Fall 2020
The Strategic Planning Committee is reviewing the Colleges Mission, Vision, and Values.
We need your input!
---
Mission, Vision, Values survey open Nov 9 – Dec 4
Synthesis and themes from stakeholder feedback
Dissemination and dialog of survey results at Spring 2021 Convocation
Strategic Areas and Dialogue January-April 2021
In this phase, the Strategic Planning Committee will present the new strategic areas based on its research. The committee will share this information in a live video presentation. Following the presentation, all stakeholders will be invited to complete a survey and participate in feedback circles.
---
College Staff and Faculty (District Wide)
Students
District Governing Board
Community Leaders (Business, City & Towns, K-12, Non-Profit)
Community Members
Open forums and online survey to obtain stakeholder input and feedback
Synthesis and Draft Plan Development April 2021
In this phase, the Strategic Planning Committee will:
---
Finalize Strategic Plan Recommendations to ELT based on stakeholder input
If necessary, revise or develop new draft Mission, Vision, and Values statements
Review and Approval April-May 2021
In this phase, the strategic plan will be finalized and approved by the ELT, then shared with the DGB as information
---
Strategic Plan and 3 to 5 initiatives finalized
Alignment of the strategies that currently or will govern the institution, including but not limited to the following:
Academic Master Plan
Facilities Master Plan
Strategic Enrollment Management Plan
ITS Technology Plan
YC Foundation Plan
Auxiliaries Plan
Strategic Plan launches July 1, 2021
Environmental Scan
---
YC Student Success Data
Reading List
Videos
---
Presentations
Presentations
Academic Master Plan: The Academic Master Plan is a further definition of the academic mission of the college as we strive to fulfill the Ends assigned to us by our District Governing Board: Which programs are needed to help job seekers gain the knowledge and skills they need to succeed, to help transfer students be successful at their next institution, to support the economy in developing economic base jobs, and to provide social and cultural opportunities?
---
Budget: The Budget represents the institution's financial plan, ensuring we have the resources needed to provide quality programs and services both now and into the future.
2022-24 Economic Development Plan pdf
---
Development: The Yavapai College Foundation (YCF) has a core purpose of building resources and community awareness to make the strategic goals of Yavapai College a reality. As the College embarks on a new strategic initiative, YCF has created a plan to directly support the College's objectives and to be prepared to make the necessary and quick changes in the future that may be needed to create a successful journey for students and our programs
---
Facility Master Plan: The Facility Master Plan identifies the long term priorities for updating and building physical facilities in support of the Strategic Plan as the College fulfills its ultimate goal of transforming students' lives. YC's current plan was developed in 2021-2022.
Human Resources: The HR plan ensures we have the resources and processes in place to ensure YC is the Employer of Choice.
---
Marketing, Enrollment, & Recruitment: YC has adopted a Strategic Enrollment Management methodology using data-informed processes to identify, recruit, and enroll new students. This plan identifies various modes of making people aware of YC and its programs (Marketing) such as radio, print, and social media. It also identifies the best way to utilize our limited recruiting and outreach staff as we strive to make a personal connection with both traditional-age and adult prospects.
Enrollment, Retention, Marketing report pdf
---
Technology: The Technology Plan identifies hardware, software, and support services needed to improve employee productivity and student success.
Strategic Planning Committee
---
Committee Membership
Tom Hughes, Director IER
Chair
Megan Crossfield
Academic Master Plan Chair
Clint Ewell, VP FAS
Budget Chair / Sponsor
Emily Weinacker, CHRO
Human Resources Plan Chair
Brian Moultrup
SGA President
Julie Galgano
YCSA President
Karen Palmer or designate
FA President
Tania Sheldahl
Retention Plan Chair
Diana Dowling
Marketing & Recruitment Plan Co-Chair
Patrick Burns
Technology Plan Chair
David Lawrence
Facilities Master Plan Chair
Mary Talosi
Development Plan Chair
Tina Redd
Verde Valley Campus Dean
---
Strategic Planning Data (Archives 2020)
Environmental Scan
---
YC Student Success Data
---
Reading List
Strategic Planning Committee (Archive 2021)
---
Committee Membership
Emily Weinacker, ELT
Chief Human Resources Officer
Michael Pierce, Program Director
Viticulture and Enology
Tina Redd, Administrative
Verde Valley Campus Dean
Patrick Burns, Administrative
Chief Information Officer
Kammie Kobyleski, Administrative
Director, Alumni
Lauri Dreher, Faculty
Professor, Business and Management
Chris Tenney, Faculty
Professor, Arts and Humanities
Julie Galgano, Staff
Business Office; YCSA Representative
Brian Moultrup, Student
SGA Secretary
Clint Ewell, ELT
VP, Finance and Administrative Services
Tom Hughes, Chair Administrative
Director of Institutional Effectiveness
Stacey Hilton, Administrative
Dean of Instructional Support
Richard Hernandez, Administrative
Director of Regional Economic Development Ctr
Scott Farnsworth, Administrative
Associate VP, Student Success; Dean SHPS
Tania Sheldahl, Administrative
Associate VP, Student Development
Wendy Present, Staff
Director of Admissions
Rebecca Brulet, Faculty
Professor, Biology
Strategic Planning Committee (Archive 2020)
---
Committee Membership
Emily Weinacker, ELT
Chief Human Resources Officer
Michael Pierce, Program Director
Viticulture and Enology
Tina Redd, Administrative
Verde Valley Campus Dean
Patrick Burns, Administrative
Chief Information Officer
Kammie Kobyleski, Administrative
Director, Alumni
Lauri Dreher, Faculty
Professor, Business and Management
Chris Tenney, Faculty
Professor, Arts and Humanities
Julie Galgano, Staff
Business Office; YCSA Representative
Brian Moultrup, Student
SGA Secretary
Clint Ewell, ELT
VP, Finance and Administrative Services
Tom Hughes, Chair Administrative
Director of Institutional Effectiveness
Stacey Hilton, Administrative
Dean of Instructional Support
Richard Hernandez, Administrative
Director of Regional Economic Development Ctr
Scott Farnsworth, Administrative
Associate VP, Student Success; Dean SHPS
Tania Sheldahl, Administrative
Associate VP, Student Development
Wendy Present, Staff
Director of Admissions
Rebecca Brulet, Faculty
Professor, Biology