FY21-22 Strategic Plan Priorities
Future Focused.
Community Inspired.
Technology Plan, Budget, Foundation Plan --
these plans are integrated and support all of the College's planning efforts.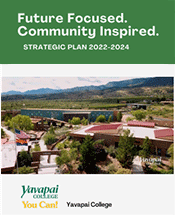 2023-2025 Strategic Planning Report
2022-23 Strategic Actions brochure
---
Unlike past plans, the new plan is integrated with other
collegewide planning initiatives, and has a rolling 3-year horizon.
---
The college has several major concurrent planning initiatives including Academic, Budget (Financial), Development (YCF), Facility Master Plan, Human Resources, Marketing & Recruitment, Retention, and Technology Plans.
Integrated planning ensures these plans are aligned. Moreover, integrated planning engages all sectors of the academy—academic affairs, student affairs, community relations and administrative services—to ensure we are all pulling in the same direction.
What is a rolling strategic plan?
A rolling approach to planning provides the institution with an opportunity to be flexible and responsive to the dynamic local, national, and global environment. The planning process will involve continuous evaluation of the strategic priorities progress towards achieving YC's Mission and Ends, while simultaneously taking account of changes in our environment.
The rolling planning approach will enable YC to revise and develop our strategic direction, where necessary, while maintaining a focus on our Mission, Vision, and Values. This approach will enable the College to be responsive to emerging opportunities, and alert to uncertainty in our environment, needs, and opportunities.
---
---
Strategic Plan Elements
---
For more information about Strategic Planning
at Yavapai College:
Tom Hughes, Director
Institutional Effectiveness and Research
928.776.2205
---