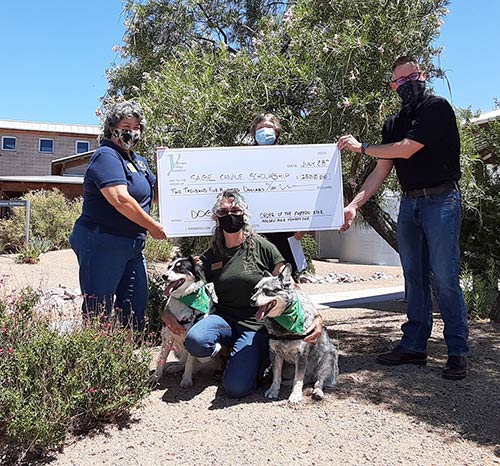 YC Ramps Up Service Dog Training, with Help from Eastern Star
Dogs possess a tremendous capacity to empower people with disabilities. This summer, dogs brought the Arizona Eastern Star Foundation and the Yavapai College Foundation together for a $2,500 grant to support increased training for service dogs and handlers in our community.
---
The Gift of Independence
"There's definitely a need for a program like this," said Anita Wulf, Past Matron and Service Dog Chairman of Arizona Eastern Star's Golden Rule Chapter #1. "There are so many people who need a service dog who can't afford one."
Demand for service dogs – and the access and independence they offer – has been booming. But thousands of disabled Americans across the country lack the funding to acquire one.
Yavapai College offers certification programs in Therapy & Service Dog Team Skills, and Service Dog training. These programs provide foundational as well as advanced training, allowing homegrown participants to train with their canine companions.
"We covered everything," said Debbie Stanfield, a program graduate who loved dogs and wanted to learn more. Now the owner of six dogs, Stanfield became a volunteer for United Animal Friends. "I told my vet about the behavior training in the program and he said, 'We don't even get that much behavior training.'" She laughed. "I gave him a copy of my paperwork."
Standfield is the Present Worthy Matron in Arizona Eastern Star, an organization affiliated with the Freemason organizations supporting programs that alleviate suffering throughout the state. "Debbie told me about the Canine Program and how they train people to have their own service dogs so they won't be incapacitated." Wulf said. "It's just a good program."
---
A Sage Decision
The Arizona Eastern Star Foundation's grant will go directly to the Sage Canine Scholarship Fund, named after a local rescue dog. Sage was adopted by Canine Program Director Andrea Lloyd and became a model training partner for both human and canine students alike.
Lloyd says that, like Sage herself, the Eastern Star funding will make a positive impact throughout the program. "It allows students the opportunity to apply for scholarships in any part of the Canine Program."
To learn more about the Sage Canine Scholarship Fund, please contact the Yavapai College Foundation at (928) 776-2025. For more information about Yavapai College's Canine programs, please call: (928) 717-7720