Awards Committee
Improve staff engagement and job satisfaction through highlighting fellow employees with appreciation.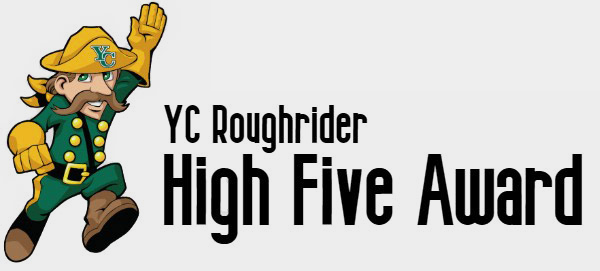 Recognize a peer for going above and beyond the call of duty!
When you fill out the form a certificate of gratitude sent to the person and their name is listed on the website for a long time! It only takes a moment, and a simple "I appreciate you" is usually enough to brighten someone's day.
This is open to all staff members, full-time, part-time… it doesn't matter. Let's celebrate the hard work and dedication our staffers give every day. We look forward to seeing your nominations!
Click here to send a YC Roughrider High Five Award
March 2022 Winners
Beth Beecham
Paige Ruggles-Kruger
Sara Cooper
Linda Shook
Ryan Harms
Amber Lillie
Sheila Jarrell
Heather Grosstephan
Carolyn Heath
Jeanette Fretta
Frank Busby
Jason Major
Sam Johnson
Zeke Turpin
Dr. Jennifer Ritter
Richard Peterson
George Carpenter
Manu Hailame
Karen Palmer
Tony Mazzella
Pam Gonzales
Rose Marie Theime
Lauren McCrea
Suzanne Waldenberger
Vikki Bentz
Christopher Tenney
Billie Norris
Nicole Mangelsdorf
Kelley Foy
Jennie Jacobson
Amy Stein
Ed Bushman
Laura Bloomenstein
Marie Hardman
Mark Muchna
---

YC WAY Award Winners
Jeremy Poehnert

- College Advisor - Relationship Excellence

Jim Voska

- Career Coach - Service Excellence

Maria Thomas

- Clinical Nursing - Learning Excellence
All YC employees—faculty, staff, and administration—are eligible to be nominated for a YC Way Award. Anyone can nominate someone: peer-to-peer, supervisor-to-employee, and employee-to-supervisor.
Any nominations received after the deadline will automatically be applied to the next Semester's award process.

Awards Committee Meeting Notes
Join the Awards Committee!
Come join the Awards Committee as a Division Rep and enjoy the planning of various fun activities to help recognize the excellent employees of Yavapai College. The committee plans events such as the Winter Celebration and the Years of Service. The committee also awards employees via the High Five Awards and the YC Way Awards.
---
Awards Committee Members