Awards Committee
Improve staff engagement and job satisfaction through highlighting fellow employees with appreciation.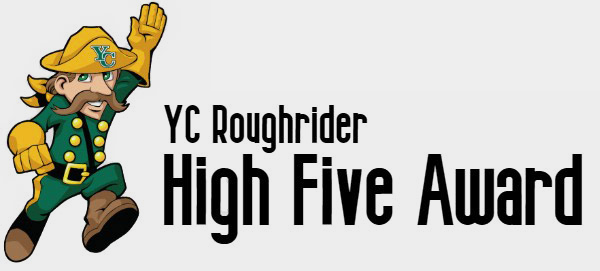 Recognize a peer for going above and beyond the call of duty!
When you fill out the form a certificate of gratitude sent to the person and their name is listed on the website for a long time! It only takes a moment, and a simple "I appreciate you" is usually enough to brighten someone's day.
This is open to all staff members, full-time, part-time… it doesn't matter. Let's celebrate the hard work and dedication our staffers give every day. We look forward to seeing your nominations!
Click here to send a YC Roughrider High Five Award
November 2021 Winners
Andrea Annibale
Austin Kaimlia
Carla Weil
Charlotte Dunnigan
Chris Tenney
Craig Ralston
Diana Dutkevitch
Elsie Freemen
Fanny Zapata
Gwen Payne
Gwen Payne
Ilene Roby
Jami Dodwell
Jason Major
Jeremy Poehnert
Joan Fisher
Josh Bryan
Leslie Sparkman
Linda Brannock
Linda Hoots
Linda Hoots
Lisa Rhodes
Luke Seitters
Marylou Mercado
---

Winners to be announced at Spring Convocation, January 13, 2021
Spring 2021 YC WAY Award Winners
Cristina Poeppel

- Early College - Relationship Excellence

Barrett Johnson

- Teaching and E-Learning Support Specialist - Service Excellence

Jennifer Ritter

- Clinical Nursing - Learning Excellence
Download the Spring 2021 Nominee slides - pdf
All YC employees—faculty, staff, and administration—are eligible to be nominated for a YC Way Award. Anyone can nominate someone: peer-to-peer, supervisor-to-employee, and employee-to-supervisor.
Any nominations received after the deadline will automatically be applied to the next Semester's award process.
Join the Awards Committee!
Come join the Awards Committee as a Division Rep and enjoy the planning of various fun activities to help recognize the excellent employees of Yavapai College. The committee plans events such as the Winter Celebration and the Years of Service. The committee also awards employees via the High Five Awards and the YC Way Awards.
---
Awards Committee Members