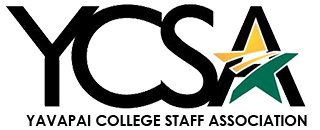 YCSA provides selected volunteer representatives to serve on the various district wide committees, to be a voice for policy recommendations, and to keep open the lines of communication.
The YCSA Mission, Vision, and Values
Mission
We are the voice of the Yavapai College staff.
We strive to enhance the work experience for YC staff.
We promote professional development.
---
Vision
We foster unity and a sense of identity among the YC staff, and advance college-wide collaboration and communication.
---
Values
Collaboration - Working authentically together while encouraging diverse expertise, perspectives and ideas.
Diversity and Inclusiveness - Acceptance of our differences, celebrating our assets and talents, and embracing an inclusive organization absent of discrimination and harassment.
Open Communication - Creating an environment of trust allowing for access to information, acceptance of diverse opinions, and flow of communication throughout all levels of the college that will lead everyone to be on the same page and moving in the same direction toward the same agreed upon goals via shared governance.
Professionalism - Through a combination of qualities, including, but not limited to appearance, demeanor, reliability, accountability, competence, ethics, and effective communication.
Respect - Mutual demonstration of each other's worth and consideration for each other's values, philosophies, physical abilities, beliefs, and personalities.
Support - Building an environment where effective teamwork among colleagues thrives allowing for boosting of morale, relationships and productivity.
YCSA is the acronym for Yavapai College Staff Association.
Membership is open to all full-time and regular part-time staff (please refer to HR policy 2.2.1 – Employee Classification and Status) of Yavapai College to have a voice in YCSA matters. They may vote, serve as officers, and are eligible for various committees.
YCSA provides a forum for staff to discuss and promote ideas for the well-being of its members.
What do the representatives do?
The elected representatives of the YCSA are meeting to provide organizational Bylaws for members to review and adopt as well as provide tools for staff success through peer mentoring.
When do the representatives meet?
Currently, the representatives are meeting twice an academic year, usually held during Employee Day in the fall and spring. Meetings are run under the general Robert's Rules of Order according to the adopted Bylaws.
What about Committees and other actions?
YCSA assists with planning & supporting the First Friday Training Sessions. Welcoming new employees is also an area of support provided by YCSA. The building of this website, which is updated through the Webpage Designer, is another action the members have taken.
YCSA Officers
Julie Galgano- President
Ginney Bilbray- Vice President
Niki Musgrove- Treasurer
Britney Olsen - Secretary
Meetings, Minutes & Newsletters
February 2, 1-3pm
March 2, 1-3pm
April 6, 1-3pm
May 4, 1-3pm
June 1, 1-3pm
YCSA Meeting Date, Agendas and Minutes
YCSA will meet at least once per semester, customarily on a Yavapai College Convocation Days.
---
Agendas and Meeting Minutes
Interested in becoming a YCSA Representative?
If you can commit to a minimum of five hours per month and a two-year term, then please complete and submit an application.
Employee Recognition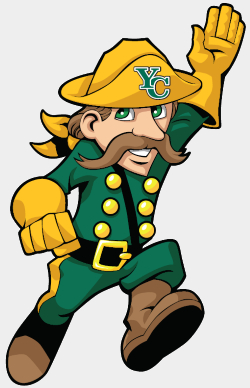 Would you like to recognize a peer for going above
and beyond the call of duty?
Click here to view the Employee Recognition page to have a certificate of gratitude sent to them.
It doesn't take long, and a simple "I appreciate you!" is usually enough to brighten someone's day.
This is open to all employees, full-time, part-time… it doesn't matter. Let's celebrate the hard work and dedication our employees give every day! We look forward to seeing your nominations, and thank you for your continued support!