Faculty Support
Information on accessing rosters, withdrawing students, grade posting, and FERPA.
For questions contact Sheila Jarrell (928) 776-2107, registrar@yc.edu, Bldg 1-111
---
Spring 2022 downloadable instructions
Important information for the Spring 2022 Semester
Spring 2022 - Part of Term Dates 
Part of Term
| | | | | |
| --- | --- | --- | --- | --- |
| | Description | Start Date | End Date | #of Weeks |
| POT 1 | Full Term | Jan 18 | May 13 | 16 |
| POT 2 | Dual Enrollment Term | Jan 10 | May 28 | 19 |
| POT 3 | Extended Semester | Jan 10 | May 13 | 18 |
| POT 81 | 1st 8-Week | Jan 18 | Mar 11 | 8 |
| POT 82 | 2nd 8-Week | Mar 23 | May 13 | 8 |
Final grades for full term and second 8 week classes are due Wed, May 18th at NOON!
---
---
Important information for the Spring 2022 Semester
POT 1 (Full-length semester classes)
Last day to add: Sun., Jan 23, 2022
Last day to drop: Wed., Jan 26, 2022
Last day for refund: Wed., Jan 26, 2022

A similar timeline will apply to classes of 8 weeks–the seventh day of the part of term is the deadline to add, and midnight of tenth day is the deadline to drop and be refunded
For classes  less than 8 weeks: students must add/drop prior to the day of the first class meeting
---
Short class procedure
Eight-week Classes (8 weeks)
- 6th day after displayed start date - Last day to add
- 9th day after displayed start date - Last day to drop, receive refund
Classes less than 8 weeks
- Day before 1st class meeting - Last day to add or drop with refund
---
Accessing Rosters
Access your rosters daily during the first two weeks of the semester -- and then on a weekly basis to know who is -- or is not - attending/participating in your class . It is your responsibility to monitor enrollment and attendance.  My Class Roster in your portal shows current enrollment. Update your roster regularly by dropping no-shows and by withdrawing students who are not participating.
Note: Recording no-shows is required by Federal financial aid and Veteran's Administration regulations
---
HOW-TO: Monitoring and Updating your Rosters
Monitor rosters for current enrollment-via  www.yc.edu (not Canvas). Check your roster daily through the first week of the semester and then weekly and update your roster regularly by dropping no-shows and by withdrawing students who are not participating.
Log into   www.yc.edu  with username/password;  click on Faculty; choose a link:
My Class Roster - use this link to verify current enrollment and to contact students
Faculty Withdraw - use this link to drop students as "no shows" or to withdraw as they quit attending
Submit Final Grades - use this link to submit final grades
Registration is an online process for students, so your roster will show changes through Sunday,  August 25, 2021 as students add classes - and through Wednesday, August 22, 2021 as students drop classes and as faculty drop "no shows".  
My Class Roster is current to the moment.
Use the Faculty Withdraw link to drop "no shows".
---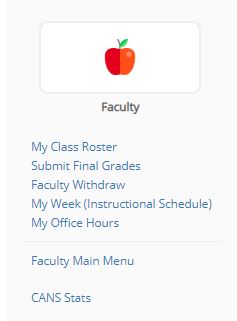 ---
Incomplete Grading Overview and Posting
When is an incomplete grade appropriate and how is it posted?
See the catalog image below for the two requirements that must be met for an incomplete grade to be appropriate. Incomplete grades are posted during the final grading process.
When entered, an incomplete grade will require a "default" grade. This is the grade that the student should earn if no additional work is completed on the part of the student.
When entered, an incomplete grade will also require a deadline date. The system will offer the latest date allowed for that term, but the instructor can choose to adjust this to an earlier deadline date. (An earlier date may help the student remember to complete the remaining requirements.)
TIP: Give the student a deadline that is earlier than the deadline posted, which allows time to send the new grade earned to the Registrar for processing.
---
FERPA Reminder
All student information contained in Yavapai College education records is confidential. Please review the FERPA information for Faculty and Instructional Staff below each semester.
Additional information online: www.yc.edu/registrar then go to Faculty Support!
FERPA for Faculty and Instructional Staff
When in doubt, give nothing out Keep it confidential!
FERPA (Federal Education Right to Privacy Act) is a Federal regulation; a violation could result in loss of funding for the College. FERPA applies to the education records of Yavapai College (YC) students. FERPA gives students the right to inspect, seek amendment to, and offer some control over disclosure of those records.
What is the purpose of the law?
To protect the confidentiality of educational records of students.
---
How does FERPA affect how I use and discuss student information?
It is ALWAYS legal to discuss with the student in person. Disclosure of confidential information to a third party is generally not allowed under FERPA without signature of the student.
---
What about records of students under 18?
If the student is attending a post-secondary institution, the records belong to the student. Parents of dependent students can work with the Registrar's Office to document financial dependency, and the Registrar can then provide student information.
---
Privacy Holds
Students can request a 'Privacy Hold' through the Registrar's Office. This hold prevents us (the College) from even disclosing the fact that someone is a student! As Faculty, it is best to always assume this when responding to phone or e-mail requests. Do not provide confidential information, unless you are positive that you are communicating directly with the student. Confidential holds show on your roster view through myYC. <p\>It is generally OK to share information with YC officials who have an 'educational need to know' but this must be verified before you share information. Turn over any confidential papers if someone walks up; put files away; make sure your computer screen is not visible to others; and be mindful of computer access in the home! It is NOT acceptable for family members of faculty to view class rosters or other student information.
---
Suggestions
Get a phone number and return the call to verify to whom you are speaking. Involve the student!
---
Students Opting in for 'Confidential' in the classroom setting:
Students cannot choose to be anonymous in the classroom setting. If a student has chosen "confidential" for his or her directory information, that does not mean that an instructor cannot call on him or her by name in class or that the student's email address cannot be displayed on an electronic classroom support tool such as a discussion board, blog, or chat feature. Confidential means that the instructor cannot refer to that person as a student to anyone outside of the classroom.
---
Web-based Tools to Support Classes
Instructors with courses supported by class websites and/or discussion groups must take extra precautions to not inadvertently release non-directory student information. It is recommended that such Web-based tools employ a security layer so that only class members and instructors can access appropriate information.
---
Posting Grades
Since grades can never be directory information, it is inappropriate to post grades in a public setting.
---
Supplemental Materials
Questions regarding rosters, grades, FTSE or FERPA? sheila.jarrell@yc.edu or call 928-776-2107 or stop by my office: 1-111, Prescott Campus