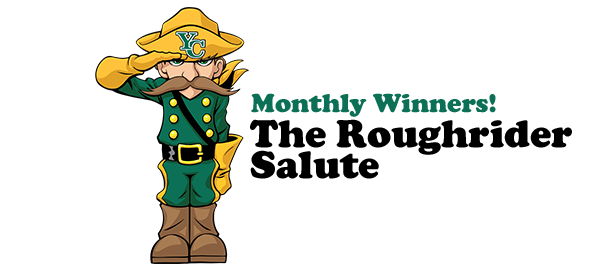 Dr. Lisa Rhine and the Executive Leadership Team
are delighted to present the recipients of The Roughrider Salute.
Congratulations, and thanks for being you! 
The Salute nomination rules and procedures -pdf | All winners SEPT 2020- JUNE 2023
---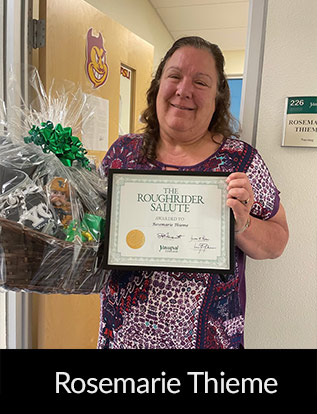 ROSEMARIE THIEME
Nursing Instructor
Academic Affairs Division

Rosemarie consistently demonstrates a can-do attitude and puts students first even in the most trying times, such as the pandemic. She listens effectively and attentively to her co-workers and students; she is dependable and demonstrates a team player attitude.
Rosemarie is hard-working, conscientious, and professional; she takes the initiative and recommends new creative ideas for students and program strength. She is teaching two classes over the summer, and the direct student feedback has been resoundingly positive. Rosemarie is a valued member of the nursing team and Yavapai College.
She comes to work ahead of the time required, stays over as needed to meet with students, comes prepared to work, and ready to meet student and team needs. Follows through on projects, volunteers to learn new things, and teach different courses. She is conscientious and hardworking. Rosemarie is a person of integrity. She says what she means and means what she says. She follows through on all assigned projects and volunteers.
---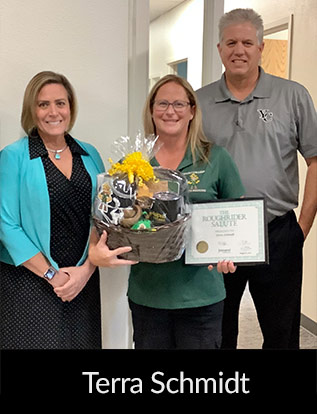 TERRA SCHMIDT
Athletics Trainer
Community Relations and Student Development Division
Since April, Terra has been acting as a one-person crew. She and her assistant were involved in an accident while doing their job (not the fault of theirs). Terra's assistant was thrown from the cart and suffered injuries that required surgery. He is still not back to work full time and is limited on the activity that he can do. Terra has logged a minimum of 75 hours a week, 6 days out of the week.
Her sole purpose is to make sure the student-athletes are healthy to compete and to allow them to have an enjoyable and memorable experience at Yavapai College. The quality of her work has not waned. She is the consummate professional in all that she does.
Her son's school class was sent home for 10 days because of a COVID exposure so she had to navigate work and taking care of her son. Her job did not suffer during that time. If anyone deserves this award, it is Terra.
---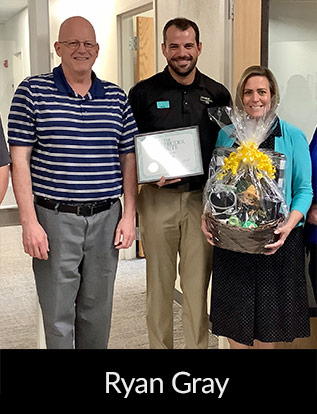 RYAN GRAY
ITS Specialist
Finance & Admin Services and HR Division
Ryan has an attitude of always doing one's best, owning one's mistakes, always keeping our main student clientele in mind, and always being of assistance to others no matter how busy he is or how much is on his plate. He always checks on others, despite his heavy workload, to see if they are in need of anything he can assist with. 
Despite his busyness, he always follows up, always in a bright and positive way. Ryan is a true positive believer in Team Building, and leads by example. Commitment: I have witnessed Ryan's immense personal family-time sacrifices to see very large ITS projects make tight completion times, up to and including not being able to visit out-of-state family members flying in for long-planned family gatherings. He has missed pivotal personal events surrounding his child's milestone events, all in order to ensure quality results for our students. Yet, Ryan doesn't revel in, nor has been pointed out for such accolades that I feel he deserves. I feel Ryan is a true role model for superb YC Attitude and Commitment.
Ryan has a particular ability which few have: to really get to know each of his team players: what in general their lives are like, how they perform and react to challenges at work, what their weaknesses and strengths might be, and so much more importantly, how he can individually help when needed. I can attest that Ryan understands the impact that health issues have on his co-workers, and once those kinds of things pop up, he focuses on those personal challenges, exemplifies caring of those co-workers with such challenges and absolutely maintains interest in those challenges throughout their progressions, whatever they are. I can also attest that Ryan professionally practices and understands worker confidentiality when it comes to these types of things. One can confide in him, knowing that the next conversation about these subjects will be when he circles back around to ask how you are doing. He truly cares.
In addition to what I've mentioned in the other submittal areas, I have one fantastic illustration of Ryan's work performance, which has directly impacted the college as a whole. Each of the technology-equipped spaces require programming code to operate- to define what each push of a button does. It's a very granular and many times complicated process. When we hired Ryan, I showed him his very first exposure to basic "programming." It just so happens that, of the group, I'm the worst at it. Well, these years later, Ryan has since lit on fire with this. Long story short, Ryan has solely certified as a "Crestron Certified Programmer," which in and of itself can be a 6-figure career, and actually relatively few are able to obtain. It is simply that difficult- His certification was earned by no measure of ease- he put a ton of work into this goal, and achieved it. He serves as a role model of what can happen from step one: show me how -- to full-on achievement.
Ryan came to us, thankfully, with a similar understanding of the YC culture, and of Outward Mindset all these years later. He is a technical fixture for our YC Team, has contributed far more to our successes than is widely known, and remains a great mentor for all of his team members. Yavapai College is very lucky to have Ryan as part of our technology building process team, which continues to evolve, develop and deploy the best and most effective technologies the college needs, and will need in future years.