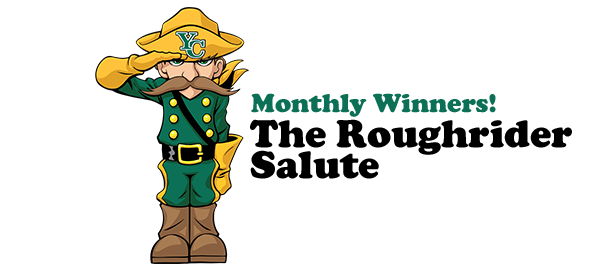 Dr. Lisa Rhine and the Executive Leadership Team
are delighted to present the recipients of The Roughrider Salute.
Congratulations, and thanks for being you! 
The Salute nomination rules and procedures -pdf | All winners SEPT 2020- JUNE 2023
---
January 2023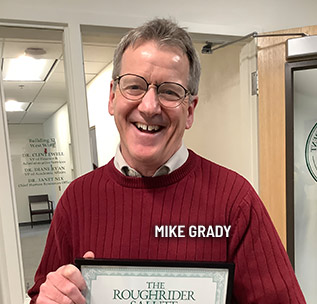 Michael Grady – Public Information Officer
Mike always comes to work with a great attitude. He is fun and witty and always provides a positive contribution to every project. He is committed to YC and goes above and beyond to help the college and the marketing department achieve its goals.
Mike is great to work with. He can work with anyone and is always willing to lend a helping hand.
I am nominating Michael because of the hard work he put into the promotion of Hello Dolly. Mike takes the lead from the marketing department side of our YCPAC performances, and Hello Dolly was a massive undertaking for all. Mike was an integral part of the promotional success of the show.
Mike is kind, genuine and hardworking. He is passionate about YC and is always willing to go above and beyond for the greater good.
---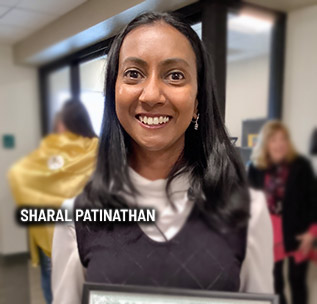 Sharal Patinathan, Instructional Support Specialist for Nursing
Even though I am a new employee to this division, Sharal welcomed me to the department day one, encouraging me and sharing information and her time with me even though she herself was working between two different offices and in transition to a new space. She responds to every request, is kind and fast in her responses and helps even when she does not have time. Let me give you a couple of examples:
On my first days this month, Sharal took time to ensure I had all the equipment I needed to be successful, she went out of her way to greet me each day (even though going between buildings two and four to support others). One day she was running between the two offices and I needed help with the printer, no one else was around and she stopped, took her time to show me how to set up my computer printing, showed me the work room and how to use the copier/printer and then (and only then) when she was sure I understood, she rushed off to her next duty.
She is always just a phone call or email away, even when she was working for two different offices, if we needed anything she ran back to building two to give us a hand. And then, just this week before her replacement arrived, I needed help with something and there she was stopping by after the end of her day to ensure my equipment was up and running.
Sharal is the perfect example of a kind, friendly, puts others before her self, dedicated to the success of her team and students, helps make others their best selves, and hardworking individual...well that goes without saying.
Anyone who is able to keep up with two busy offices and find time to share that bright smile with us is someone special.
---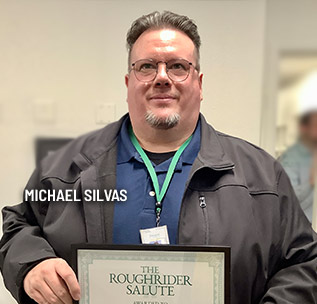 Michael Silvas- PTSS Analyst III
I crossed paths with Michael while eating lunch in the employee room at the PV campus. During our brief conversation, I mentioned that I have some big Zoom presentations coming up and that I didn't like the way I sounded through my computer. I was just venting a small frustration and wasn't asking for his help. A couple of days later Michael sent me a message that he found some headphones with a high-quality microphone built in. Amazing. I wasn't expecting him to do anything, there was no ticket submitted... Michael just noticed an issue and solved it!
Michael serves as the only resident IT guy on the PV campus, and we're lucky to have him. He deserves the salute because he went above and beyond (Attitude and Commitment), listened and remembered an issue I mentioned to him casually (Interpersonal Skills).
Thanks, Mike!
---