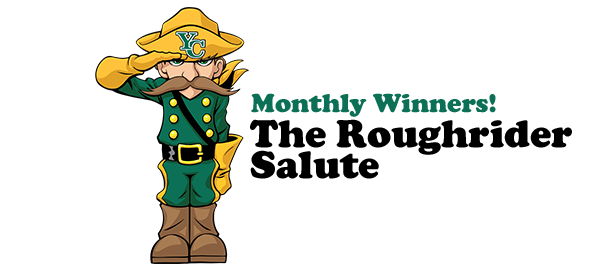 Dr. Lisa Rhine and the Executive Leadership Team
are delighted to present the recipients of The Roughrider Salute.
Congratulations, and thanks for being you! 
The Salute nomination rules and procedures -pdf | All winners SEPT 2020- JUNE 2023
---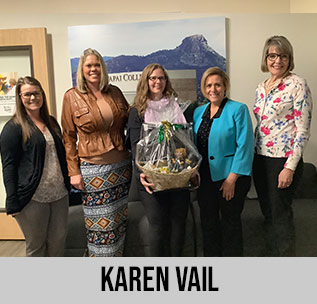 KAREN VAIL
Academic Affairs Division

Karen has been a huge support during my transition. Before I came on board and in the absence of a coordinator for OER, Karen went above and beyond to ensure the program continued to move forward.
She continued to process all OER stipends and track all OER build requests. She worked with Dr. Ryan to communicate with faculty if/when their build requests were approved. In addition, she developed an organizational system to track all these requests in one spreadsheet. Without Karen's dedication to the OER project, I would not have had as smooth of a transition. Her organizational skills are exceptional which allowed her to transition the necessary information in an effective and efficient manner.
Karen has taken time to meet with and listen to some new ideas I have had regarding the OER program. She offers kind and constructive feedback and provides insight into Yavapai's culture and student needs, that as a new employee, I had not been fully exposed to.
When I came on board, Karen was and continues to be a huge help. She took time explaining processes, showed me how use programs such as Banner and Cognos, and has been available to answer my many questions. Karen provided a variety of mini training's throughout the first few months of my employment ensuring I had the tools and resources to be successful.
Although I have only worked with Karen for about six months, I can tell she is extremely knowledgeable and passionate not only for the students but her colleagues. She listens and is sensitive to the needs of others then goes above and beyond to provide solutions to their problems. She wants her colleagues to be successful because she knows that it ultimately impacts our students and their success. I am truly grateful for Karen's support during my first six months. She is one of the reasons I have thoroughly enjoyed working at Yavapai College so far.
---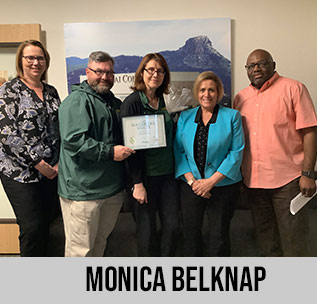 MONICA BELKNAP
Director
Student Conduct & Community Standards

Monica is the Yavapai College Title IX Coordinator, Director of Conduct & Community Standards, Coordinator of the CARE Team, and Director of the Y.C. Food Pantry.
Monica wears many hats at Yavapai College and she brings intelligence, passion, and commitment to every assignment.
The well-being and success of students is always Monica's top priority.
Anyone who has worked with or for Monica can attest that she is pleasant and professional in all interactions. She is a joy to work with!
As a police officer at Y.C. for 5 years, I worked productively with Monica on many Title IX and conduct cases. I have always been impressed by Monica's professionalism and dedication. Now as a direct report, I am grateful for the opportunity to work with and learn from her every day.
Monica is always very generous with her time, and is always willing to help, guide, and mentor in every way possible.
On many occasions I have witnessed Monica putting in very long hours to serve the college community in various ways. She is always willing to help wherever needed.
Monica is an outstanding supervisor---inclusive, communicative, and collaborative---but also determined and tenacious when the need arises.
Monica always puts the needs of others---students and staff alike---before her own.
Monica Belknap is a tremendous asset to Yavapai College and she is extremely worthy of a Roughrider Salute!
---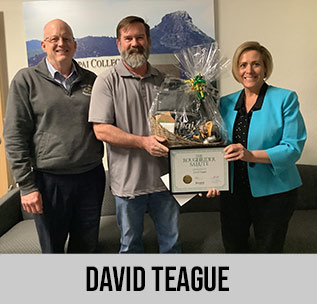 DAVID TEAGUE
Manager, Environmental, Health & Safety
Finance & Administrative Services and HR Division
David has consistently gone above and beyond in his role as Manager of Environmental Health and Safety.
A few months ago, he took on the herculean task of overseeing contact tracers for the ever growing COVID pandemic. His staff is well-trained and very responsive, quickly reaching out to people who report COVID exposure or symptoms and on top of the latest CDC recommendations. When short-staffed, David even handles contact tracing himself.
David approaches his role with quiet professionalism and is always willing help out when asked through serving on committees, attending various department meetings, or responding quickly to phone and email requests with thoughtful, intelligent answers to just about any question. He is a great addition to the YC Team and great example Service Excellence.
Responded to an OSHA complaint by drafting a 40+ page response showing that the complaint was unfounded.
Served on the committee that was preparing to act on the vaccine mandate - provided insight and suggestions for how best to handle this, if it became necessary
Professional. Hard working. Subject matter expert on all things related to risk management. Responsive. Compassionate - responds thoughtfully to all questions and concerns