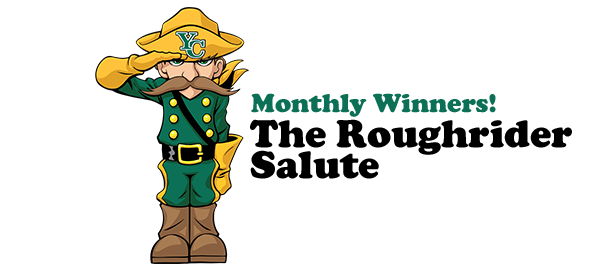 Dr. Lisa Rhine and the Executive Leadership Team
are delighted to present the recipients of The Roughrider Salute.
Congratulations, and thanks for being you! 
The Salute nomination rules and procedures -pdf | All winners SEPT 2020- JUNE 2023
---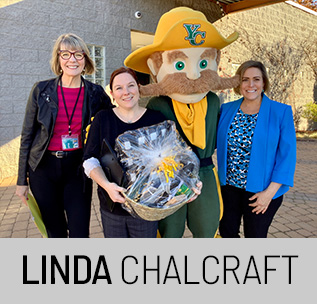 LINDA CHALCRAFT
Assistant II Community Education
Academic Affairs Division

Linda goes above and beyond every time that she is asked to take on a new task, and she does so with a smile. I rely on her to do so much and this year, she has taken on additional duties with a positive attitude.
As the new purchasing liaison, Linda is learning the financials for the CommEd, EDventures and College for Kids programs.
Linda demonstrates excellent customer service skills to every person that she speaks with. She listens to understand and then strives to meet the customer's or co-worker's needs in a kind and effective manner. Linda is a tech guru. She assists struggling instructors in the classroom with their technology issues while she patiently instills in them the ability to operate independently next time.
It would be difficult to manage this program without Linda's professional performance. This is a fast-paced work environment and Linda keeps me on task with the shifting deadlines with her fantastic organization skills. Linda monitors all enrollments and notifies me when classes are low-enrolled and need to be cancelled. She is the gate-keeper for all instructor inquiries.
I have worked with Linda for almost five years and she is the best assistant that I have worked with. Her compassionate kindness shines in every phone call and visitor. LInda provides thorough and honest communications and supports her co-workers across the district in any way that is asked of her. Her strong work ethic is an example of the highest integrity, and I value her opinion on how to become more effective in our processes.
---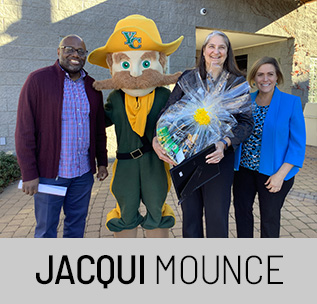 JACQUI MOUNCE
Business Systems Analyst III - CRM
Community Relations and Student Development Division

Jacqui is one of those silent workers, behind the scene. She is the sole administrator for our Salesforce CRM and supports the entire database for usage by Student Development. The platform supports our students from leads to alumni. She is often asked to push the system one step farther to provide that "one more piece" of information to ensure the data available to the constituents is meaningful and beneficial.
Regardless of who asks for help, how often they ask for help, or what the topic may be, Jacqui listens, analyzes and then incorporates the request.
In Jacqui's position she works with entire staff in Student Development, the Applications Development Group, Network Admin group, and the Portal/Web group and several YC administrators. As you can imagine, this variety of constituents requires a special knack to communicate effectively based on the level of knowledge and comfort with systems. Jacqui can go from a conversation setting up a business process for a YC lead to writing code on the backend to automatically conjure the leads interest based on their web activity. This set of interpersonal skills is a rare find in any employee.
In Student Development we strive to always do more and Jacqui is definitely a do-more employee. Regardless of what she is asked, she works to achieve and complete a project timely and often early. She is known to start work early and end work late and she never turns down the opportunity for a new challenge.
Jacqui is the "behind the scene" silent worker. When presented with a business challenge from a constituent she listens quietly, provides feedback and has the special ability to take the person want/need and turn it into an amazing software solution. She is soft spoken, kind, appreciates and understand the YC mission and goals.
---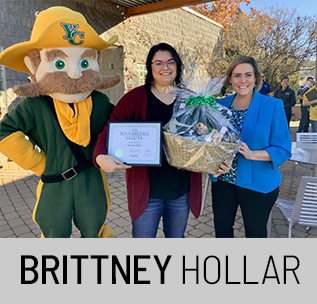 BRITTNEY HOLLAR
Human Resources Support Specialist
Finance & Administrative Services and HR Division
Brittney has the responsibility of making sure the college in compliance with I-9 processing. This is a very time sensitive, crucial piece of the employment process. The college has been experiencing a surge in employment activity, although with Brittney's calm demeanor and quick response time, it does not seem like it.
Her customer service skills are amazing. In addition to the HR Business Partner new hires, she also works with our student new hires. She is constantly meeting with students to complete the new hire process and following up with me when they are all completed. Each new hire requires individual attention to detail considering the many forms of documents a new hire may have, and the varied start dates. She is consistently dependable with our workflow process.
No matter how many student new hires I send Brittney's way, she always seems to know their names, positions and start dates off the top of her head. If anything seems odd about a student hires record she calls me right away and knows exactly what to ask of me to get things moving forward. The Asst. Athletic Director recently needed some last minute new hires to be ready to go with less than three days notice. When I called Brittney to see if she would be available for in-person I-9 processing, she was more than willing to make time to get those students hired. She is the ultimate team player!
I-9's are very time sensitive and tend to have rapidly approaching deadlines. She makes every effort to notify the appropriate parties prior to deadlines to avoid costly penalties that could negatively impact the college.
Brittney is a very hard worker. Not only is she supporting HR, but she also supports student employment and Adjunct new hires. That is a lot of workflow processes to keep straight and three different offices to communicate among each at it's busiest this time of year. She has always presented herself professionally over email, phone or Zoom.