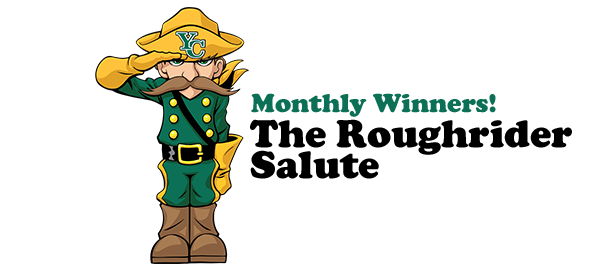 Dr. Lisa Rhine and the Executive Leadership Team
are delighted to present the recipients of The Roughrider Salute.
Congratulations, and thanks for being you! 
The Salute nomination rules and procedures -pdf | All winners SEPT 2020- JUNE 2023
---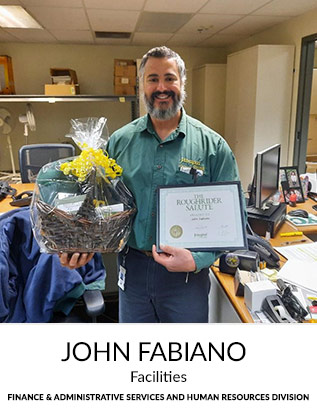 John Fabiano is a great example of a leader who cares about his employees.
John will always take the time to explain how something works and will always offer his technical skill to help out in any situation. John stepped into the role of HVAC supervisor when our department needed it the most. John's continuous drive, knowledge, work ethic and leadership skills have made him a great example of someone who takes pride in his work, and someone to look up to in our Facilities department.
---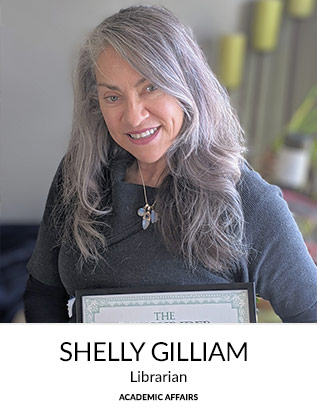 When Shelly is evaluating a situation, she always asks herself one question, which is, "am I being a helpful person?"
During her one-on-one appointments with students, she looks beyond their assignment. She uses her reference interview skills to find out what is happening in the student's life. Sometimes they needed someone to talk to, in addition to research help, and other times they were unsure how to navigate other areas of the college. Shelly provided those answers and let them know they were not alone in their college journey.
The fact that students take the time to contact Shelly after their appointments shows how much they appreciate her.
"Hi Shelly, I thought you wanted to know that I received grade "A" in ART200. Thanks again for your support"
"You've gone above and beyond. Thank you so much for not giving up on helping me."
"I'm so glad I contacted you. I feel confident now."
"Howdy Ms. Gilliam, I submitted my Proposal of Recommendation this week. I truly appreciate your assistance with conducting research for my topic. I received full credit for my submission."
---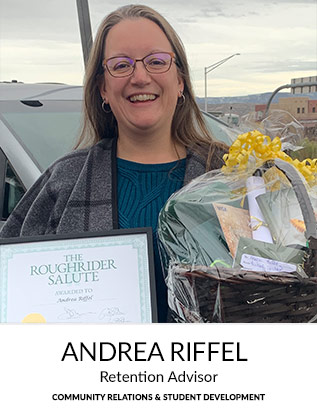 Andrea is committed to working with students in ALL programs. Through the years as other advisors retired and cycled through Andrea remained consistent and available to all students Verde students.
Currently, as one of two advisors at the Verde campus, Andrea is required to know about all programs from start to finish. Andrea does it with pride in details and with a smile. She is skilled and knowledgeable about university transfer programs, too. Andrea takes time to get to know her students and the circumstances of their lives.
Being a lifelong member of the Verde Valley and a YC grad she uses that to connect with them wherever she sees them, even in line at the grocery store.
Andrea works closely with the Nursing department and has cultivated trusting relationships with many Verde faculty in all departments. She is a resource to them for students as we all work toward student success. Andrea is regularly part of multiple committees working with both faculty and staff to find solutions and help streamline services - currently she is active with Early Alert and Salesforce for Advising committees.
Andrea is quick to jump in and volunteer whenever help is needed. She is quick to cover if someone is out or sick, or technology isn't working correctly. Andrea always presents the face of Yavapai College with a helpful smiling face or voice.